2017 Good Friday Retreat
Castleknock College
Apr 14, 2017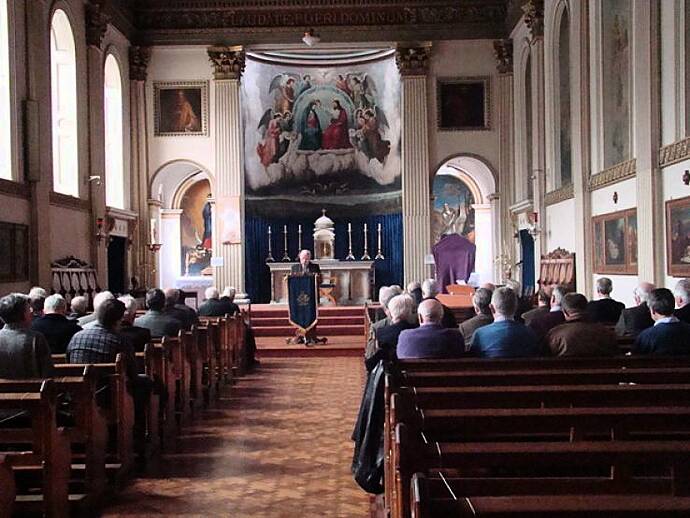 -
As ever we return to the College on Good Friday for the Pastman Annual Retreat, which this year is led by Fr Paul Lavelle who has chosen as his theme for the day -
The Name of God is Mercy
Fr Paul, one of our own as is class '58, was 1990 "Castleknock Man of the Year", a 1998 recipient of the Lord Mayor's Award for outstanding work with young people, and has also been known to boss a rugby game - he is a life member of the IRFU Referees' Association.
After ordination Fr Paul served as chaplain to the juvenile detention centre in Oberstown and was then appointed by the Dublin Diocese to cater for the drugs awareness programme and subsequently the aids epidemic, both rampant at that time. He is a published author on both topics. Fr Paul's pastoral work began in Seán McDermott Street parish and then as parish priest in Deansrath (Clondalkin). He subsequently served in Rathgar and Kilbarrack.
He is a man of energy with a unique insight into the pastoral needs of today.
The College provides lunch and dinner for participants of the retreat and the Union requests a voluntary donation of €50 (€30 for under 25s) to help defray expenses. Payment can be made on the day but to plan for catering, RSVP if coming.  The day will begin at 9.30 a.m. for registration with Morning Prayer at 10 a.m. or as close as we can get it.

The Union is proud to be associated with the Good Friday retreat and all pastmen are welcome, and especially so those considering it for the first time. You may enjoy that debut as Colin Murtagh certainly did in 2016 when he reported:
As it was my maiden voyage I brought no accoutrements, so no prayer book, rosary beads or appropriate sandals. I still certainly didn't feel out of place. In actual fact to the contrary, everyone was so friendly & I did many laps of the crease with numerous individuals I'd never met before.

Grey hair may have been the order of the day in age category, me included, but never hampered a most interesting, insightful, enjoyable relaxing day. I even got confession off my chest after a number of decades.
Many thanks to Billy Gallagher, class '61, for this is his sixteenth year, as our retreat lead organiser.