Castleknock College Union Mentoring Programme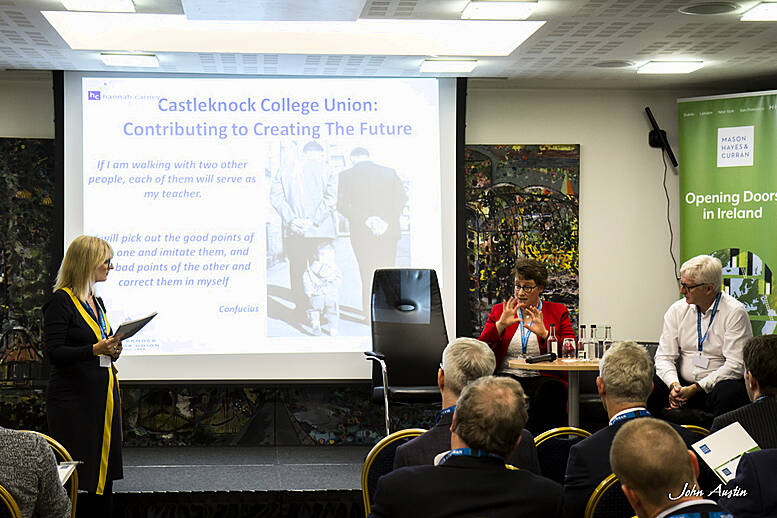 The Union Mentoring Programme was formally launched on 27 September 2018 when over 50 pastmen came together at an event sponsored by Mason Hayes & Curran Solicitors to hear presentations from a number of experts on the benefits of mentoring.
The Union Committee has now put in place a formal mentoring programme which is available to all our members. The Union has hosted a training session for mentors and has adopted the Union Mentoring Charter below which governs the way the programme operates.
The programme is voluntary, confidential and is focused on career mentoring and draws on the wealth of experience amassed by our pastmen. We now have a panel of over 30 experienced pastmen who have agreed to act as Mentors.
Mentees
If you would like more information and to be connected with a Mentor then please email us at [email protected]. Prospective mentees are required to complete our Mentee Application Form and then you will be put in touch with a suitable Mentor.
Mentors
If you are interested in joining our panel of Mentors then please email us at [email protected] and a member of the mentoring committee will be in touch. Our list of mentors is kept confidential and you will only be connected with a prospective mentee following consultation with you.
CASTLEKNOCK COLLEGE UNION
MENTORING CHARTER
Our mentoring programme exists to connect members altruistically in order to share knowledge and experience. As such, everyone involved must first agree to adhere to our Mentoring Charter.
For everyone involved:
• A mentoring relationship should begin with the understanding that a Mentor will listen openly and provide advice as they feel appropriate.
• The Mentor may not necessarily be familiar with the Mentee's type of business or career
• Mentoring should be a partnership. For both parties, it should be a respectful environment but also one which is challenging, inspiring and enjoyable.
• Mentoring should not be a chore, should not be stressful or unrealistic and nor should it include any element of inter-trading or sales. As the Union's mentoring programme is conducted altruistically, no financial recompense is expected, nor is it necessary to offer any.
ROLES:
Mentor: A mentor acts as an altruistic, wise professional, offering advice and counsel and providing constructive feedback. A mentor listens and offers a mix of encouragement and pragmatic advice, recommends developmental activities, suggests resources and communicates experiences and challenges.
Mentee: A mentee asks questions, listens to the answers and recognises the value in not leaping to the defence of all their own views and actions; is open to the mentor's suggestions but is responsible for their own decisions and development.
GUIDELINES:
1. Mentoring is a confidential activity; both parties have a duty of care towards each other and in certain circumstances, either party may feel the need to consult the Union mentoring committee.
2. Mentor and Mentee should respect each other's time and other responsibilities.
3. The Mentee should be clear about what they want from the relationship and communicate this to the Mentor. The Union will communicate the initial requirement and aim to link the Mentee with a Mentor who has the relevant experience or knowledge. Matching is assisted by the completion of both Mentee and Mentors of Programme Information Forms.
4. Either party can end the relationship at any time. – having had a respectful conversation to complete the process
5. The Mentee is not obliged to follow the Mentor's guidance but is asked to be open, interested and engaged in the discussion.
6. We suggest that meetings between Mentee and Mentor should last between one and two hours initially.
7. The length of a mentoring relationship varies between pairings. It may be a one-off meeting, several meetings or an ongoing relationship. This will be determined by the nature of the mentoring requirement and the time availability of the Mentor. The Union will attempt to establish the time requirement from the outset in order to match the most appropriate Mentor and Mentee.
8. The frequency of subsequent meetings, if any, should be agreed by Mentee and Mentor at the first meeting.
9. The nature of future contact (face to face, email, telephone) should be agreed by Mentee and Mentor at the first meeting.
10. Mentor and Mentee should make adequate preparation for meetings.
11. A Union representative will contact you periodically for an update on the progress of the mentoring relationship for reporting purposes.
PDF Links: