Class '67 - 50 Year Reunion Alert
Wyatt Hotel, Octagon, Westport
Oct 6, 2017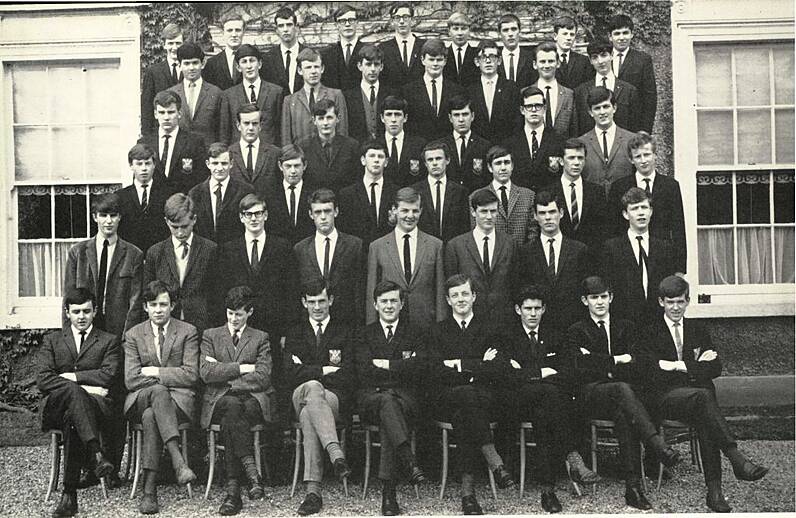 '67 in '67
top row: M.Barry, K.Cosgrave, H.Mullan, L.Bannan, P.Maughan, D.Cotter, N.Murray, V.O'Brien, D.Maher. fifth row: J.Barrett, J.Murray, T.Sinnott, J.Corish, T.Moran, I,Joyce, M.Dyar, D.McGinley. fourth row: V.Hay, H.Ewing, M.Charleton, D.Dempsey, T.Dore, P.Dorgan, A.O'Shea. third row: G.Stringer, J.Roche, J.Stringer, R.Bennett, F.Thornton, E.Barrett, M.Browne, L.Armstrong. second row: M.Delany, B.Corbett, T.Hughes, R.McMahon, J.Peart, J.Gray, R.Thompson, J.Smithwick. first row: B.Murphy, J.Mair, P.Hayden, A.Blayney, B.O'Rourke, D.Gunne, P.Dyar, T.Durcan, P.Mullan.
-
Would you believe it? It's 50 years since class '67 as pictured above left Knock. To celebrate we head to Westport for the weekend of 6th-8th October 2017. Festivities centre around The Wyatt Hotel which is situated in the town centre.
ITINERARY
---
FRIDAY, 6TH OCTOBER 2017
4.30pm -6:30pm activities from tour of Westport, Westport House, climb (part of) Croagh Patrick, cycle or walk the Greenway, Clew Bay boat trip, Golf and there's always Matt Molloy's Pub.
7:00pm pre-Dinner Drinks in the Hotel at Cobblers Bar
8:00pm our GOLDEN JUBILEE REUNION DINNER at the WYATT
SATURDAY, 7TH OCTOBER 2017
AM - 6:30pm activities during the Day. Select one you didn't do on Friday.
7:30pm pre-dinner drinks at McGing's Pub, High Street
8:30pm Dinner at medium priced local restaurant, TBA.
---
Westport can be reached by train from Heuston Station, Dublin and you are all now entitled to free rail travel! Your Organizing Committee members are Liam Bannan, Tim Hughes, Martin Delaney and Paddy Dyar and they need you to do TWO things NOW:
book your accommodation direct with the hotel
On the accommodation front, Paddy who is our man on the ground in Mayo has reserved the following rooms at the Wyatt: 10 twin rooms, 5 superior rooms, 2 single rooms no supplement and 4 other rooms carrying a supplement. These are available on a first come first served basis, so team up as required and book direct with the hotel to secure these rates, which include the cost of the Reunion Dinner on Friday night -
---
THE WYATT HOTEL
RATES: 2 NIGHTS B&B INCL. REUNION DINNER
www.wyatthotel.com
€130 per person sharing twin room
Tel: +3539825027
€180 per person sharing superior rooms
Contact; Carol Kilcoyne
€250 single occupancy double room
€xxx single occupancy single room
Overflow accommodation within 600 metres of the Wyatt has been secured as follows, but please note these rates do NOT include the Reunion Dinner which will be approx €35 extra -
THE CLEW BAY HOTEL
RATES: 2 NIGHTS B&B
www.clewbayhotel.com
€130 per person sharing twin room
Tel: +3539828088
€220 single occupancy twin room
Contact ; Shona O'Malley
HOTEL WESTPORT
RATES: 2 NIGHTS B&B
www.hotelwestport.ie
€138 per person sharing twin room
Tel: +3539825122
€198 single occupancy twin room
Contact; Rhona Chambers
---
Any and all questions should be directed to Paddy (086 8322256) who is on hand to sort you out.
Yours looking forward to a great gathering in October.
Liam, Tim, Martin & Paddy.