Class '77 - 40 Year Reunion alert
Castleknock Hotel & Country Club
May 13, 2017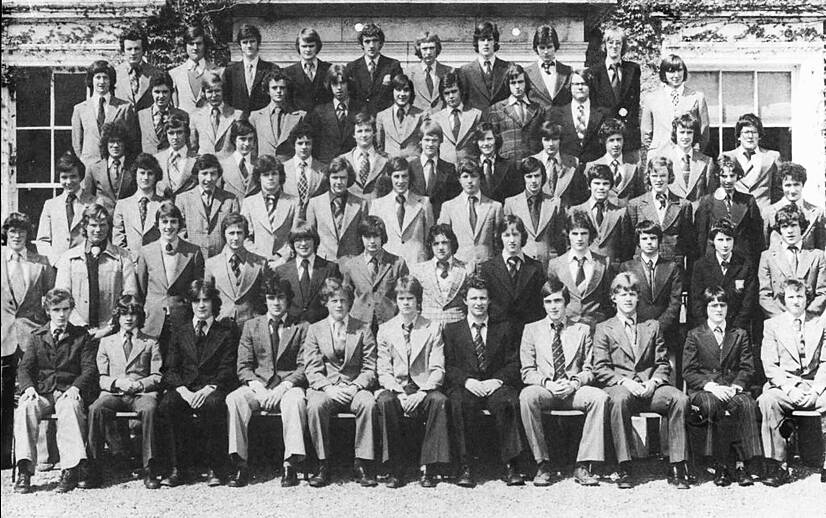 '77 in '77
L-R 6th row: D. Kelly, G. Dowdall, J. Mahon, A. O'Grady, S. Larkin, E. Louth, N. McKnight, D. Tyndall, G. Meyler. - 5th row: T. Hannan, J. Connolly, K. O'Brien, A. McAllister, F. Hoey, G. Smyth, B. Ryan, J. Kelly, K. Coen, J. Lawler. - 4th row: L. Shanahan, C. Cawley, G. Gallagher, J. Cosgrove, F. Higgins, S. O'Neill, K. Finn, M. Lynch, P. Skuse, C. Sheridan, F. Boland. - 3rd row: R. Walsh, V. Shee, M. Doorly, J. Gallagher, J. Geraghty, D. Mongey, B. Kelly, J. Carolan, P. Dempsey, J. Golden, A. Mathews, O. O'Meara. - 2nd row: J. Shanahan, R. Dowley, A. Sheridan, B. Walsh, M. McCann, P. Cullen, J. Mclvor, T. Hickey, E. Flannery, P. McNally, J. Cox, J. Kearney. - front row: S. Cox, M. O'Dwyer, K. Sheehan, M. Mac White, G. Cleary, K. O'Flaherty, P. Kinsella, T. Collins, R. Scott, W. Woods, C. Doyle.
-
Class '77 meet Saturday 13th May 2017 to celebrate 40 years since the above 6th year photo was taken, i.e. the bell tolls for their 40th Reunion.
Robert Dowley, John Kearney and Joe Mahon have stepped up as co-organisers-in-chief and festivities centre around the Castleknock Hotel & Country Club which is less than 1km from the College on the Porterstown Road towards the Strawberry Beds.
ITINERARY FOR THE DAY
---
Saturday 13th May 2017
| | |
| --- | --- |
| 10-11am | Castleknock Golf Club. Please let JM know your preferred tee time. |
| 5pm | College Chapel. Memorial Mass in memory of Kevin Coen, John Connolly, Barry Kelly, David Mongey, Michael O'Dwyer and Kieran Sheehan |
| 6pm | Castleknock College. A tour of the campus as it is today, |
| 6.30pm | Priests Ref. Drinks reception in the College |
| 8pm | Tower Suite, Castleknock Hotel. Reunion Dinner |
| small hours | some more ceol, caint agus craic |
---
It's €65 per head for the Reunion Dinner which includes wine and drinks reception. Please prepay online so we can confirm numbers with the hotel.
Golfers to settle green fees on the day. Nil charge for College tour & reception.
For those wishing to stay over at the hotel we have secured 10 double/twin rooms at €155 B&B. This is available to all on a first come first served basis but must be booked by 15th February, so team up as you wish, and book directly with the hotel, by phone +353 (0)1 640 6300 or email at [email protected]
Alternatively accommodation at the Travelodge is only a short taxi ride away.
Any and all questions to any of the co-organisers-in-chief: Robert Dowley, John Kearney or Joe Mahon.