Pastmen Memorial Mass
Nov 15, 2021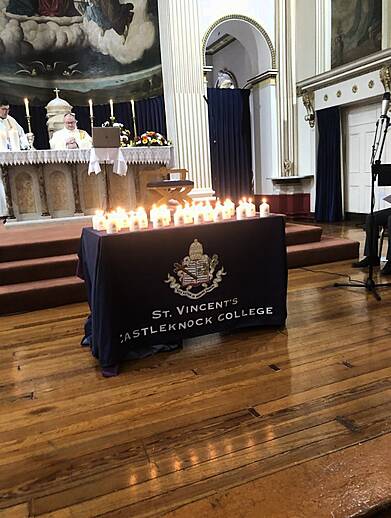 You are cordially invited to the Castleknock College Memorial Mass for deceased Pastmen who have died since October 2020.
The Mass takes place on Sunday, November 14th 2021 at 12.00 (Noon) and will be celebrated by Fr Paschal Scallon CM and Fr Stephen Monaghan CM.
On behalf of Castleknock College Union we would like to invite you and most importantly your family and friends to join us virtually by way of the College youtube channel using this link below.
We hope you can join us on Sunday 14th November online.
https://zoom.us/j/99721480397?pwd=Q091ME85L2tUNjdVYnp6eURqa0ZXUT09
Meeting ID: 997 2148 0397
Passcode: 198879
We remember the following Pastmen at our Memorial Mass
Roland Benner OBE, 1953
David Bell 1938
Kevin Bouch 1961
David Boylan 1960
Seamus Campbell 1956
Gabriel Cleere 1941
Terence Cusack 1968
Dr. Laurence Crowley 1955
Noel Doyle 1953
Morgan Fitzpatrick 1998
Brendan Guerin 1948
Peter Hogan 1961
Derek Hunter 1955
Michael Kerley 1961
Don Lemass 1957
Leo Morgan 1957
Philip Murphy 1960
Denis Murnaghan 1957
Dr. George Murnaghan 1955
Aodh MacFhionnbhairr 1997
Ronald McCarten Member of Staff 1969-2002
Des McGinley 1947
Pauline McHugh 1967-1992
Dr. Tim O'Connor 1962
Michael O'Driscoll 1962
Brendan O'Flynn 1948
Kevin O'Rourke 1959
Edward Pettit 1974
Dr. Rodger Reynolds 1957
Bernard Rocca 2022
Conor Scully 2004
Paul Sullivan 1974
Andrew Thompson 1969
Dr. John Veale 1962