"The House Would Welcome a Visit by Donald Trump"
Union Debate
Apr 26, 2017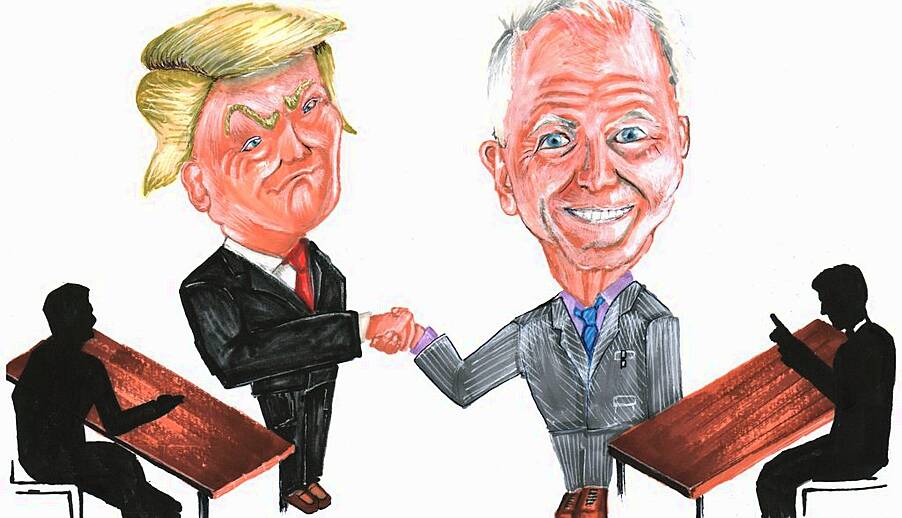 Artwork by Danny Zhao, SVC (2nd year)
Back in the day, 'Past vs. Present' was a regular fixture of the College calendar, and 26th April we return to SVC with a variant on that theme; combined teams with some teachers also in the mix.
---
Event
Union Debate, Castleknock College
Date
Wednesday 26th April, 7pm sharp
RSVP if attending.
---
The Debate will be chaired by past man Brian O'Connell, class '71, ex RTE London Correspondent.
The Motion is:
"The House Would Welcome a Visit by Donald Trump"
Speaking for the motion are Alexander O'Farrell, '17; Shane Cassidy, SVC Teacher; Patrick Farrell, '93 and closing for them is Myles Kirby, '94. Against are Cian McGoldrick, '14; Conall Phelan, '17; James McElroy, '98 & SVC Teacher and their closing big gun is none other than our President-Elect, Oisin Quinn, '86.
Included in that mix are a number of All-Ireland debating champions, a previous Lord Mayor of Dublin and no doubt some more aspiring politicians, so it promises to provide for a lively evening of discussion. Some tea & bun will follow thereafter.
So an opportunity to catch up with old friends in the relaxed setting of your alma mater. The evening is open to past men, pupils, their families and guests, and is free, but to enable us cater for numbers, RSVP if you plan to attend.