1942-43 JCT Campaign
Junior House Rugby
Feb 20, 1943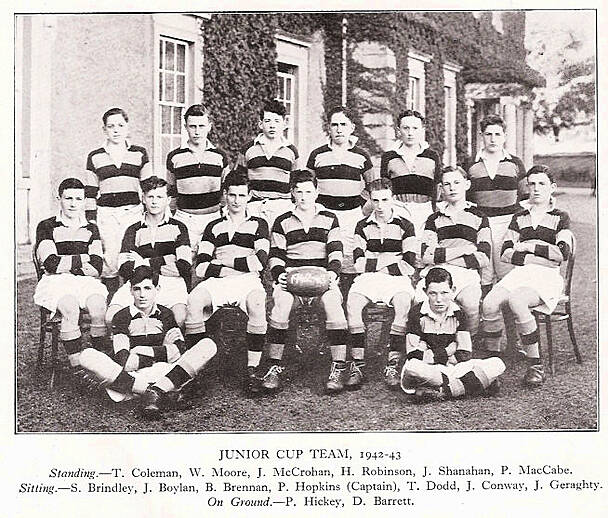 Captain.-P. HOPKINS.                      Vice-Captain.-T. DODD.
Hon. Secretary-B. BRENNAN.
OUR PROSPECTS for the Junior Cup this year looked much brighter than for some years, the material at hand giving promise of a fast and heavy team. Paddy Hopkins, one of last years best and heaviest forwards and incidentally our sale surviving under age member of last years team, was duly elected Captain, with Tommy Dodd and Ben Brennan as Vice-Captain and Hon. Secretary respectively.
Fr. Cashin who trained the team last season continued the good work this year. In addition to the material already at hand from our Under 14's of last season, some new-comers gave early promise of good football ability, notably C. Condon; J. Boylan, S. Brindley, B. Jeffers, J. Conway and D. McCarthy.
On the 7th October we travelled to Blackrock for our first fixture of the season. A feature of this match was the sterling work of the 'Knock forwards who though beaten for possession in the line-out heeled with great consistency from the set and loose scrums. Their good work, however, was set at nought by the bad handling of our backs. Blackrock on the other hand made the best of their opportunities behind the scrum. Our defence was not nearly so good as it might have been and failed to hold the 'Rock three-quarters who scored several times. Our only reply was a try by D. Barrett from a short kick ahead.
Our next match was against Mountjoy, and although it did not bring us victory the team showed much improvement. In the first few minutes of the game B. Brennan took a pass from the scrum and raced from half-way through the opposition to score under the posts, the kick at goal failing. Mountjoy replied by landing a penalty goal followed soon after by another. 'Knock fought back but our backs were well held and the final whistle still found us three points in arrears.
The game with St. Mary's was keenly fought by two very evenly matched sides. Defence rather than attack was uppermost and it was not until in the second half that the only try of the match was scored by St. Mary's. Stan Brindley playing his first game as out-half was not a success. B. Brennan in the centre had some good runs but each time he failed to finish off a likely chance.
As Belvedere were to be our opponents in the first round of the Cup the game with them aroused considerable interest. Once again we failed to register a win but were nothing disheartened by the final result of 5 points to nil. Our team showed many signs of improvement, the backs passing and tackling better while the forwards did much good work in the loose. We were on the offensive nearly all the time and on several occasions just failed to score. We had good reason to hope, however, that with a few adjustments in our back division we would reverse the decision at Donnybrook.
Our return match with Mountjoy, who fielded a very weak side was a most uninteresting affair. The team played well but as they encountered little in the way of opposition the many tries scored gave no indication of our real strength. We won this game by 33 points to nil.
Missing Tommy Dodd and C. Crowley, we filled in the vacancies with two stalwarts from the Under 14's - P. McCabe and J. McCrohan - for the game with St. Mary's on their own ground. The match was a good try of form as we were due to play our first Cup Match in less than a fortnight. The forwards played well, getting the ball in the line-out and heeling in the loose, but they were too slow in following up. The backs passed well although B. Brennan held on too much and did not give B. Moore a chance to use his speed. After a fast and interesting game we shared the honours of a scoreless draw.
CUP MATCH
CASTLEKNOCK V. BELVEDERE
In spite of the fact that we were without the services of T. Dodd, J. Conway and C. Crowley, we set off for Donnybrook with high hopes. Belvedere opened strongly. Their forwards gained possession in most of the set scrums giving their backs every chance in attack. The 'Knock defence however, was sound, chiefly due to some fine covering-up work by Paddy Hopkins, who seemed to be everywhere at once, tackling Belvederians. with a will and abandon that frustrated many likely scoring opportunities. So the ding-dong battle continued until it wanted but a few minutes of full time and a re-play seemed certain. Then disaster overtook us. Jimmy Geraghty, receiving the ball on his own line tried to clear for touch. His kick was charged down by a Belvedere forward, the ball rebounded over our line and Belvedere won the race for the touch-down. 'Knock tried to equalise in the remaining minutes without success however. The team played up to a man throughout and great credit is due to them for such a game display.
Team.- P. Hickey, B. Moore, T. Kilgallen, B. Brennan, S. Brindley, J. Geraghty, D. Barrett, J. McCrohan, H. Robinson, J. Lagan, J. Boylan, J. Shanahan, P. McCabe, P. Hopkins, T. Coleman. Other players to impress and who secured their places for matches during the year were: B. Devlin, C. Condor, D. McCarthy, B. Jeffers, M. Kellit, L. Ryan, D. Downes and K. McLaughlin.
HARRY ROBINSON.