1943-44 "Under Thirteens"
Junior House Rugby
Mar 7, 1944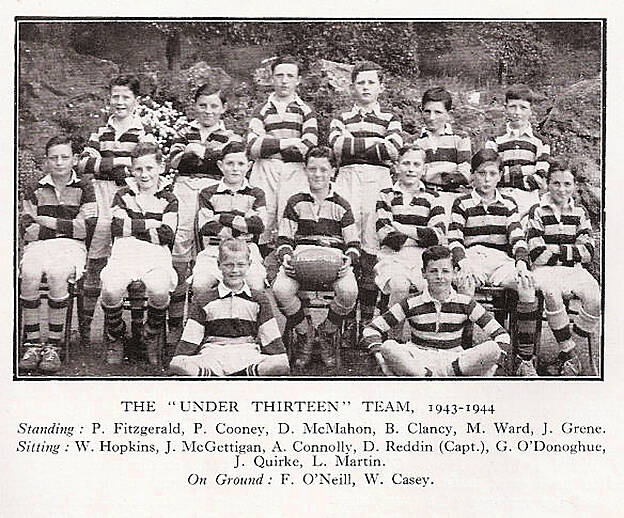 With many from last year's successful " Under 13 " team still under age we looked forward to a good season. Nor were we disappointed. Under the captaincy of D. Reddin, A. Connolly and J. O'Donoghue, and with Fr. Shiel again in charge, we won four of the five matches played, the fifth being a draw.
Our first fixture of the year was against Belvedere. After a lively game in which the forwards especially showed distinct promise, we emerged the victors by 13 points to nil. Tries were obtained by B. Clancy and F. O'Neill.
Our next trial of strength was against the redoubtable Blackrock. We attacked strongly but the 'Rock forwards soon rallied and scored a try. Starting the second half three points down our lads pressed home the attack. Nearing the end our efforts were rewarded when D. Reddin taking a penalty dropped a good goal. Thus we left the field with honours even. In our return game we did better. We scored early on but ' Rock soon equalised. Then Castleknock definitely got on top. D. Reddin dropped a goal and followed it up a few minutes later with a fine try. Before the end D. McMahon scored again, leaving us victors by 13 points to 3 points.
Our next fixture was with Xavier School, from which we emerged easy winners by 3I points to nil. J. McGettigan and B. Clancy had a good day, each crossing the Xavier line three times. Other tries were obtained by A. Connolly, D. Reddin and D. McMahon.
Our last match of the season was against Belvedere and this we won by a wide margin -20 points to nil. Tries were scored by D. McMahon, B. Clancy and F. O'Neill.
This brought to a close a very successful season, and we have good reason to hope that the "Under 13's" will prove a formidable force in the cup-ties of the future. Besides the try-getters already mentioned the following showed promise during the year; P. Cooney, M·. Ward, W. Hopkins; J. Lavery, L. Martin, J. O'Reilly, P. Fitzgerald, J. Quirke, J. Grene, T. O'Driscoll, N. Betson, T. McCarthy, B. Byrne, E. Kelly, B. Casey and J. Rohan.
D. REDDIN.