1945-46 JCT Campaign
Junior House Rugby
Apr 3, 1946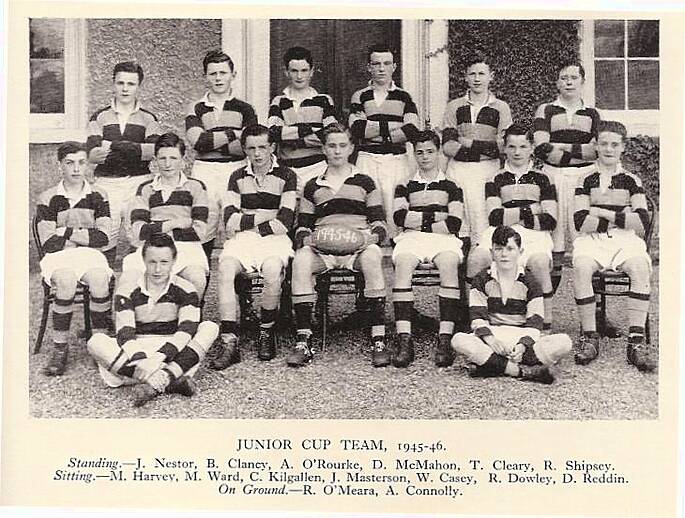 Captain.-JOE MASTERSON. Vice-Captain.-CECIL KILGALLEN.
Hon. Secretary.-BILLY CASEY.
THE JUNIOR SEASON of 1945-46 opened with poor prospects for the future. The task of blending the available material into a team 'was a difficult one but Fr. Carbery succeeded admirably in doing this. The captains were Joe Masterson, captain, Cecil Kilgallen, vice-captain and Billy Casey, Secretary.
CASTLEKNOCK 8 CLONGOWES 3
The first match was played against Clongowes in fine weather on their ground. We kicked off and hammered at their line for the first 5 minutes. Our efforts were rewarded some minutes later when John Nestor broke through and passed to Cecil Kilgallen who, with a fine run beat three men and touched down at the corner-flag. A difficult kick was missed by Tom Cleary. On resuming, the play became a forward battle in which Clongowes showed up well. Good play by our backs, however, prevented them from scoring. In the second-half we went into the attack and in a short while J. Nestor cut through very nicely and beating a few men touched down under the posts. T. Cleary converted to leave the score 8 pts. to nil. After these set-backs Clongowes pressed in good fashion for the rest of the half. They got their reward when in the closing minutes a forward dribbled over for a try from a loose scrum on the line. The convert was missed and soon after, the final whistle blew leaving us winners by 8 pts. to 3 pts. J. Nestor, our out-half, played an outstanding game.
CASTLEKNOCK 46, ST. ANDREW'S 0
The team's next match was against St. Andrews. The day was very wet and the game that ensued was poor. The ball was very slippery and no back movements of any note resulted. Our opponent's team was very light and was outclassed completely. A feature of the game was the excellent hooking by M. Ward which helped in a large way to our victory of 46 pts.-nil. Our scorers were A Connolly, 4 tries; C. Kilgallen, 4 tries, J. Nestor, 2 tries; B. Casey, B. Clancy and T. O'Rourke 1 try each. J. Masterson and Tom Cleary converted a try each.
CASTLEKKOCK 6, BLACKROCK 8
The following week, we had tougher opponents in Blackrock at home. The day was fine and the match proved to be an excellent one, Blackrock running out winners by 8 pts.-6pts. 'Rock had a big and heavy team and aided by the wind, pressed for the first half. After a few minutes play 'Rock backs got possession from a scrum. Their out-half with a long kick found touch a few yards from our line. From the line-out a 'Rock forward got possession and burst his way through to tip-down. The resulting kick at goal was a failure. Our opponents continued to press strongly but were well held. D. Reddin, at full-back gave a sound display, stopping the Blackrock wing several times after our three-quarters were beaten by tricky 'Rock movements. In the second-half our backs with good support from the forwards commenced to press. 'Rock forwards with a well-timed rush swept the ball to our line where it entered touch. A score which was later converted was obtained from the line-out when a forward crashed over to increase our opponent's lead to 8 pts.-nil. Vole attacked again and J. Nestor cut-through and ran thirty yards to tip-down under the posts. The convert was missed. The pressure was kept up and no score resulted until near the end when Tom Cleary kicked an excellent penalty goal to leave the score at full time 8 pts.-6 pts. for Blackrock.
CASTLEKNOCK 12, ST. MARY'S 8
The next match was at home against St. Mary's in wretched weather. They kicked off and advanced to our 25. From a scrum there St. Mary's backs got possession. A centre eluded his man and with a good run touched down at the corner-flag to give St. Mary's the lead. The convert with a greasy ball was missed. Play was mostly confined to the forwards. Our forwards being heavier had more of the play but the backs could gain no advantage until J. Nestor slipped around the blind side and scored at the corner-flag. He missed, narrowly, a difficult kick. About ten minutes later from a back movement C. Kilgallen, with a good run, scored. The convert was missed. St. Mary's started off the second-half in good form and scored. The score was obtained when a forward gathered a loose ball and dived over between the posts. He converted himself to leave the score 8 pts.6 pts. for St. Mary's. The forwards continued to control the game with a constant series of loose mauls until J. Nestor cut through and scored at the corner-flag. The kick was missed against the wind. About ten minutes later C. Kilgallen rounded off a good back movement considering the conditions, with a score from a long run. A rather easy kick was missed by J. Nestor. This was the last incident of any note in an unsatisfactory match.
CASTLEKNOCK 55, ST. ANDREW'S 0
We had our return match against St. Andrew's next. As before our opponents were small and weak in their back division. Our forwards, however, had to work hard in the loose but in the tight they dominated. Needless to say we attacked all the time and our scorers were C. Kilgallen, 7 tries; J. estor, 5 tries; A. Connolly, 2 tries, and B. Clancy, I try. J. Nestor converted 5 tries to leave us deserving winners by 55 pts. -0.
CASTLEKNOCK 6, ST. MARY'S 26
We next took the field against St. Mary's on the latter's ground but with a weakened team, A. Connolly, wing and T. Cleary, scrum-half, being absent through injuries. St. Mary's kicked off and attacked immediately. They kept up the pressure and were unlucky to miss two scoring chances after delightful back play by being forced into touch twice. They got their reward a little later when a centre, catching our defence napping, cut through to score under the posts, and converted. On resuming play they continued to attack, chiefly through their forwards' efforts. The latter ,very fast and lively and heeled from the majority of loose mauls. One of them soon after dribbled over it the corner-flag for our opponent's second score. The attempt at converting was a failure. Play continued in a one-sided fashion and only through their over-using the kick ahead were we saved from a bigger defeat. They realised this just before half-time when their wing finished a back movement by scoring under the posts. The kick was converted to give St. Mary's a half-time lead of 13-0. J. Nestor went off injured at half-time. After the change-over our fortune didn't change for St. Mary's scored almost immediately from a forward rush. This try was also converted. We rallied and for the first time neared our opponent's line, where a scrum was formed. We heeled and T. O'Rourke passed on the blind side to J. Fitzgerald who went over. The convert was missed. We continued our attack and C. Kilgallen had hard luck several times when he was pulled down inches from the line. Then St. Mary's attacked again, when their forwards swept the ball upfield in a rush. About 20 yards from our line the ball went loose but a St. Mary's back, supporting the forwards, gathered it and ran through to score under the posts. The kick was converted to leave us 20 pts. in arrears with 15 minutes to go. On resuming play our forwards, with the only rush they made in the game, brollght the ball to our opponent's line where D. McMahon tipped down. Again the convert was missed. A few minutes from the end St. Mary's scrum-half broke away on the blind side and scored at the corner-flag. This try was not converted and St. Mary's were left winners by 26 pts.-6 pts.
CASTLEKNOCK 19, BELVEDERE 0
Our next match was against Belvedere (away) in fine weather. Belvedere were a big team and though they had a good defence they were often outwitted by our backs. A. Connolly opened the scoring for us from. a break-through. J. Nestor failed to convert but made up for this some minutes later by scoring from a cut-through. This score was not converted. A little later, from a passing movement J. Nestor got a score which he thereupon converted. After half-time Nestor completed his hat-trick by cutting through from half-way for a score which was converted. Towards the' end of the match A. Connolly, from a passing movement, got a score which was not converted. This left the full-time score 19-0 for us !
CASTLEKNOCK 6, CLONGOWES 6
Our next match was against Clongowes at home. The day was fine and Clongowes were a much improved team. 'Knock kicked off and went straight into the attack. After a few minutes play T. Cleary cut through and passed to Nestor who touched down to give us a 3 point lead. An easy convert was missed. Clongowes began to put on some pressure at this stage, but nevertheless D. Reddin succeeded in scoring a try which was not converted, leaving the score 6-0 for us. Despite pressure by Clongowes the score remained the same till after half-time. After a good but fruitless effort at a penalty goal Clongowes secured 2 tries from back movements both of which were not converted. The remainder of the game was uneventful and the final score was 6-6, to round off our friendly fixtures for the season'45-' 46.
CUP MATCHES
CASTLEKNOCK 28, ST. COLUMBA'S 0
On the 28th February we opposed St. Columba's College at Donnybrook in the first round of the Junior Schools Cup competition. The game started rather tamely in a series of loose mauls and set scrums. From a scrum however, we heeled and rapid passing by our backs left A. Connolly, wing, in possession. He rounded his opposite man and went on to score at the corner-flag. The kick with a greasy ball was missed to leave us 3 pts. up after five minutes play. The game continued in our favour so much so that J. Nestor, out-half, cut through and ran from the twenty-five to touch-down under the posts for T. O'Rourke to convert. On the resumption, it seemed as if Columba's were going to score when a forward rush brought them up to our line. F. O'Neill, our full-back, managed to clear and send us attacking again. J. Nestor gained possession on the half-way and with several dummies beat three of our opponents and out-raced another to score near the flag. The kick was missed. Half-time followed to leave us leading by I I pts.-o. On resuming we had all the play through our superior hooking from the set scrums. C. Kilgallen, wing, scored from a back movement at the flag after 5 minutes. The convert was missed. Almost immediately after, J. Nestor got his hat-trick with an unconverted try. Play became confined to the forwards, Columba's getting the better of it, with some fine rushes. However, we got back to their line when T. Cleary slipped over for score under the posts which T. O'Rourke converted. C. Kilgallen came back to the limelight when he scored near the posts. The resulting kick was a failure. Then just before full-time A. Connolly got the ball on the blind side to score our last try, which also was not converted. The final score was 28 pts.-o.
SECOND ROUND
CASTLEKNOCK 5, CLONGOWES 0
After our victory against St. Columba's our next opponents at Donnybrook were the much fancied Clongowes team. A persistent drizzle throughout the game caused it to develop into a lively forward battle. Play was fairly even all the time but whenever Clongowes came near our line J. Nestor found excellent touches for us with his long raking kick. There was no score at half-time although T. Cleary and J. Nestor narrowly missed scoring. With the wind in our favour we had the better of the play in the second half. R. Shipsey picked up a loose ball and crashed over the line for a try which T. Cleary converted. The remainder of the game was uneventful except for Clongowes' fruitless last minute rally. The final score was 5-0 for us.
SEMI-FINAL
CASTLEKNOCK 9, NEWBRIDGE 0
We next met Newbridge at Donnybrook in the semi-final. The day ·was fine, Newbridge won the toss and we kicked off. We went into the attack immediately and after about a quarter of an hour A. Connolly scored from a passing movement. This try was not converted. Ten minutes later J. Nestor, with a sudden change of direction, baffled the opposing defence and crossed the line for a score. The convert was missed. Half-time followed immediately. In the second half we did all the attacking but no score resulted as Newbridge concentrated on defence rather than attack. In the closing moments of the game J. Nestor got a penalty goal from a very difficult angle. A few minutes later the final whistle blew leaving the score 9-0 for Castleknock.
FINAL
CASTLEKNOCK 0, BLACKROCK 6
On 3rd April, for the first time in nine years, we entered the Final with Blackrock as our opponents. The weather was very favourable and a good game seemed assured. From the start 'Rock attacked and pinned us in our 25. Only good defensive kicking by our halves, T. Cleary and J. Nestor, saved us. In the ensuing line-outs Blackrock gained possession nine times out of ten, having an advantage in weight and height. Consequently, one of their forwards played in the three-quarter line to give them a decided advantage. A few minutes later this advantage showed itself when our men, undecided as to who their opposite number was let the forward through to score near the posts. An easy kick was narrowly missed. From the kick-off we attacked but soon after their out-half with a long kick brought the game back into our half. Anxiety grew and only some fine tackling by our three-quarters and in particular, by Aidan Connolly on the wing saved us from further scores. Half-time came just then to leave Blackrock with a lead of 3 points. With the advantage of a well-placed kick-off our backs and forwards stormed the Blackrock line but through virtue of having an extra back they checked our onslaughts. Then from a free for offside 'Rock cleared the ball into our half. The tables were now turned with a vengeance and our men did gallantly in defending for so long. No ordinary defence, however, could hold out against the attacks of the 'Rock team so it was small wonder that their extra man got through for Blackrock's second try. As before the attempt at the convert was missed, the kick being from the touch-line. Our team, however, was far from being disheartened for, during the last quarter of an hour, they put in a finishing attack that was remarkable for its consistency and ferocity. It was a great pity that no-score resulted but fate and the 'Rock team were against us. The final whistle blew soon after to leave Blackrock winners of an excellent game by 6 pts.-nil.
All our sympathy goes to  the team in narrowly failing to bring home that elusive trophy, the Junior Cup. Many thanks are due to Fr. Carbery for his management of the team and for the time he spent at the heartless task of moulding raw boys into a well-trained team.
J. MASTERSON./ P. COONEY.