1953-54 JCT Campaign
Junior House Rugby
May 29, 1954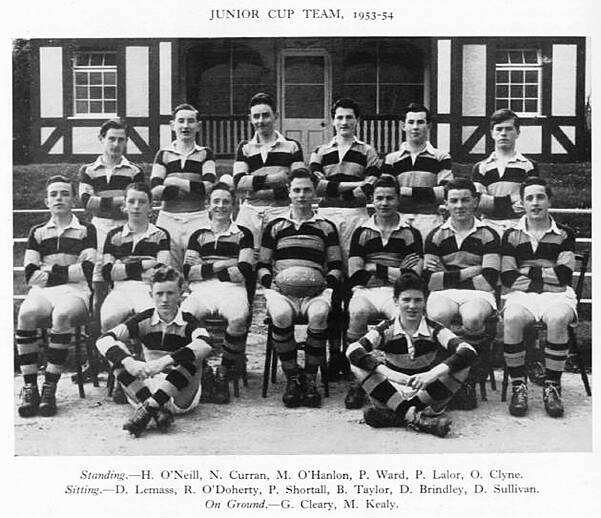 Scene from the JCT Final at Lansdowne Road
 Captain - PATRICK BOURKE Second Captain - PATRICK SHORTALL
Third Captain - BRIAN TAYLOR
FOR the second year in succession our Junior team reached the final of the Leinster Schools' Cup. It thoroughly deserved this success both on account of the individual merits of its members and because of their keenness and team spirit. From early in the season there were hopes that they would do as well and perhaps even better than last year. We had a promising back line with three members of last year's team and also a few sprinters from the under-fourteens. The forwards throughout the first term were not satisfactory but they practised hard, cheerfully undergoing the grind of many scrum and line-out practices, so that they became an efficient unit, giving the backs an ample supply of the ball in all games. In this respect special mention might be made of R. O'Doherty as an exceptionally good hooker, and of M. O'Hanlon, who in his first year of rugby became an expert line-out exponent. For general play it is difficult to single out any player. P. Shortall with his speed, determination and clever swerve was our most dangerous back and scored a number of memorable tries. G. Cleary and B. Taylor made a sound and dependable half back combination. Among the forwards, D. Brindley was undoubtedly outstanding. A solid scrummager, he was also invaluable in the line-out, and despite his lack of pace he was almost invariably first to the vital loose scrums. He was ably assisted in the loose by O. Clyne. The team was fortunate in its choice of P. Bourke as captain to whom more than to any other individual its success was due. His all round ability both in attack and particularly in defence, his experience from last year, his confidence, coolness and influence with the team made him an ideal captain. While mentioning these players with special commendation, it must also be said that each member of the team played to his utmost ability and by their determination to play good football gave satisfaction to all their supporters.
Results of Friendly Matches
Castleknock: v. St. Mary's Home Won 14-3, v. Belvedere Home Won 6-3, v. St. Paul's Away Won 22-0, v. Blackrock Away Lost 0-12, v. Newbridge Home Lost 6-12, v. Clongowes Away Won 8-0, v. Blackrock Home Lost 0-9, v. Belvedere Away Lost 0-9, v. Clongowes Home Lost 0-3
CUP MATCHES
CASTLEKNOCK 6 TERENURE 3
In our first cup match we beat a formidable Terenure team by two tries to a penalty goal. They had a very fine pack of forwards heavier and more lively than ours, but due to our supremacy in the set scrums—" Castleknock won the ball in the set scrums with monotonous regularity " Irish Press report - we were able to give our backs sufficient opportunities to win the match. At half time we led by two tries, one scored by P. Ward from a cross kick by P. Bourke and the second by D. Lemass the result of a quick heel by the forwards and good passing by the backs. In the second half the Terenure forwards were supreme and play was confined to our half, but our defence was sound and only a penalty goal was scored by them.
G. Clean' had an exceptionally good game and though under constant pressure he remained imperturbable using great discretion in his passing and kicking. Among the forwards D. Brindley for his work in the loose and R. O'Doherty for his hooking were most noticeable.
Second Round
CASTLEKNOCK 3 NEWBRIDGE 0
"Both Castleknock and Newbridge College gave excellent exhibitions of fine attacking football in their second round match at Donnybrook yesterday. The try that earned Castleknock their passage to the semi-final was a well executed blind side effort. A quick heel from a loose scrum in the Newbridge half saw the ball travel to Lemass on the left wing who dived over at the corner flag, following good passing and running by Taylor and Bourke. The good work of O'Hanlon, Ward, Lalor and Sullivan in the Castleknock pack was a telling factor in their favour for they gave a useful back line all the opportunities that they needed. Cleary, a good passer of the ball, and Taylor worked well at half back and Bourke in the centre had a couple of well judged runs. At full back Kealy was impressive and Lemass on the wing was hard to stop."—Irish Times.
Both teams indeed deserved the praise that was given to them for a game that was a pleasure to watch. Our forwards particularly in the second half gained possession very cleanly and quickly and the backs though faced with a determined opposition made the best use of their opportunities and were unlucky not to score a few more tries. However a splendid last minute effort by Newbridge almost snatched a hard earned victory- from their grasp, and was only averted by intelligent covering by H. O'Neill.
Semi-Final
CASTLEKNOCK 6 KING'S HOSPITAL 3
"Castleknock College had only three points to spare in defeating King's Hospital in the semi-final yet they were a much more evenly balanced side and probably would have won by a far wider margin on a firm surface. As it was the pitch was very slippery on top and the faster and generally more efficient Castleknock backs were severely handicapped. Nevertheless they scored two excellent tries and would have scored more but for dropped passes when clear openings had been made. The chief virtue of the ' Knock pack was their smooth heeling from the loose mauls. Time and again when they were checked in a rush the forwards would be quickly around, clinging to each other, with the result that the ball came back like clockwork." Thus the Irish Independent described our semi-final played, after two postponements, on a mud covered pitch in misting rain.
It was not a day for the backs, yet despite the conditions they managed to distinguish themselves. In spite of the attentions of two wing forwards the halves combined almost perfectly, Taylor's hands were excellent and his kicking though not varied enough was very useful. The two centres managed to pave the way for tries. P. Bourke ran from his own half to score a very good individual try. Near the end when a draw seemed likely, Shortall running with determination made a good cut through, and when tackled slipped the ball to Bourke who gave it immediately to Lemass, who ran thirty-five yards along the touch line to score a great try. D. MacAlister making his first appearance in a cup match as full back played very well, and H. O'Neill on the right wing, who unfortunately did not get many chances, also made good use of his pace and had one very dangerous dribble down the touch line. Among the forwards D. Brindley, N. Curran and particularly M. O'Hanlon, who was unlucky not to score, caught the eye.
The Final
BLACKROCK 6 CASTLEKNOCK 0
In the final we were beaten by Blackrock College by one try and a penalty goal to nil. It was a keen, hard fought game in which each member of our team played very well and with a little more luck could have won. We had the better of the first half in which with the wind in our favour we kept up a constant pressure. The forwards, lighter than their opponents, rose to the occasion and playing with great fire won the majority outs, thus giving us quite a definite territorial advantage. Due to the close marking of the opposing backs and particularly their brilliant back row forwards our backs found it very difficult to make much progress. P. Shortall once got clean away from half way when he out paced all his opponents, but a last effort by the full back unbalanced him when he seemed certain to score. Inspired by this effort the team played with confidence and from a quick heel from a loose scrum near the posts a score seemed likely but slow passing wasted the opportunity. Early in the second half Blackrock converted a long distance penalty and ten minutes later in a heavy downpour of rain a charged down kick gave them a try. In the last ten minutes we were on the attack once more, the backs passing the ball round quickly in a great effort to score, but a strong defence remained unbroken to the end.
While congratulating Blackrock on their victory, we would like to add a word of praise to our own team who fought so gallantly. It was difficult for the backs in face of such close marking but they all played well. P. Shortall in particular, who in previous matches had been somewhat subdued, had his best match, and his speed and determination almost got us that all important first score. Special commendation must also be given to all the backs and to O. Clyne for their fearless tackling particularly in the second half, and it is a tribute to their tackling and to that of the whole team that this Blackrock side which in previous cup matches had scored over seventy points could score only an opportunist try from a charged down kick against them. The forwards once again did their work very efficiently and to quote from the Irish Press " every one of the forwards pulled his full weight and one must single out D. Brindley, a little red headed hooker R. O'Doherty and O. Clyne who played magnificently." M. Kealy had his best game at full back and distinguished himself by his coolness in many difficult situations.
Throughout the year we were indebted to all those who so unselfishly gave up so much of their free time to form an opposition for us ; their contribution in suiting their play to our requirements and in playing with such vigour and keenness played no small part in helping us to win our matches and we are indeed grateful to them. Our thanks are also due to Willie O'Neill, the Irish International forward for putting the final polish to the forwards during the cup match season.