1955-56 JCT Campaign
Junior House Rugby
May 29, 1956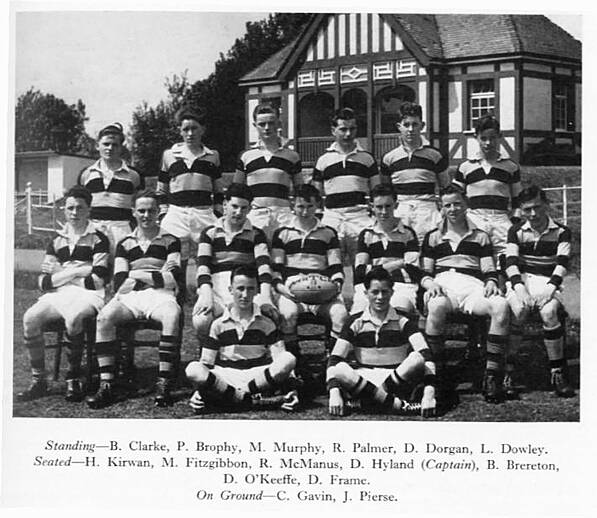 Captain—DERMOT HYLAND Second Captain—RAYMOND MCMANUS.
Third Captain—BRIAN BRERETON.
LADY Fortune did not smile too kindly on the 1955-56 J.C.T. After a very successful series of "friendly matches it was drawn in the first round of the Cup against Blackrock, the only team which had defeated it, and then after two hard fought drawn games it was defeated in the third match.
From early in the season the team had promised well. It was fortunate in haying very reliable players in all the key positions. Dermot Hyland was a most unassuming captain who led the team more by example than by word. In training and in matches he set the pace which the rest of the team strove manfully to follow. Brian Brereton at outhalf was perhaps the most accomplished footballer on the team ; not big or fast enough to make a really outstanding out-half, still his eye for an opening, his coolness under pressure, his covering in defence and above all his expert kicking, made him a more than competent general of the backs. Full back, often a cause of trouble on a Junior team, was ideally filled by C. Gavin. A good sense of position, a grand pair of hands and an equally good left and right footed kick made him an outstanding full back. In the forwards, the hooking of J. Mcllvenna assured us of a good supply of the ball, while M. Fitzgibbon as open side wing forward was ever ready to snap up any mistakes of the opposition.
Different teams are distinguished by different qualities. This year's J.C.T. will be remembered, especially by those who saw the first two cup matches for their courageous tackling. It is not uncommon to see four, five, or six fine tacklers on a J.C.T., but a team in which all fifteen, ranging in size from a pocket size scrum half to hefty second rowforwards, crash equally low and hard into their opponents big and small is not so usual. A salutary heavy defeat, admittedly with a depleted team, had taught them early in the season the necessity of low tackling and they certainly learned their lesson well. There was one other distinguishing mark of this team, about which only those who saw them at home would know. Junior teams in the past have trained very hard, but it is doubtful if any have trained as willingly and as earnestly as this year. It is a pity that they could not reap the full reward of their efforts. Certainly many failings and weaknesses can be passed over in a team that showed such courage in tackling and spirit in training.
RESULTS OF FRIENDLY MATCHES
Castleknock v.: St. Mary's Away Won 9-0, Belvedere Home Won 22-0, Terenure Away Won 17-10, Blackrock Away Lost 0-22, Newbridge Home Draw- 3-3, Belvedere Away Won 3-0, Clongowes Awav Won 18-0, Blackrock Home Lost 0-6, Clongowes Home Lost 0-6, Belvedere Away Won 18-6,
CUP MATCHES—FIRST ROUND
Castleknock 0 Blackrock 0
Replay Castleknock 0 Blackrock 0
2nd Replay Castleknock 0 Blackrock 12
Few who saw even our second friendly with Blackrock and the supremacy that their forwards had established would have given us much chance in this match. However the forwards had realized how much depended on them and they had practised very hard and had improved beyond all expectation Throughout the whole of the first cup match they played with great vigour. R. McManus and B. Clarke were constantly in the thick of the battle but they were well backed up by every member of the eight. M. Fitzgibbon had an outstanding game, time after time he crash tackled the opposing backs. However when we had failed to score at half time despite the advantage of a very strong breeze the chances of surviving seemed to be very slight. But despite constant pressure during the second half our defence stood firm. Each member of the back line tackled his man, and tackled him good and hard while the covering forwards sealed off any breaks from loose balls. The next match still brought no score, but an improved display by a more confident side seemed to augur well for the third match.
We had finished once again more strongly and had been a little unfortunate on one or two occasions not to have scored. However in the third match a leg weary team had to face a very strong breeze and though they started with a great burst which came very close to getting that all important first score, a well taken try by Blackrock seemed to rattle them off their game and they succumbed by 12 pts. to nil.
As usual the team owes a debt of gratitude to the members of the " opposition " who worked so hard and so unselfishly to form them into a worthy cup-team. Often the efforts of " colours " go very much unrewarded and few compliments are paid to them during the year, yet without their wholehearted co-operation much would be wanting in the training of the team. This year's team learned much from them, and the rapid improvement from December onwards was due to a large extent to the efforts of the seasoned campaigners.