2019 Castleknock 5K Road Race
Jul 1, 2019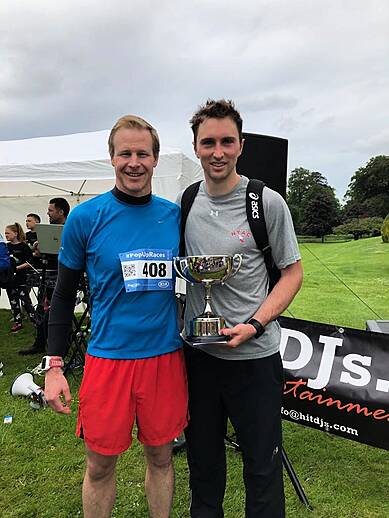 The 2019 Castleknock 5K Road Race took place on Sunday, June 16th. It was first run in 2014 in memory of our fellow pastman Rory Doherty (Class of 1999) who sadly passed away in 2013. The hard working committee includes pastman John McMenmain. This year's run was in aid of the Stroke Unit at Connolly Hospital in Blanchardstown.
The race started under warm but overcast conditions just outside the grounds of the College and made its way down Tower Road and into the Phoenix Park via Knockmaroon Road. It then turned left onto Whites Road, made its way through Farmleigh Estate, back onto Tower Road and in through the original main gates of the College, finishing on the main avenue.
It was won by Peter Somba in a time of 15:09 making it back to back wins for the Dunboyne Runner. Local Metro St Brigids man and fellow pastman John Coghlan (Class of 2007) came second to finish in a time 16:50. The Rory Doherty Trophy was created for the first pastman past the post. The was first raced for in 2018. On both occasions, it has been won by John Coghlan. Will he make it three in a row next year or is there another pastman who can challenge a 16 minute 5K? The Junior boys race was won by Kilian Flynn (Metro St Brigids) son of John Flynn (Class of 1993).
It was a fantastic event in which well over 30 pastmen take part, many running with their families and friends. The Union is delighted to be associated with the event as a sponsor and hopes to get ever increasing numbers of pastmen participating in the years to come.
Pastmen who ran in the race included; Stephen Costello, Kieran Timmons, Rory McGuinness, Ted Leddy, David Quigley, Simon Plunkett, David Simpson, Mark Tobin, Fergal Langan, Niall Fanning, Greg Stafford, Andrew Rafter, Paul Corrigan, Mark Corrigan, Michael Langan, Eoin Harte, Ian Hopkins, Stephen David, Bruce McDevitt, Marc Flood, Chris Byrne, Stephen Boyle, Barry McLoughlin, John Coughlan, Karl Cox, Derek May, Nathan Clarke, Johnny Lynch, Patrick Farrell and Colin Murtagh
.