'54 at Fitzwilliam for (late) 50th Reunion
Where are they now
Sep 1, 2007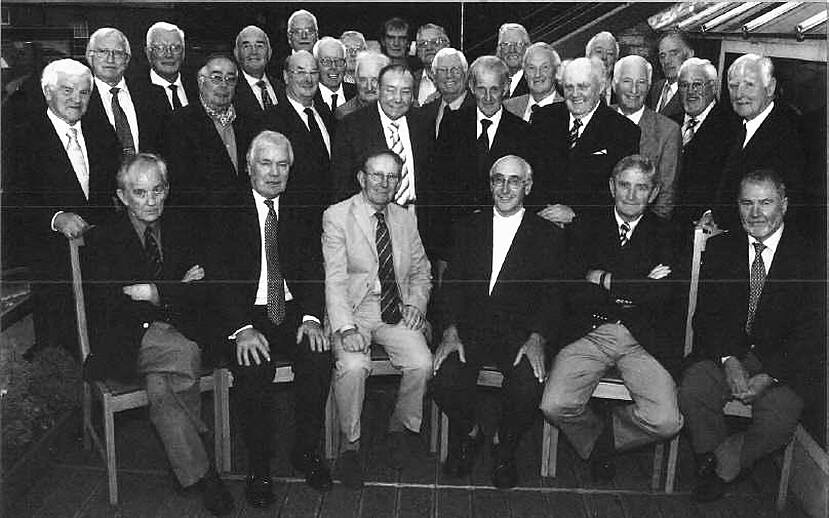 L-R Standing: Donal Blake, Tom Stokes, Eugene McEntaggart, Brian Quinn, Peter McNamara, Maccon MacNamara, Tony Brady, Peter Smithwick, Willie Roe, Frank Steen, Sidney Cheatle, David Burns, Robin Flood, Johnny Atkinson, Liam Quirke, Peter Crealey, Emmet Mullally, Vincent Lavery, Cecil Donovan, John Bourke, Cormac Byrne, Malachy Rafferty, Aidan Bourke - Seated: David Brindley, John Hanly, Dan Sullivan, Eamon Raftery C.M., Henry Wall, Carl Laverty.
-
It was fifty three years since we left Castleknock and so on 1 September 2007 we held our second Reunion Dinner at Fitzwilliam LTC which was superbly organised by the Organising Committee of John Bourke, Cormac Byrne, Cecil Donovan, John Hanly, Vincent Lavery and Dan Sullivan.
Sunday 2nd September, we all then decamped to the College where Eamon Raftery CM celebrated Mass in memory of our deceased colleagues: Michael Boyal, Peter Keogh, Bobby Brennan, Eddie O' Flynn, Tom Crotty, Tony McArdle, Gerry Dunworth, Paddy McGinty, Aidan Egan and Ronnie Rohan, and since the Reunion, we learnt of the death of Frank O'Rourke on 27 November 2007.
Requiescat in Pace
We were warmly welcomed at the College, where refreshments were provided after the Mass. The President, Fr. Peter Slevin CM and the Headmaster Mr. Andrew McGeady brought the group on a tour of the College, which has changed enormously since our time. The hospitality was much appreciated, and for the organisation of our visit to the College our thanks are due to Ms. Rita Coyle.
In all between both events thirty attended, but time is catching up with all of us and for various reasons, notably ill health and some long-term commitments, twenty-one of our group were unable to make it. As on the previous occasion Peter Smithwick has provided some biographical notes on most of those who attended. He spent a lot of time at both events recording details and a special thanks is due to him for his efforts.
---
Cecil Donovan practiced as a chartered accountant and is a past president of the Institute of Chartered Accountants. He is still serving as a member of the Finance Committee and the Regulation of Practice Committee of the Law Society. Married for forty one years he has four children and one grandson.
Cormac Byrne worked in the construction industry and is now retired living in Rathfarnham. He enjoys an active sporting life; fishing, playing golf, squash and tennis and is a dedicated gardener. He has two sons (both Castleknock men) one daughter and seven grandchildren.
Donal Blake comes from a family with a long tradition in the licensed trade in Enniskillen where he still fives, though now retired from active business. He is a member of Probus, the senior branch of Rotary.
Emmet Mullally now fives in Greystones having worked in sales and marketing. He is married with two children and spends much of his time enjoying golf and racing.
Sandy Stokes has been in Zimbabwe for many years first in the police and then farming. Having been forced out of there he returned to his native Tipperary where he farmed but I think in recent years he has handed over to his son. (He also has two daughters). He is a popular figure on the social scene of that county and in hunting and equestrian circles.
Liam Quirke has a wife and six children also in County Tipperary. A talented and successful rider and trainer, he has bred many winning horses.
Peter Crealey (remembered as an excellent cricketer when that game was almost extinct at Castleknock) emigrated to Australia in 1981 and now owns his own company with 100 employees and 175 salespeople. He is married with two children.
Johnny Atkinson practices as a dentist and now lives in Churchtown, Dublin. He is married with three children and one grandchild. He enjoys painting in watercolours and music.
John Bourke has had a varied and very successful career. He graduated in Chemical Engineering at UCD and then took his Master degree at Birmingham and later Ph.D. He worked with Pfizer and then with Shell in the USA and the Netherlands before joining the AIB Merchant Bank. He retired from this in 1995 to move to a business career where he is a director of many companies and has three wind farms. He is married with three children and two granddaughters. He enjoys mountain climbing and climbed Everest in 1993. He has also trekked to the North Pole.
Tony Brady fives in Virginia, County Cavan where he runs his extensive business. He is married with three children and four grandchildren. Coming as he does from a family with a long equestrian tradition it is no surprise that he is Master of the Oriel Harriers.
Aidan Burke qualified as a doctor and practices in Castlebar. He has five children and nine grandchildren.
Robin Flood went to sea for twenty-five years but has now retired to an active fife of yachting in Donabate. He has three children and four grandchildren.
Malachy Rafferty is Dean of the College of Arts and Science in the University of San Diego. He is married with three children.
Carl Laverty is a Master Mariner who after a life at sea fives at Kill o' the Grange. He enjoys walking and mountaineering and has worked in Ireland for that self elected oligarchy (and most agreeable club), the Commissioners of Irish Lights.
Frank Steen is married with a son who is a solicitor. He enjoys fife on his ancestral acres at Castle Odder near Tara and has been a member of the Meath Hunt for over thirty years.
Dan Sullivan went into the successful family butchering business but after their extensive premises were sold for hotel and residential development he moved on to other business interests where he trades to great effect as "Mr. Dan". He married a sister of Liam and Colm Galligan and has three children and ten grandchildren ranging from 25 years to 4 months. His favourite game is golf where he is often partnered by Cormac Byrne.
Vincent Lavery recently retired back to Ireland after an interesting career in the USA teaching the subjects of American Government and Economics. He was also a soccer trainer and wrote four books on this subject. To those who recall his successful campaign to be elected President of the Senior Debating Society in 1953, it will come as no surprise that he took to American policies with gusto and was a valuable member of the team campaigning for Robert Kennedy. He ran for Congress himself and managed throughout to avoid being snared into matrimony.
Sidney Cheatle who comes from a very artistic and musical family did not abandon that side of life for a prudent and pensionable career as his parents might have wished. Instead he developed the considerable literary talent he showed at school and wrote many plays for stage screen and television. Two have been performed in the Abbey. Yet another was staged at the Edinburgh Festival, then at the Piccadilly in London and has been translated into German. He has now retired with his wife to live in idyllic surrounding in West Cork and is writing a book.
Tom Sheedy for a time farmed on his ancestral lands in County Cork and then joined the British Army in the Army Air Corps seeing service overseas after which he farmed for some years in East Anglia. He returned to Ireland to take up a post with Securicor and lives in Churchtown Dublin.
John Hanly's father was a pioneer in the Hydro Electric Field and after a B. Sc degree at UCD John took over his father's operation at Collooney, County Sligo. He married and has four children and eight grandchildren. He has now retired from business but continues to enjoy sailing chiefly in Dublin Bay.
Eamonn Raftery joined the Vins on Leaving Castleknock and was ordained in 1962. He was attached first to St. Paul's and then in 1963 moved to St. Patrick's Armagh. In 1969 he went to Nigeria on missionary work but became (all honour to him) persona not grata to the government and was expelled in 1982. He then worked in England until 1985 when he spent four years in Maynooth. His Nigerian ban was lifted and he returned to Nigeria from 1989 to 2007. He is now doing parochial work in Dunstable Bedfordshire.
David Burns was with us at Castleknock for just two years before he went to Prior Park in Somerset. On leaving school he went into business of beer wholesaling and manufacture and distribution of mineral waters including an agency for Coca Cola. He now runs his own highly successful company and shows no inclination to retire.
William Roe spent his working life as an engineer with the ESB. For some years he has held high office in the Knights of St. Columbanus and for this and other charitable work has been created Knight Commander of St. Gregory the Great by the Holy Father.
Brian Quinn came from a large family, all of whom were at Castleknock, who are famous for the Ballymascanlon House Hotel near Dundalk. He himself established the Fairways Hotel, which he sold last year. He has three sons and four grandchildren and retains a keen interest in rugby. He enjoys traveling abroad.