Class '44 Golden Jubilee Dinner
Castleknock College
Jun 10, 1994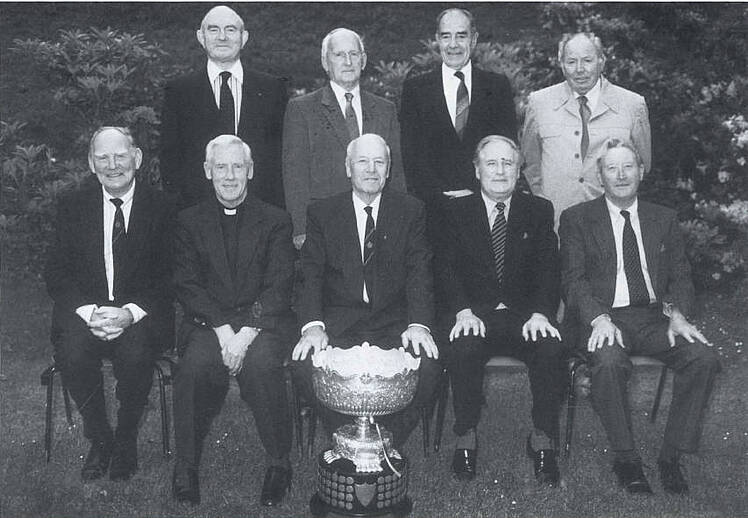 1944 CUP WINNING TEAM: 
Standing: J. Cooney, H. Barniville, E. Connellan, N. Flanagan.
Seated: C. Healy, P. O'Donoghue, R. Carroll, T. Delahunt, J. O'Neill.
On Friday June 10, the Class of 1944 and the SCT Cup Winners celebrated a most enjoyable Golden Jubilee Dinner at the College.
The evening began with a Mass in the College Chapel celebrated by Fr Paddy O'Donoghue C.M. (Class of '44 and out-half on the Cup Team). After a nostalgic stroll through the College to visit old haunts and see the changes that had taken place over the year we adjourned to the Community Room. There we were welcomed by the Vins, Very Reverend Kevin O'Shea - President, our former teachers Frs Donal Cregan and Maurice Carbery, and Frs John Doyle and Brian Mullan. After some enjoyable' pleasantries we moved on to the Refectory for an excellent meal. Centre piece was the Leinster Senior Cup, suitably decked in navy and sky which Ray Carroll had borrowed from St Mary's College, Rathmines. Our sincere thanks to them. Paper cuttings and reports of the matches, photographs from the College Chronicle and the menu of the Cup Dinner in 1944 were other memorabilia that helped greatly in jogging one's memories.
In his address of welcome Fr O'Shea recalled how indebted the College were to the year of 1944. Many of those present were known to him through their sons who subsequently came to the College. Seven of those present were former Presidents of the College Union and John Cooney and Ray Carroll were Chairman and Vice Chairman respectively of the First Board of Governors of the College. He was also aware of how generously they had contributed to the various building projects in the College. It was indeed an honour for the College to have them back for their Golden Jubilee, and he looked forward to welcoming them to the College on many future occasions.
---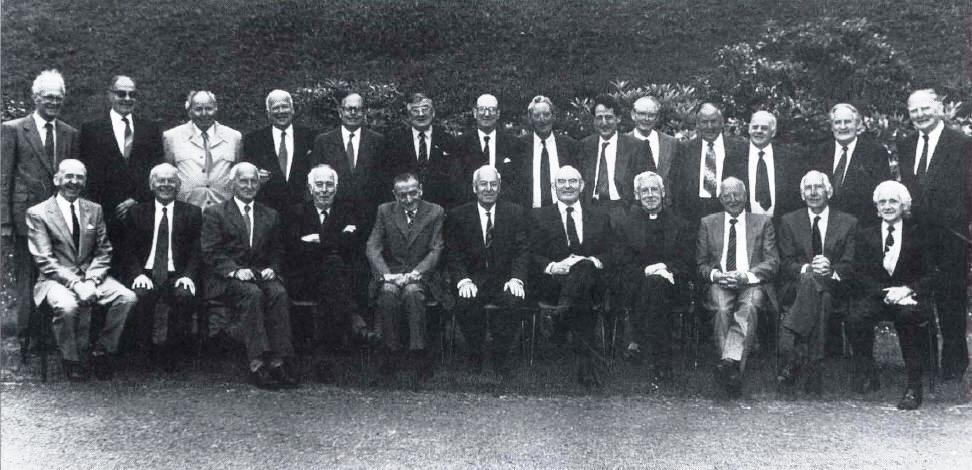 Front row, left to right: Brendan Joyce, Bernie Hynes, Harry Barniville, Eugene Smyth, Hugh O'Donoghue, Ray Carroll, John Cooney, Fr. Paddy O'Donoghue, Dermot Devlin, Joe Downes, Sean O'Dwyer. Back row, Left to right: Sean O'Connor, Eddie ConneLLan, Noel FLanagan, Tom McLoughlin, Paddy Walsh, Tony Farrell, Noel McQuillan, Joe O'Neill, Joe Bourke, Hillary Hopkins, Tom Clinton, Charles Markey, Tom Delahunt, Coleman Healy.
---
In his after dinner speech Ray Carroll recalled some memories of the Cup win. He felt that pride of place must go to the late Fr Willie Sullivan or better known as "The Boss" - a hard task master, with a no nonsense approach but a very successful trainer. In his speech in the dressing room Fr Willie simply reminded the team that on two other occasions 1940 and 1942 they had brought Fr Bill Meagher who was President to Landsdowne and on this the 3rd occasion we must bring him back the cup. Castleknock had a light pack, but were fast and mobile and outplayed a much heavier Belvedere pack in the final. We had a good place-kicker in Joe Brennan and on the day, much to our surprise, won easily 18 - 3. Ray also expressed the wish of all present when he said
Hopefully, it won't be too long before the Cup is here in 'Knock in its own right. Both College teams had done well this season - so maybe - we are not too far away from winning the Cup again
In conclusion he wished the College well and said that the Class of 44 will always be grateful to Castleknock and the Vincentian Order for the education they received, which enabled them to cope with the many up' and down's of life.
Greetings and good wish letters from Jimmy Geraghty - Middlesborough, Mick Halloway - Ontario, and Joe Brennan - Australia were read. All of them would dearly have loved to have been with their year for the Golden jubilee.
Hugh O'Donoghue then spoke very humorously on behalf of the supporters. Much to the merriment of all present, he quoted from the Under 14 rugby notes as written in the 1940 College Chronicle, giving an account of his own and other stalwarts limitation on the rugby field.
The centres were only moderate but one does not expect a great deal from such youngsters; Hugh O'Donoghue runs straight, which is a good trait. At wing threequarters we had Michael Cullen and Michael Holloway, both promising enough. Joe Brennan should develop into a good footballer later
There was only one bright spot
Ray Carroll worked the scrum well and gave out very good passes
Hugh's coup-degrace came when he said he looked to see what rotters had written these notes - Ray Carroll and Alex McAllister!
In conclusion, Hugh acknowledged that everyone present could reminisce about the past, however he saw the evening as one to wish the school well, to thank the Vins for giving us our education and to wish Castleknock another 50 years of continued success and prominence as the foremost College in Ireland', He then called a toast
Another 50 years for Castleknock