Class of 1959 - 40th Reunion recap
Newpark Hotel, Kilkenny
May 22, 1999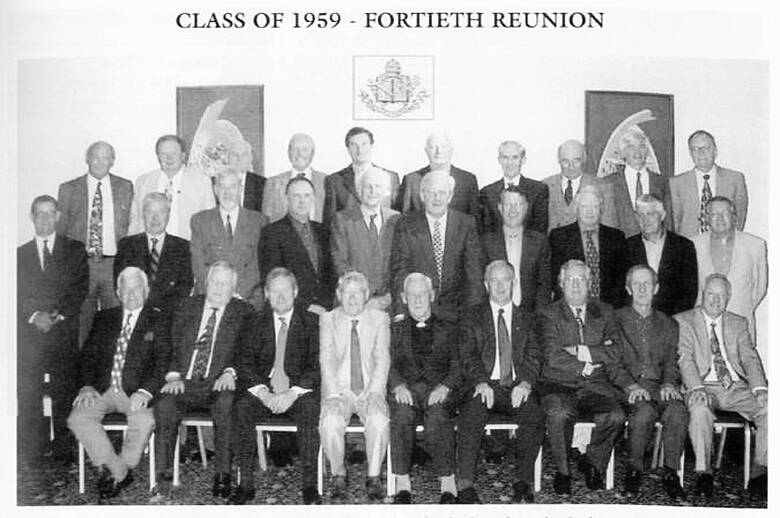 -
The organising committee must be congratulated for moving this great event out of the Capital and for including partners in what proved to be a most enjoyable week-end. The venue chosen was the historic city of Kilkenny. This decision was made so easy by the suggestion from Frank Scott that he would act as local organiser and what a wonderful job he did - photographer apart. Our base for the week-end was the Newpark Hotel which is owned and managed by an eminent pastman and past President of the Castleknock College Union - Bobby Kerr. As a result we were treated like royalty in a real "Knock" atmosphere.
The proceedings opened with a rather hesitant assembly in the hotel bar on Friday night, when the chief occupation of the arrivals was to correctly identify a fellow classmate. This was accomplished with the aid of a liberal sprinkling of alcohol and no little humour.
Saturday dawned a little too early for those of us who had arranged to play golf. However, the early start was soon forgotten when we were greeted by the beautiful May sunshine and the well maintained course of Kilkenny Golf Club. The field of 18 was graced by a few past Internationals such as Des Carbery and Bill Phelan. Despite the presence of such illustrious golfers the scoring was rather poor and as it should be, the event was characterised more by social integration than sporting endeavour. The eventual winner came from the Kingdom of Kerrv in the person of William O'Driscoll with a wonderful score of 35 points.
For the afternoon, Frank Scott had organised a walking tour of the many historical sites in Kilkenny City. Unfortunately there was an alternative attraction in Wembley in the form of the F.A. Cup Final. However, this did not detract from the numbers, but some of the participants tended to show more interest in taverns with TV than in the historical sites of this ancient capital. Many of the walkers returned by taxi and, judging by the noise and broad smiles, there appeared to have been time for the odd pint in between historic sites.
Saturday evening started with a Mass in the hotel which was concelebrated by Frs Martin Murnahan and Frank Murphy. This was attended by both pastmen and partners and was a very moving occasion which recalled all deceased class members - William Bastow, Aidan Conlon, John Donnellan, Noel Greene, William Lalor, Peter Langan, Rory McAlister, Peter McGettigan, Ruan O'Loughlin, Fr. Denis O'Donovan and Francis Ward. Requiescat in Pace. A candle was placed on the altar representing each deceased pastman and a short memory was recalled by one of their class-mates. Within the sadness and emotion there was also a little humour, when Fr. Murnaghan could not recall the name of the Bishop of Kilkenny.
After the Mass. our partners retired to Rinucinni's restaurant in Kilkenny, while the pastmen attended the compulsory drinks reception prior to dinner in the Nevvpark. Dinner was a great occasion with excellent food and drink, which was unobtrusively supervised by none other than the manager Bobby Kerr. Dinner was followed by a few entertaining speeches especially from our past Dean, President and successful SCT coach Fr. Paddy O'Donoghue. As always, on an occasion like this, one individual seems to emerge as the centre of attention - in this case the position was admirably filled by Paul Gallagher from Omagh. His impromptu, animated speech, recalling events between 1953 and 1959 was the highlight of the evening. The late return of the ladies brought the official proceedings to a reluctant but dignified conclusion.
In retrospect, it can be said that it was an occasion which was thoroughly enjoyed by all the 24 pastmen who were privileged to be present. Arthur Blake, Pat Brophy, Des Carbery, Jerry Carbery, Jimmy Casey, Leslie Dowley, Michael Flynn, David Frame, Paul Gallagher, Anthony Glynn, Bill Harrington, John Hearne, Fr. Martin .Murnaghan, Fr. Frank Murphy, James O'Donnell, Fr. Paddy O'Donoghue, William O'Driscoll, John O'Neill, John O'Riordan, Robin Palmer, Bill Phelan, Jim Pierse and Michael Ryder.
Leslie J. Dowley