Eamonn O'Dwyer, class '39
Where are they now
May 9, 1963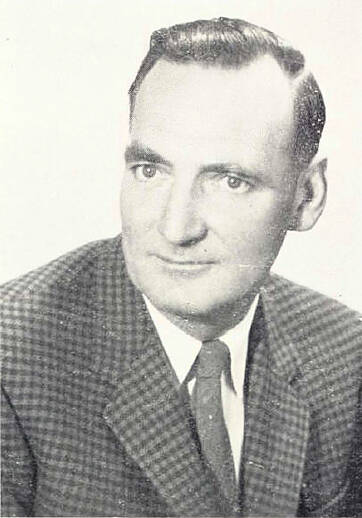 Lt. Col. E. T. O'Dwyer, R.A.M.C.
Lt. Col. E. T. O'Dwyer, R.A.M.C. (1935-37) has been serving with the British Army since 1946. After qualifying at the Royal College of Surgeons and a brief period as House Surgeon in Baggot St. Hospital and some locum tenens work in this country he joined the R.A.M.C. An up-to-date account of his movements thereafter reads like a James Fitzpatrick travelogue. Eamonn has served in Britain, Austria, Germany, Egypt, Japan, Korea and Australia, and at the time of going to press we have learned that he is once again on the move, this time to Aden. In his various postings throughout the world Eamonn's most happy memories are of a Holy Week in Jerusalem in 1947 and being present as a guest at Monsignor Quinlan's consecration in Korea in 1952. His most poignant memory is associated with Hiroshima where he was stationed while in Japan and where he worked with the Atomic Casualty Commission.
In 1952 he was promoted to the rank of Major and commanded a military hospital in Austria and in 1961 he was given charge of a Field Medical Unit in Germany and promoted Lt.-Colonel. Eamonn is a keen rugby man and represented the British Army on occasions abroad. Golf, however, is of all games his first love, and hailing as he does from Ennistymon, adjacent to the famous Lahinch links on which he practically grew up, this is not surprising. He did not reveal to us what his handicap is but admitted that he came third in the Army Golf Championship at St. Andrews in 1959 and represented the Army in all interservice matches the same year so we can legitimately conclude that he is no mean performer. Nor is his performance confined to swinging the clubs for while stationed in Germany he was responsible for the laying out and construction of a nine hole course, the only Army golf course in that country and of its type one of the longest in Europe. This course, originally named the Hohne Station Golf Club, has recently-and we may add fittingly been renamed the O'Dwyer Golf Course. That it is situated only a mile or so from the infamous Belsen concentration camp takes nothing from its appeal and although opened only a few months has already a large membership.
Eamonn is married and has four children, two boys and two girls. The boys, Liam and Eamonn have been with us in Castleknock for the past two years. We wish Eamonn continued success in his career and the best of good luck in his new assignment in Aden. No doubt we will soon hear that he has opened up another golf course somewhere amid the desert wastes of Arabia!