Farrell Brothers of Portarlington
Where are they now
Sep 10, 1934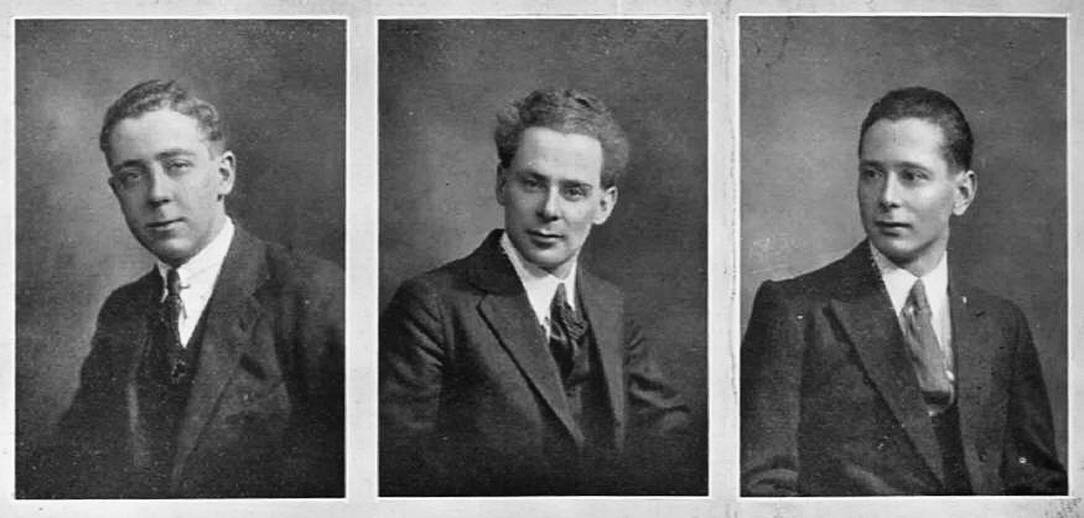 Alfie Farrell, Solicitor                   Joe Farrell, M.Sc.                     Dr. Harry Farrell
Heartiest congratulations to Dr. Harry Farrell, class '20, who has just returned to India. He came home last year to do some courses. That he did them to some effect is evidenced by the fact that he got his F.R.C.S. Edinburgh. In London he studied tropical diseases and did the first part of his Examination at Christmas, getting First Place and a Medal; at Easter he did the second part and got First in all his subjects. We have just learned that since his return Harry has been appointed Surgeon to the British Legation in Kabul, Afghanistan. Congratulations again, Harry!
Harry's brother Alphie Farrell, class '23, is doing very well in Portarlington, where he is rapidly becoming one of the legal lights of the place.
Speaking of lights, we are reminded that the senior member of the family, Joe, class '17, is responsible for the engineering proficiency of the E.S.B. He surely must at times use worse language than a farmer about our Irish weather, he dreads a snow-storm, but he surely hates a drought.