Junior Cup Team Captains
1914 - 2016
May 1, 2000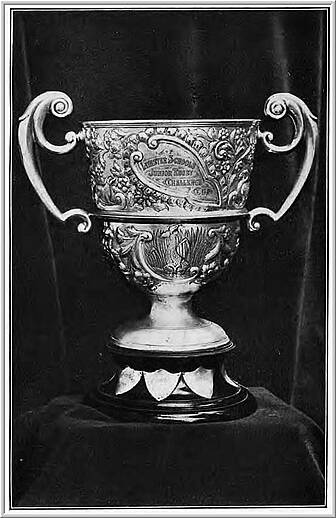 Leinster Schools Junior Cup
In 1909, rugby football was introduced as the premier field sport for seniors at Knock. Four years later it was decided that Juniors should also play the game, and so on the 27th February 1914 SVC played their first ever JCT cup match. Blackrock was the opposition and Knock won but fell in the next round to Andrew's. Undaunted SVC at the second time of asking won the 1915 Junior Cup, and went on to dominate the following decade with a further six victories. It wasn't though a harbinger of things to come for SVC have only won it once since, in 1966, and have been beaten finalists on a further nine occasions.
All such teams were led by a playing trio of Captain and two Vice-Captains. There was method in this, for if the captain was injured, it was the 2nd captain who led the team for the cup run, and if the captain was in the back line, then either the 2nd or 3rd captain was invariably pack leader or vice versa.
Listed below are the Captains who led the JCT from 1914 through to 2016.
---
| | | | | |
| --- | --- | --- | --- | --- |
| Year | Stage | JCT Captain | JCT Vice Captain | 2nd Vice Captain |
| 2016 | 1st | Mellet, Max | Doherty, Adam | Wallace, James |
| 2015 | QF | Corcran, Adam | McGaley, Jamie | Egenton, Cian |
| 2014 | 1st | Horgan, Jack | O'Meara, Robert | Connolly, Josh |
| 2013 | 1st | Donnelly, Stephen | Boucher, Marc | Murray, Gavin |
| 2012 | 1st | Healy, Anthony | McHugh, Richard | Peters, Patrick |
| 2011 | QF | McEntagart, Sean | Doddy, Cian | O'Riordan, Niall |
| 2010 | 2nd | O'Neill, Jack | Henry, Darragh | Daly, Jason |
| 2009 | 1st | Gleeson, Rory | Nalty, Paul | Perry, Dylan |
| 2008 | 1st | O'Riordan, Conor | O'Brien, Joseph | Barnes, David |
| 2007 | 1st | Lacey, Sean | Jones, Ross | Brady, Adam |
| 2006 | Semi | O'Shea, Jack | Hafford, Samuel | Moore, Marty |
| 2005 | 1st | Townsend, Liam | Donnelly, Stephen | McConville, Liam |
| 2004 | 1st | O'Riordan, Dermot | Layden, Conor | Boylan, Eoin |
| 2003 | Semi | Collins, Brian | Walsh, Tom | Sheerin, Mark |
| 2002 | Final | Mullen, Eoin | Hickey, Alan | Stapleton, David |
| 2001 | 2nd | Mullen, Eoin | Flanagan, Eric | Delany, Ciaran |
| 2000 | 1st | Hurley, Denis | Flanagan, Alan | Barry, Warren |
| 1999 | 2nd | Stafford, Gregory | Byrne, Ciaran | Rhodes-Vivour, Timi |
| 1998 | QF | Manning, Colm | Duffy, Patrick | Mescall, Conor |
| 1997 | 1st | Lyne, John | Guckian, Philip | O'Reilly, Conor |
| 1996 | 2nd | Grimes, Dermot | McDevitt, Bruce | Fegan, Oliver |
| 1995 | QF | Dixon, Alan | Whitty, Andrew | Murphy, Richard |
| 1994 | Semi | Twomey, Barry | Rennicks, Richard | Nolan, Gerard |
| 1993 | 2nd | Murphy, Ian | Fahy, Reamonn | Grimes, Paul |
| 1992 | 2nd | Lynch, Cian | Brown, Finbar | Clarke, Oliver |
| 1991 | 2nd | Robinson, Bernard | Cooney, Patrick | Geraghty, Bobby |
| 1990 | 2nd | O'Reilly, Donal | Dwyer, David | Brady, Vincent |
| 1989 | 1st | Harrison, Peter J. | Bell, Vincent | Flood, Richard |
| 1988 | 2nd | O'Connor, Marcus | Lunn, Barry | Mullan, Peter |
| 1987 | 1st | Doyle, John | King, Edward | Forrest, Robin |
| 1986 | 1st | Tobin, Ross | Woods, Frank | Toland, Simon |
| 1985 | Semi | McGowan, Donogh | Murphy, Jonathan | Lunn, John |
| 1984 | 2nd | Quinn, Oliver | Morrin, Michael | Fleming, Edward |
| 1983 | 1st | Egan, Mark | Moore, Simon | Conway, Joseph |
| 1982 | 1st | Brady, Peter | Halpenny, Kieran | Egan, Mark |
| 1981 | Semi | Brady, John | Keane, Peter | Magee, Liam |
| 1980 | 1st | Fogarty, Joseph | O'Dwyer, Michael | Barrett, Thomas |
| 1979 | 1st | McGovern, Damien | Carroll, Raymond | Atkinson, William |
| 1978 | Semi | Hickey, Donald | Fitzsimons, James | O'Dwyer, Patrick |
| 1977 | 2nd | O'Dwyer, Patrick | Mason, Fergus | McCann, Patrick |
| 1976 | QF | Cotter, Jeremy | Conway, Stephen | Murphy, John |
| 1975 | Semi | Geraghty, James | Skuse, Peter | Gallagher, John |
| 1974 | 1st | Conlan, Peter | MacWhite, Mark | Kinsella, Peter |
| 1973 | QF | Molloy, James | Loughran, Paul | Murphy, Barry |
| 1972 | Semi | Boyle, Basil | Lyster, Liam | Lynch, Daniel |
| 1971 | Semi | O'Connor, Tom | Cleere, Philip | Desmond, Peter |
| 1970 | 1st | Gleeson, Mark | Feighery, Aidan | Dunne, Andrew |
| 1969 | 2nd | Clarke, Denis | Walshe, Peader | McDermott, Frank |
| 1968 | 1st | Cheevers, Thomas | Faller, Dennis | McDermott, Declan |
| 1967 | Semi | Walsh, Michael | Hay, Peter | Martin, Alexander |
| 1966 | Cup | Magee, John | O'Dwyer, Liam | Barrett, George |
| 1965 | Final | O'Rourke, Bernard | Hanrahan, David | Delany, Martin |
| 1964 | 2nd | Durcan, Thomas | Murray, Noel | McMahon, Richard |
| 1963 | Final | Hutch, Barry | Grant, Terence | O'Connor, Jeremy B. |
| 1962 | Semi | Ince, Ralph | Power, John | Feighery, Conleth |
| 1961 | Semi | Kennedy, Niall | Mullan, Brian | Ince, Ralph |
| 1960 | 1st | Dorgan, James | Fitzpatrick, Niall | Power, Hilary |
| 1959 | 1st | Kerley, Michael | O'Connor, Tim | Cheevers, Larry |
| 1958 | Semi | Fuller, Stephen | Bouch, Kevin | Boylan, David |
| 1957 | 1st | Lalor, William | Hogan, Roderick | Fuller, Stephen |
| 1956 | 1st | Hyland, Dermot | McManus, Ray | Brereton, Brian |
| 1955 | Semi | Curran, Noel | O'Neill-Fitzsimons, T. | Brogan, Michael |
| 1954 | Final | Bourke, Patrick | Shortall, Paddy | Taylor, Brian |
| 1953 | Final | Quinn, J.Oliver | Brady, Richard | Lyons, Robert |
| 1952 | 2nd | Bourke, John | Griffin, Brian | Curran, Eugene |
| 1951 | 2nd | O'Rourke, Francis | Howlett, Brian | Bourke, Aodan |
| 1950 | 1st | Quinn, Joseph N. | Slowey, Harry | Kelly, John |
| 1949 | 1st | Clyne, Simon | Nestor, Jeremiah | Brogan, Maurice |
| 1948 | Semi | Nicholl, Peter H. | Kelly, James | Brennan, Denis |
| 1947 | QF | McGettigan, John | Hogg, David | Kelly, Edward |
| 1946 | Final | Masterson, Joseph | Kilgallen, Cecil J. | Casey, William |
| 1945 | 2nd | Domegan, Patrick | Bennett, Michael | Guerin, Brendan |
| 1944 | 2nd | McCabe, Peter J. | Maher, Frank | McCrohan, James |
| 1943 | 1st | Hopkins, Patrick | Dodd, Thomas | Brennan, Brendan |
| 1942 | 1st | O'Donoghue, Hugh N. | O'Neill, Joseph S. | Barniville, Harry |
| 1941 | Semi | Dodd, George | Browne, Patrick | Sheils, John J. |
| 1940 | 1st | Swan, Gordon | McAlinden, Joseph | Duffy, Gerard F. |
| 1939 | 1st | O'Donoghue, Donal | Moloney, Patrick J. | Kelly, Henry |
| 1938 | 1st | Hinds, Godfrey | Callan, Colum | O'Rafferty, Emmet |
| 1937 | Final | O'Rafferty, Liam | O'Kane, Daniel | Steen, Brendan P. |
| 1936 | Final | McEntegart, James | McCrystal, Francis | Doyle, Desmond |
| 1935 | Semi | Hinds, Gerald | Flannery, Sean | McLaverty, Sean |
| 1934 | 1st | O'Brien, Barry | Slattery, Anthony | Hynes, Joseph |
| 1933 | 1st | Murphy, Mervyn Ross | | |
| 1932 | 1st | Ryan, James G. | | |
| 1931 | Semi | Brophy, Charles | Ryan, James G. | Murphy, Henry |
| 1930 | Semi | Dwyer, Frederick C. | Brophy, Thomas | Brophy, Charles |
| 1929 | Semi | Sinnott, Thomas | McCormack, Francis | Brennan, Patrick |
| 1928 | Cup | Hopkins, Siggie | Ryan, Michael K. | McCormack, Francis |
| 1927 | 1st | Ryan, Richard | O'Brien, Richard H. | Casey, James |
| 1926 | Cup | Marsland, James | Waldron, Michael | Casey, James |
| 1925 | Semi | Grant, Gerard | Marsland, James | Maguire, Charles |
| 1924 | Cup | Quinn, James H | Tierney, Joseph | Stafford, James F. |
| 1923 | 2nd | Lightfoot, Edward | Murphy, William | Brophy, Joseph |
| 1922 | Cup | Linnane, Michael | Power, William | Sumerling, Francis |
| 1921 | Cup | O'Donnell, Patrick J. | Smyth, Dermot J. | Grant, Desmond |
| 1920 | Cup | Shortall, Leo | Dunne, Michael J. | Shelly, Myles |
| 1919 | Semi | Hanrahan, Charles | Cooper, Victor | Fitzsimons, John |
| 1918 | Final | Hanrahan, Charles | Ryan, William J. | Brennan, Alfred |
| 1917 | Semi | O'Byrne, Michael | Kennedy, Francis | Kennedy, Peter |
| 1916 | 1st | Bolger, Patrick A. | Condon, Gerald | Kennedy, Francis |
| 1915 | Cup | Sweeney, Joseph | Brophy, Patrick | Kennedy, John |
| 1914 | 2nd | Murphy, John Patrick | Doyle, Raymond | Hatch John |