Junior President's Networking Event
Sep 6, 2019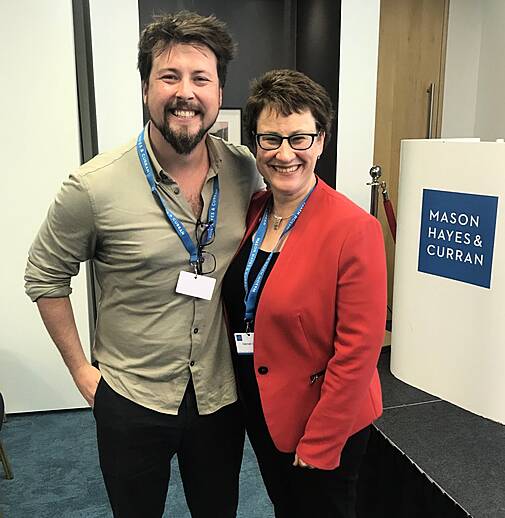 Networking event showcases the value of mentoring
The benefits of mentoring and the power of the network were central themes at this week's networking event, held on the evening of Thursday 5th September, at Mason Hayes & Curran on Barrow Street.
Junior President Jack Hurley introduced Devan Hughes (Class of 2007), the founder and CEO of technology & data startup Buymie, who presented the story of how he built the platform from scratch. Buymie is a "Deliveroo for groceries"; a marketplace solution that is rapidly scaling, taking advantage of new customer behaviours, technologies, and market dynamics.
The audience comprised a mix of pastmen young and old, working across a range of sectors such as accountancy, sales, law, marketing, finance, technology, retail and hospitality.
In a highly entertaining and informative presentation, Devan, a self-confessed "wantrepreneur" noted how mentors along his journey helped him to validate his idea, by both "punching it apart!" and making valuable introductions. He also spoke about the value of networking and continuously asking for advice. Having previously started four businesses, including a biometric payments business, an app development house, and even a business to import electronic golf trollies from China, Devan wryly noted that he did these "without mentors, without advice... and they all failed!"
Mentoring consultant Hannah Carney followed with the reminder that "mentoring helps you to create the capacity to think - proactively, creatively - constructively - creating a place where the magic can happen". She cited the two-way benefits of mentoring for both mentees and mentors.
After Q&A with Devan, the event concluded with words of thanks from Union President Fintan Cooney. He encouraged pastmen to get involved in the mentoring scheme (which is now up and running, with a number of active mentorships) by signing up as a potential mentor, mentee, or both.
Details on how the scheme works and application forms are available at https://www.knockunion.ie/mentoring.
For more about BuyMie, see https://buymie.eu and https://twitter.com/DevanHughes