Morrogh's of Sunday's Well, Cork
"A Family of Soldiers"
Nov 11, 1918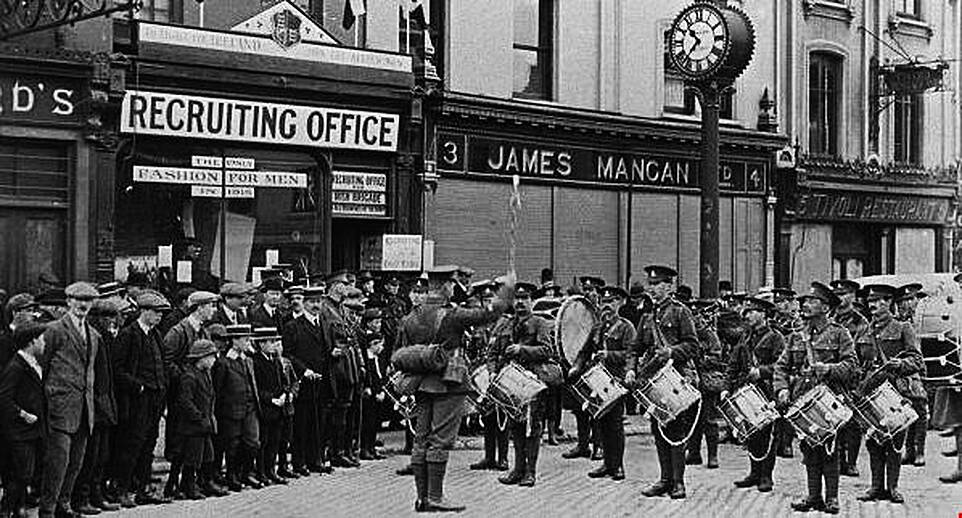 Recruiting Office, Cork, WWI
It is remarkable that nine sons of the Morrogh family from Sunday's Well, Cork were educated at Castleknock College - Jack (1896-99), Henry (1888-91), Patrick (1889-94), Francis (1893-99), Dominick (1901-05), Ray (1901-07), William (1901-07), Stephen (1907-12) and Vincent (1907-12), but what is even more remarkable is that six of them saw active service at the front.
The Cork Examiner reports in 1915:
" A FAMILY OF SOLDIERS"

"There are many cases of five or six men of an Irish family serving in the lower ranks of the army, some even joining on after their brothers had fallen victims to the Germans. In no instance until the present circumstance has it come under our notice that the manhood of a well-off family, conducting an important business concern, has followed the lead of a brother already in the service and taken their place under the colours.

The late Mr. John Morrogh, of Douglas, Co. Cork, at one time M.P. for South East Cork, and connected with important South African mining concerns, established at Douglas a woollen mill that became known throughout the world for the excellence of its products, and this important industry is being continued by his family. As employers they enjoy a most popular record, providing remunerative employment to many hands, whom they treat indulgently and with every consideration.

The young members of the family are a credit to Irish manhood, being keen sportsmen and exceptionally fond of outdoor sports, and therefore when the country needed the help of her best men there was a ready response from that family.
Captain Jack Morrogh, of the 18th Royal Irish, gladly responded to the call, and in October he entered into the fighting in Flanders, was in many important engagements, took part in the terrible work at Ypres and Hill 60, where he was wounded. He was invalided home, but is rapidly regaining health. Second Lieut. Frank Morrogh is in the famous Munsters, and has gone to the Dardanelles, where he got his baptism of fire when landing, the German-Turkish forces treating that regiment to a heavy shelling. He is a well-known gentleman jockey and cross-country rider. Mr. Vincent Morrogh is a cadet, and may be expected at any time in the immediate future to receive his appointment. Corporal Ray Morrogh, of the Royal Engineers, is a keen motorist, and possesses a decided talent for engineering work. Mr. P. Collins, a son of Mrs. Morrogh and step-son of the late Mr. John Morrogh, is also a corporal in the Royal Engineers. He is a clever engineer, selecting it as a profession, being a member of the firm of Collins and Morrogh, motor engineers, Cork. Second Lieut. William Morrogh has joined the 27th Battalion (4th Tyneside Irish) Northumberland Fusiliers.

Certainly the members of this family have responded well and generously to the call for men — they are of the best fighting material, combining all that goes to make the best of soldiers, physical health, intelligence, ability, and courage. In wishing them the opportunity of distinguished service it is only to gratify a desire that is nearest to their hearts, but we in addition hope a safe return to them all, and in this wish we are in accord with the large circle of their friends."
Since the above was written Captain Jack Morrogh was promoted Major, returned to the front, was captured, but made a successful escape and returned to active service. Lieutenant Frank Morrogh was killed in the fighting line in the Dardanelles in June, 1915. William Morrogh was awarded the Military Cross. Vincent obtained his commission and served with the Connaught Rangers. Ray Morrogh and Pat Collins both served with the Signal Co., Royal Engineers.
Our prayers are with the five remaining sons to see them returned home safely.