News of Pastmen (David Bell, Class of 1938)
Jan 23, 2020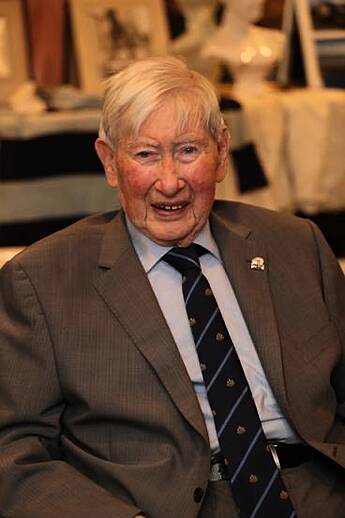 Many of our pastmen will be familiar with Mr David "Daisy" Bell (a true 'Knock Legend) who attended Castleknock College from September 1933 until June 1938 and what a great impression this man left on both our College and Union. Recently David marked his 100th birthday and a celebration was held by family and friends to mark this astonishing achievement. Mr Colin Murtagh (Union President 2017) recounts the celebration below:
"David celebrated his 100th birthday with a momentous occasion in the Radisson Hotel (Stillorgan) and I've never attended anything like it with a phenomenal guest of honour holding court all afternoon to a huge number of delighted guests getting their chance to have a chat and reminisce. After five hours of chatting and cutting of the cake, Beller then insisted on singing an old favourite Rag Time Cowboy Joe before departing for bed.
Hundreds of people flocked through in the course of the afternoon but none were more noticeable than a huge cohort of Castleknock pastmen (including our current President Johnny Lynch & some Committee members, many other Past Presidents, former Judge Hugh O'Flaherty, College Headmaster Chris Kinder (laden down with 100 cards from 100 College students), Ms Rita Coyle, Ms Ger Corrigan and so many more.
The room celebrating David's birthday was strewn with old memorabilia including a fantastic TV screen showing old pictures, some old rugby gear, David's Inter Pro Caps, a fabulous booklet on Daisy's life and of course the Navy & Sky Blue birthday cake. Johnny Lynch (Union President) presented David with a framed picture of some old snaps of David during his time at the College along with a detailed list of all his remarkable accolades (listed below)."
David, the Union and all of our pastmen are proud to salute and congratulate you on your 100th birthday.