Our man in Papua New Guinea - John Glynn class '55
It's a long long way from Clare to there
Sep 13, 2016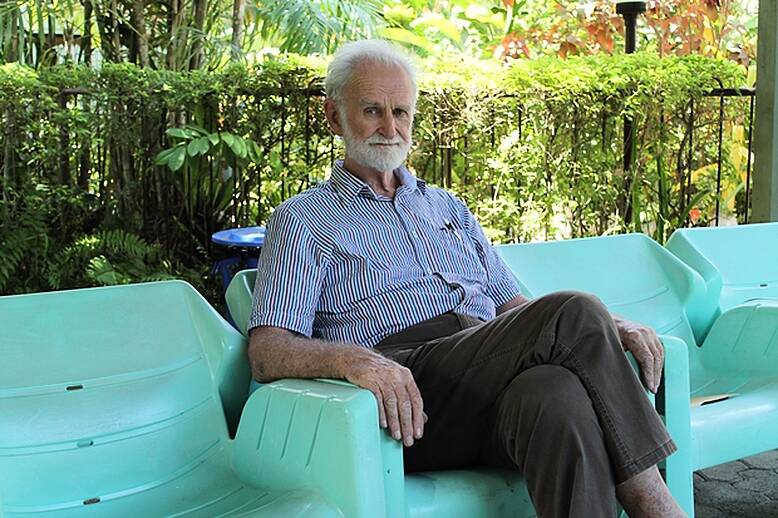 -
John Glynn from Kilkee in County Clare was the middle brother of three with us at SVC in the 50's. The eldest William, class '53 remains hale and hearty and lives in Long Ashton, Bristol but the youngest brother Robert who was head prefect in '58 sadly died just months after leaving Knock. Their father William was also a pastman, class '12.
John's life journey since Knock is a remarkable story.
He grew up in Co. Clare in the 40's and in his own words is best described as one of the many a young man of 20 who sailed away to find himself. He first worked in London, then joined the British army for a short while and returned to London and worked as a swimming pool attendant in Islington. Then it was off to Sydney, working initially in an office but where subsequently he found his feet in a glorious career as a teacher.
In 1963 teaching took him to Papua New Guinea which was then an Australian Administration Territory. The country achieved its independence in 1975 at which point John following a late vocation went to study for the priesthood in Sydney. He was ordained for the Diocese of Kavieng in Papua New Guinea in 1980 and later became a naturalised citizen. John has never considered himself to be a missionary, more a Papua New Guinea citizen and a diocesan priest.
That marvellous ministry was captured in this RTE documentary entitled "Paradise Island". It was the story of New Ireland and of an Irish man who moved 12,000 miles from his native Clare to be for these people, a priest, writer, teacher, and tribal chief. This latter honour was given to him by the people as recognition of his work and as a sign of their respect and regard for him.
The picture that emerges is of a peoples padre but a maverick, and alas that only led to trouble for John. He was ostracised by both the native and the missionary clergy as neither viewed him as one of their own. This came to a head in 1997 when his Bishop effectively fired him. John spent the first two years of his enforced laicisation on a friend's coconut plantation until Bishop Willie Walsh answered his SOS with an invitation to his Diocese of Killaloe in Ireland.
John spent the best part of a year helping out at Kilanena (Clare) and Toomyvara (Tipp) parishes, but the call of Papua New Guinea remained strong and teaching proved to be his way back in -
I returned to Papua New Guinea to take up a teaching post, very well paid, at a private school in the capital, Port Moresby. I spent only a year at the private school and then took up a post as Chaplain and Counsellor at Jubilee Catholic Secondary School in 2002. I still occupy this position today.

I am also a Board Member of the PNG Chapter of Transparency International; a member of our Independent Media Standards Committee -a sort of Ombudsman Committee for the national media; a Board Member of the Digicel Foundation; the founder of a national youth movement, the Youth Against Corruption Association (YACA); and founder, and now Patron, of the Foundation for Women and Children at Risk (WeCARe!) which provides support for Care Groups in the city settlements that look after 500 orphaned and vulnerable children, and we pay school fees for over 300 of them; I am kept busy.

The Church is not involved, and does not support any of the work I do, although the present Archbishop is very happy for me to continue in his diocese as a sort of 'priest in private practice'. He rejects my request to be incardinated on the grounds that I am 'too old' and might become a financial burden. No clerical pension, health insurance or Mass stipends for me then.

My school though provides me with a good stipend and accommodation, and the support I receive from friends is considerable, and I lack for nothing. I really have a very good life. Although I have recently undergone medical treatment, including surgery, in Ireland and suffer from slowly failing eyesight and a touch of arthritis I am in very good health and should be able to trundle along for a few more years.
John celebrated his 80th birthday on Tuesday 13th September, 2016 and amongst the huge crowd that turned out to be with him for the celebration, were students at Jubilee Catholic Secondary School, volunteers of WeCARe Foundation, representatives from Digicel Foundation, Transparency International, Youth Against Corruption Association, Mineral Resources Authority, and the priest and parishioners of Sacred Heart Parish at Hohola.
Our man in Papua New Guinea may be eighty but he isn't slowing down.
He is indeed a Lifer.
Happy Birthday Fr. John Glynn.