Senior Cup Team Captains
1910 - 2016
May 1, 2000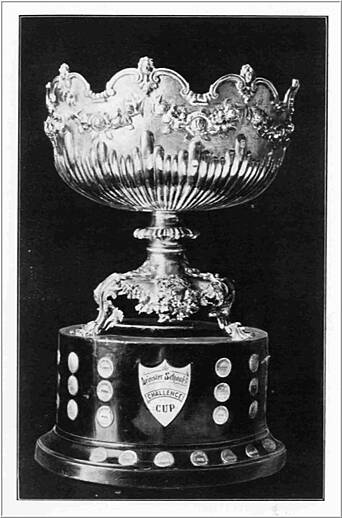 Leinster Schools Senior Cup
In 1909, much to the chagrin of students who then had an unrivalled reputation in association football, rugby football was introduced as the premier field sport at Knock. Three years later they entered the Leinster Senior Cup and won it at the first attempt, and thus far have made twenty-three appearances in the final, of which eight were cup winning runs.
All such teams were led by a playing trio of Captain and two Vice-Captains. There was method in this, for if the captain was injured, it was the 2nd captain who led the team for the cup run, and if the captain was in the back line, then either the 2nd or 3rd captain was invariably pack leader or vice versa.
Listed below are the Captains who led the SCT from 1910 through to 2016.
---
| | | | | |
| --- | --- | --- | --- | --- |
| Year | Stage | SCT Captain | SCT Vice Captain | 2nd Vice Captain |
| 2016 | 1st | Birmingham, Cathal | Gibbons, Sean | Murray, Gavin |
| 2015 | 1st | McHugh, Richard | Birmingham, Cathal | McConville, Donal |
| 2014 | 1st | O'Sullivan, Jack | McEntagart, Sean | Hanlon, Tadgh |
| 2013 | 1st | O'Neill, Jack | Henry, Darragh | McCormack, James |
| 2012 | 2nd | Farrell, Thomas | Mellett, Michael | Perry, Dylan |
| 2011 | 1st | O'Riordan, Conor | O'Brien, Joseph | Farrell, Thomas |
| 2010 | QF | Jones, Ross | Reilly, Peter | Toolan, Conor |
| 2009 | 1st | Heneghan, Daire | Hafford, Samuel | Connolly, Michael |
| 2008 | 1st | McConville, Liam | Doherty, Cormac | Ring, James |
| 2007 | 1st | O'Riordan, Dermot | Barry, Conor | McAlinden, Marcus |
| 2006 | QF | Collins, Brian | Walsh, Tom | Louth, Darren |
| 2005 | 1st | MacKay, Sean | Conway, Peter | McKeon, Bryan |
| 2004 | 1st | Mullen, Eoin | Flanagan, Eric | Delany, Ciaran |
| 2003 | QF | McCarthy, Shane | Barry, Warren | Morrin O'Rourke, Harry |
| 2002 | Semi | Stafford, Gregory | Flanagan, Mark | Flanagan, Alan |
| 2001 | Semi | Manning, Colm | Reid, James | Crawford, Simon |
| 2000 | QF | Lyne, John | Macken, Brian | Harris, David |
| 1999 | QF | Stafford, William | McMenamin, John | Geraghty, Richard |
| 1998 | QF | Duffy, John | Grimes, Dermot | Fallon, Ronan |
| 1997 | 2nd | Robinson, Ted | Geraghty, Roger | Woods, Barry |
| 1996 | QF | Grimes, Paul | Fitzgerald, Brian | Murphy, Ian |
| 1995 | Semi | Langan, Adrian | Murphy, Ian | Feighery, David |
| 1994 | Semi | Gunne, Niall | Robinson, Bernard | Woods, Mark |
| 1993 | 2nd | Farrell, Patrick | Lynch, Johnny | Keaveney, Andrew |
| 1992 | QF | Harrison, Peter J. | Hanlon, John | Rowe, Patrick |
| 1991 | 2nd | Mullan, Peter | Dooley, Cormac | Doyle, Barry |
| 1990 | 2nd | Gunne, Patrick | Wafer, Conor | Kelly, Adrian |
| 1989 | QF | Lowry, Conal | Doyle, John | King, Edward |
| 1988 | 2nd | Kenny, Philip | Johnston, Cormac | Lennon, Ronan |
| 1987 | 1st | McGowan, Donogh | Quinn, Oliver | Murphy, Jonathan |
| 1986 | 2nd | Fleming, Edward | Byrne, Alan | Walsh, Frank |
| 1985 | 1st | Healy, Aidan | O'Neill, David | O'Herlihy, Conal |
| 1984 | 2nd | Kelly, Ian | Hearne, Richard | Masterson, Philip |
| 1983 | Final | Fogarty, Joseph | Ward, Patrick | Brady, John |
| 1982 | 2nd | Carroll, Raymond | Rowe, Alan | Downes, Vincent |
| 1981 | QF | Ronan, David | Sexton, Kenneth | Lombard, John |
| 1980 | QF | McCann, Patrick | McHugh, Peter | McCarthy, Conor |
| 1979 | 1st | Lyne, David | Fuller, Michael | Daly, Joseph |
| 1978 | QF | Cotter, Jeremy | Condon, Michael | Murphy, John |
| 1977 | 1st | MacWhite, Mark | Kinsella, Peter | O'Flaherty, Kenneth |
| 1976 | Final | Loughran, Paul | Fuller, Brendan | Conlan, Peter |
| 1975 | 2nd | Molloy, James | Sexton, Jerry | Murphy, Barry |
| 1974 | QF | Boland, Barry | O'Hanrahan, Tim | Kearney, Michael |
| 1973 | 2nd | O'Sullivan, Patrick A. | Lindsay, John | Desmond, Peter |
| 1972 | 1st | Louth, Cathal | Cunningham, Brian | Feighery, Aidan |
| 1971 | QF | O'Rafferty, Emmet | McDermott, Declan | Doyle, Brian |
| 1970 | 1st | Kelly, Patrick | Cheevers, Thomas | Hay, Peter |
| 1969 | 1st | Murphy, David | Hay, Justin | Hutch, John |
| 1968 | Semi | Magee, John | Kinahan, Kevin | O'Rourke, John J. |
| 1967 | QF | Hay, Vincent | Durcan, Thomas | Browne, Malachy |
| 1966 | SF | Grant, Terence | Cheevers, John | O'Connor, Jeremy B. |
| 1965 | Cup | Ince, Ralph | McGrail, Michael | Hutch, Barry |
| 1964 | 1st | Kennedy, Niall | Clarke, Neill | Ince, Ralph |
| 1963 | 1st | Kirwan, Paul | Mullan, Brian | Russell, Matthew |
| 1962 | Semi | Bannigan, Michael | Cheevers, Larry | Dunne, Willie |
| 1961 | Final | Fuller, Stephen | Duggan, Alan | Kerley, Michael |
| 1960 | Semi | Murray, John | Fuller, Stephen | McGoldrick, Donald |
| 1959 | Cup | Brereton, Brian | O'Donnell, Francis | Dowley, Leslie |
| 1958 | Semi | O'Neill-Fitzsimons, T. | White, Bernard | Maguire, Paddy |
| 1957 | 1st | Bourke, Patrick | Curran, Noel | Cleary, Gerard |
| 1956 | 2nd | Quinn, J.Oliver | Taylor, Brian | Shortall, Paddy |
| 1955 | Final | Barry, Matthew | McGeough, Thomas | Hardy, Gerard |
| 1954 | Semi | O'Rourke, Francis | Crotty, Thomas | Raftery, Eamon |
| 1953 | 1st | Ward, Dermot | Quinn, Joseph N. | Howlett, Brian |
| 1952 | Final | Austin, Conor | Nestor, Jeremiah | Hanna, Patrick |
| 1951 | 2nd | Walsh, Finbar | Galligan, Liam | O'Neill, Dermot |
| 1950 | Final | O'Donoghue, Walter | McKenna, Peter | Nicholl, Peter H. |
| 1949 | Semi | Shipsey, Roger | Dowley, Robert | McMahon, Desmond |
| 1948 | Final | Cleary, Thomas | Nestor, John | O'Neill, Richard |
| 1947 | Cup | McCabe, Peter J. | Maher, Frank | McCrohan, James |
| 1946 | 1st | Hopkins, Patrick | Devlin, Brian | Brennan, Brendan |
| 1945 | 2nd | FitzHarris, John | Delahunt, Thomas | Connellan, Edward |
| 1944 | Cup | Carroll, Ray | O'Donoghue, Patrick | Brennan, Joseph |
| 1943 | 1st | O'Hagan, Henry | O'Connell, Desmond | MacQuillan, Noel |
| 1942 | Final | Johnston, Francis | Browne, John | Carroll, Patrick J. |
| 1941 | 1st | O'Rafferty, Emmet | Kavanagh, Desmond | O'Donoghue, Donal |
| 1940 | Final | O'Rafferty, Liam | O'Donoghue, Paud | Devaney, Alphie |
| 1939 | 1st | O'Rafferty, Liam | Cosgrave, Thomas | Murray, Oliver |
| 1938 | Final | Lyons, Alex J. | O'Donoghue, Sean | Halpenny, Thomas |
| 1937 | Cup | Lyons, Patrick | Twomey, David | Hynes, Joseph |
| 1936 | Semi | Lyons, Patrick | Twomey, David | Hynes, Joseph |
| 1935 | 1st | Ryan, James G. | Burke, Noel J. | Dallas, William |
| 1934 | 2nd | Sweeney, Derry | Ryan, James G. | Brophy, Charles |
| 1933 | 1st | Brophy, Thomas | Crealey, Brian | Sweeney, Derry |
| 1932 | Semi | Boland, Timothy D. | Hughes, Edward | Crealey, Brian |
| 1931 | Cup | Hopkins, Siggie | Sinnott, Thomas | Luby, Gerard |
| 1930 | 2nd | Black, James J. | Hopkins, Siggie | Donovan, Timothy |
| 1929 | Final | O'Leary, Michael J. | Maher, John | Ryan, Charles |
| 1928 | Semi | Saurin, Michael | Feeney, George | Maher, John |
| 1927 | 1st | Lightfoot, Henry | Mangan, Thomas | O'Donovan, Donough |
| 1926 | Semi | Lawler, Patrick J. | O'Leary, James | Maguire, Michael |
| 1925 | Final | O'Reilly, Thomas A. | Lightfoot, Edward | Kehoe, Killian |
| 1924 | Final | Toner, John | O'Reilly, Thomas A. | O'Driscoll, Alex |
| 1923 | Final | Smyth, Dermot J. | Grant, Desmond | Maher, George |
| 1922 | Semi | Shelly, Myles | Fitzsimons, Jack | Cavanagh, Denis |
| 1921 | Semi | Farrell, James | Cullen, Edward | Ryan, William J. |
| 1920 | Cup | Farrell, James | Mahony, Walter G. | McDonnell, Kevin |
| 1919 | Semi | McKenna, John | England, Bertie | Jones, Edward |
| 1918 | 1st | Delaney, John | McElligott, Edward J. X. | O'Reilly, Charles |
| 1917 | 1st | Sweeney, Joseph | Doyle, Ray | Cullen, Joe |
| 1916 | Final | O'Connell, Daniel F. | Morrin, Frederick V. | Johnson, Daniel |
| 1915 | 1st | Kelliher, Philip H. | Murphy, John K. | Hatch, John |
| 1914 | Semi | | | |
| 1913 | Cup | Thornhill, Michael | Morrogh, Stephen | Carroll, Jerome |
| 1912 | -- | O'Neill, Desmond E. | Kennedy, George P. | Cleary, Michael F. |
| 1911 | -- | O'Neill, Desmond E. | Kennedy, George P. | Kavanagh, John |
| 1910 | -- | Donovan, Thomas K. | Barry, Peter S. | Filose, Nicholas |