The Ward Family
A Knock Dynasty
May 1, 1954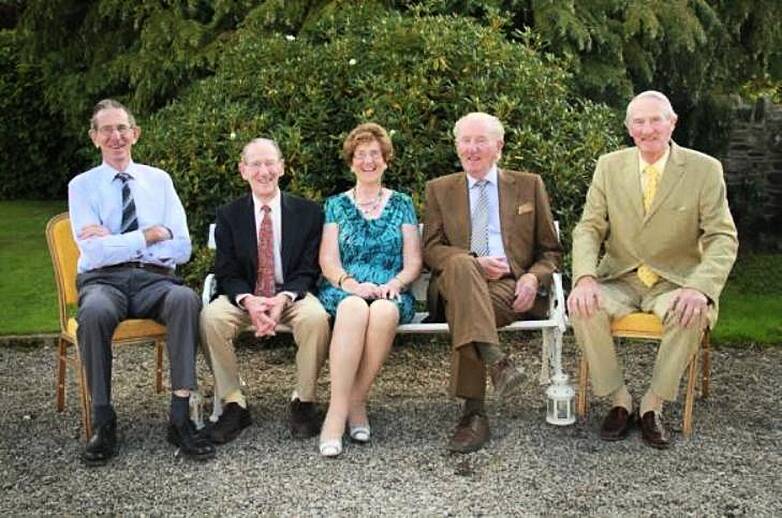 Joe Ward's children - L-R: Dermot, Raymond, Eithne, Michael & Pat
-
The WARD family farmed at Norman's Grove, Dunboyne, for generations. In 1888 MICHAEL WARD, the youngest of
four brothers
, all Castleknock men, branched out on his own and purchased a farm at Kilcloon. This in turn was taken over by his son JOE (1908-14) who now runs it with the help of his three sons MICHAEL (1943—48), RAYMOND (1944—51) and DERMOT (1946-53). In 1950 Joe built a new house and out-offices on the farm.
Joe Ward is well known as an exhibitor of pedigree sheep at the Royal Dublin Societv Show at Ballsbridge. He keeps flocks of Border Leicester and of Shropshire sheep and has won many cups showing them since 1927. The number of rosettes he has won is now somewhere in the three hundreds. This include prizes won at the Christmas Fat Stock Show held annually in Dublin and at other provincial shows. He is a life member of the RDS.
Joe's eldest son, Michael, has now taken over an old family farm at Nutstown, Clonee, and is busy modernising the whole concern. This year he has gone in extensively for wheat growing and commenced his campaign by acquiring a new tractor and a combine grain and fertiliser drill. Having sown his own corn and that of the home farm he took up contract work and sowed many acres in the neighbourhood of Nutstown and Kilcloon. Michael and Raymond, between them, own a herd of twelve sows and up to the present time have concentrated on producing bonhams to sell at eight weeks old. They are now considering going in for the fattening end of the business. Last summer Raymond spent ten days on the McGuckian pig farm in Co. Antrim, where six thousand pigs are kept, and has all plans for the very latest type of McGuckian fattening house. In addition to looking after the pigs, and helping on the farm at Kilcloon, Raymond takes care of a small farm situated at Blackhall, Dunboyne, which was bought by his father in 1929. He recently spent a month at Athenry Agricultural College taking a course in general agriculture. Dermot, who left Castleknock last year, is spending a year studying at the Albert Agricultural College, Glasnevin. When his year is completed he will return home where there will be plenty of work awaiting him.
Michael, Raymond and Dermot are all members of the Maynooth Young Farmers' Club. Raymond was chairman of the Club in 1952. All three have represented the Club in public speaking contests and debates, and last winter the three of them, together with a younger brother, PAT, still in the College, made up a team which represented the Club in the National Public Speaking Contest. They won out the Co. Kildare Championship and got as far as a regional final.