Thos Foley, class '98, Ski Extraordinaire
First SVC Winter Olympian
Feb 26, 2006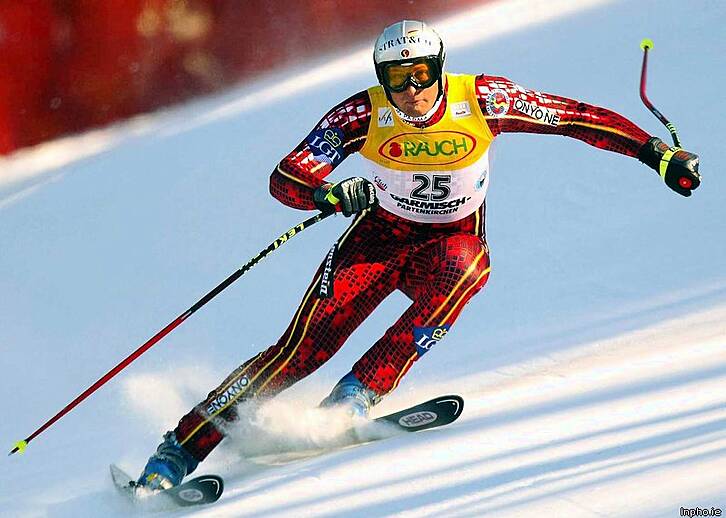 -
When Ireland's first ever Winter Olympic skier, Thos Foley competed in the men's Alpine giant slalom in Turin, it froze his name into the country's sporting history. The 26-year-old Castleknock pastman surpassed all expectations - including his own - as he finished 31 st in the men's Alpine giant slalom competition in a field of 82 competitors spanning 47 countries across the globe.
Considering that his native Kerry is a county far more renowned for its footballers than its skiers, not to mention Castleknock's reputation as a top rugby school, Foley's achievements are all the more incredible. But despite all the obvious barriers - like the profound lack of snow - it still hasn't stop Foley cutting the mustard with the Benjamin Raichs of the world as the latter won the gold pizza-shaped medal in the giant slalom.
And it was another amazing chapter in Thos Foley's skiing career that saw him fall in love with the snow 16 years ago when he was on a family holiday in Saalbach, Austria. Bitten by the skiing bug Foley, then a teenager, made his way to Chatel in France where he was coached by Ian and Jane McGarry in their ski school and as his school years were coming to an end, decision time was looming for the Kenmare native.
Thos had toyed with football as he had played GAA from under-15 to minor level while he also indulged in rugby while in Castleknock College, but the snow always appealed to him. After his final year in Castleknock, Foley headed south to Wanaka in New Zealand where he skied for the summer. It was those three months in the southern hemisphere that made Foley decide that skiing was his first love. "I did a good Leaving Cert," he says, "and got Business Studies in Galway but I got it into my head that I wanted to spend that next winter skiing and I mentioned to my parents that a lot of kids take a gap year! I think Dad would have rather I'd gone to college first but we worked out this compromise that I'd defer my place for twelve months and then I'd knuckle down to my studies." Eight years on, they've given up on ever seeing him in Galway.
"I suppose you could say I'm still on my gap year. The intention at the start was just to spend that winter skiing, not racing. So I went to New Zealand and made some friends down there who were into seriously competitive stuff, the racing aspect of things. So I got into it and applied for my licence and suddenly I'm writing a letter to my parents saying, 'Remember I promised I'd go to Galway next year?
Soon after, he was granted his Federation Internationale de Ski (FIS) licence at a Ski Club of Ireland training camp and he competed in his first downhill race at the British Championships in France in 1999. He has been competing with the best in the world ever since. Foley upped base and moved to Verbier in Switzerland shortly after and he has lived there ever since, while travelling to competitions worldwide.
The Irish Olympic team was officially announced in late January and Thos Foley's name was included. He was about to engage in his boyhood dream and compete in the Winter Olympics. And the enormity of the occasion dawned on Foley when he arrived in the Olympic Stadium in Turin where one third of the world's population tuned in for the opening ceremony on Friday, February 10 2006.
Based in the Sestriera Olympic village, 100 km away from Turin where his event, the giant slalom, took place on Mount Sises, Thos enjoyed VIP treatment from the moment he arrived in Italy. "Arriving in the Olympic village was an amazing moment for me and it set the tone for my stay in the resort in Sestriera really," he said. "And I think that's where it hit me really. When we were paraded in front of the cheering crowds I just realised that I was an Olympic athlete and how important that was - it was just amazing. For those few moments the whole world is gazing at you and it's a quite an incredible feeling," he added.
When the razzmatazz of the opening ceremony subsided, Thos headed to Austria where he continued his preparation for the games along with three other skiers. "After the opening ceremony in headed back to Austria where I kept training with three other guys. It was a very professional set-up we had and it really set me up for the games," Thos said. "Each day we got in hours of solid training. We did timed runs and had video analysis so we were able to chart our progress and see what part we were doing well in and what parts were letting us down. I came back to the Olympic Village with my good friend Angus Morrison a few days before my event and he was a massive help to me." Knock's first ever Winter Olympian added.
Once Thos had settled into life in the village, his thoughts turned towards the event. Even though he was content with his preparations the natural butterflies-in-the-stomach syndrome duly arrived but once the giant slalom competitors got a free ski down the actual event piste in Mount Sises, Foley's fear diminished somewhat. "I was pretty nervous in the days leading up to the event but it was more of an anxious feeling when you're not sure what's going to happen. But after all the weeks of training that I had in Austria I felt that I was prepared and the day before the event - Sunday, February 19 - we got a free ski down the piste where the grand slalom was on so that helped ease the butterflies a bit. I got a feel for the piste and the one thing that hit me was how steep and icy it was but at least I knew what I was facing," he said.
And so to the day of the event - Sunday, February 20 - and a lifetime's work coming down to just 90 seconds between a man, his skis and a snow covered mountain. Bearing the number 70, Foley waited his turn as he stared down the huge steep incline of Mount Sises before the first of his two runs. Conditions were favourable on the day but he still suffered from a bout of the nerves.
Cheered on by travelling supporters in the large crowd, including his girlfriend Sophie and son Liam and his parents who had travelled over from Kenmare, Thos knew that it was a case of now or never. But once his skis and the snow made contact everything else blurred towards the background and Foley sped down the challenging and steep course to finish in a time of 1 minute 28.28 seconds. Good enough for 35th place but there was still a second run to come.
And while his time may have been slightly slower, 1 minute 29.14 seconds, Thos jumped four places to finish in 31st place, just 22 seconds adrift of Austrian winner Benjamin Raich. "On the day of the event I felt a different type of nervousness before my first run but once you get up there and get mentally prepared for what's ahead everything else just disappears," said Thos.
"And once you start skiing you just forget about everything - all you care about is the next 90 seconds and you just try and do you best. For the second run then I was a lot more relaxed but it was such a challenging course you always have to be fully focused. And thankfully everything went well on both runs and I am delighted with how I performed. Before the Olympics I had people asking me how did I think I would do and I really thought that I would have been in between the top 40 and 50 bracket. I never thought that I would finish 31 st in the Olympics," he said.
"For the next few weeks I am just going to spend some time with Sophie and Liam because I haven't seen them too much in the build-up to the Olympics. We have been apart a lot so it will be nice to spend time together as a family," he said. "While on the skiing front I have to wait and see what happens because money is low and I do need funding to do well in the future. I hope I will receive some funding now because I believe that I have given people a glimpse of my potential and I feel that I can get better. If I keep progressing like I am now then it will be interesting to see what the future has in store for me," he added.
At the moment he receives grants from the Irish Sports Council and the Irish Snowsports Association and has sponsorship deals with the equipment suppliers Scott and Dynastar. But it doesn't cover the expenses and for the past eight summers he's had more part-time jobs than he can even begin to count. "Mostly, though, I've worked in the kitchen of the family restaurant. I've been so long working in kitchens I think I could almost call myself a chef at this stage! But for the past eight years I've still had to live within a budget, which means three-star hotels and a good diesel car that gets plenty of miles to the gallon."
The College wishes to congratulate Thos on his magnificent achievements in his career to date. In particular, Thos' superb performance in the Winter Olympics was a source of much pride for all associated with the College, especially those staff members who remember Thos with affection. We wish Thos continued success as he flies the flag for Castleknock, Kerry and Ireland.