Union Committee 2016
2015 AGM appointments
Dec 1, 2015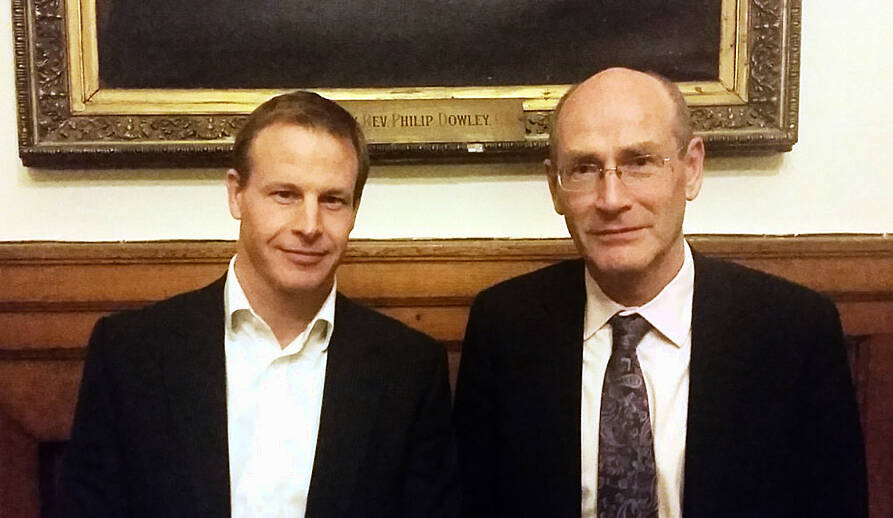 Johnny Lynch, Secretary, Aidan Feighery, Treasurer
We would like to thank Conor McCarthy, class '84, for his stewardship of the Union in 2015 and welcome his successor, Lorcan Tiernan, class '88 as Union President for 2016. Colin Murtagh, class '83, also steps up as President Elect for 2017. We also welcome Ian Garrigan, class '09, who succeeds Stephen Connolly, class '04, as Junior President.
Aidan Feighery, class '72, continues in office as Hon. Treasurer, as do I as Hon. Secretary.
Your committee meets monthly to manage the affairs of the Union. We have a strong team in place for 2016, as listed below, but are always on the look-out for new blood. If that is something of interest, please get in touch.
Johnny Lynch, Hon. Sec.
---
CASTLEKNOCK COLLEGE UNION
COMMITTEE 2016
OFFICERS OF THE UNION
 
class of
President:
Lorcan Tiernan
1988
President Elect:
Colin Murtagh
1983
Junior President:
Ian Garrigan
2009
Honorary Treasurer:
Aidan Feighery
1972
Honorary Secretary:
Johnny Lynch
1993
Joint Honorary Secretary:
Rita Coyle
PTA
GENERAL MEMBERS
class of
 
 
class of
 
Billy Gallagher
1961
Jonny Cosgrove
2006
Geraldine Corrigan
PTA
Mark Curley
2006
Barry Walsh
1983
Jack Hurley
2011
EX-OFFICIO MEMBERS
College President:
Very Rev. Peter Slevin, CM
College Headmaster:
Oliver Murphy
PAST PRESIDENTS OF THE UNION
 
class of - term
 
 
class of - term
Conor McCarthy
'84
2015
Mannix MacKenna
'71
2001
Terence O'Rourke
'72
2014
John Loughran
'73
2000
Colin Duffy
'87
2013
Michael Collins
'74
1999
Conor Mallaghan
'88
2012
John Fitzpatrick
'63
1998
David O'Donnell
'84
2011
Paul MacQuillan
'76
1997
David A. Bell
'83
2010
Maurice Davitt
'52
1995
Fergus O'Rafferty
'69
2009
Stewart Harrington
'61
1992
Kevin McGowan
'63
2007
David Bell
'38
1990
Philip Halpenny
'71
2006
Patrick O'Callaghan
'50
1987
Peter Quirke
'68
2005
Thomas J. O'Reilly
'60
1986
Paddy Shortall
'56
2004
Joseph H. Downes
'44
1982
John Kearney
'77
2003
Liam Cosgrave
'40
1980
Victor Stafford
'61
2002
John Cooney
'44
1974