Union Committee 2019
Dec 5, 2018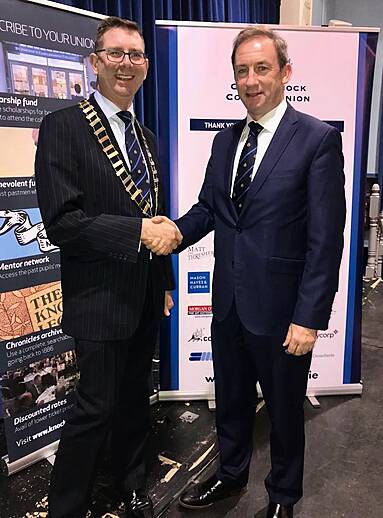 At our AGM held on the 3 Dec 2018 in the College, Fintan Cooney, class '84, succeeded Oisín Quinn, class '86, as Union President and Johnny Lynch, class '93, was elected President-Elect for 2020. We would like to thank Oisín for leading the Union in what was a resoundingly successful year on all fronts. Oisín has left his mark on the Union indeed as we only expected he would and we now look to Fintan to carry that torch of excellence over the next twelve months.
Oisín will join his predecessors as a Past President Ex-Officio Member of the Committee.
Ian Garrigan has indicated his intention to stay on as Honorary Treasurer while Cian McGoldrick will continue in the role of Honorary Secretary. They will be joined again by Jack Hurley who will continue in the role of Junior President.
Here's to another big year in 2019!
---
CASTLEKNOCK COLLEGE UNION
COMMITTEE 2019
OFFICERS OF THE UNION
 
class of
 
President:
Fintan Cooney
1984
email
President Elect:
Johnny Lynch
1993
email
Junior President:
Jack Hurley
2011
email
Honorary Treasurer:
Ian Garrigan
2009
email
Honorary Secretary:
Cian McGoldrick
2014
email
Joint Honorary Secretary:
Paschal Scallon, CM
1980
email
GENERAL MEMBERS
class of
 
 
class of
 
Geraldine Corrigan
PTA
email
Mark Curley
2006
email
Barry Walsh
1983
email
Jonny Cosgrove
2006
email
Peter Cooke
2004
email
Cronan O'Donnell
2004
email
Edward Melvin
1994
email
Cormac Fagan
2012
email
EX-OFFICIO MEMBERS
College Headmaster:
Chris Kinder
email
PAST PRESIDENTS OF THE UNION
 
class of - term
 
class of - term
Oisín Quinn
'86
2018
Paddy Shortall
'56
2004
Colin Murtagh
'83
2017
John Kearney
'77
2003
Lorcan Tiernan
'88
2016
Victor Stafford
'61
2002
Conor McCarthy
'84
2015
John Loughran
'73
2000
Terence O'Rourke
'72
2014
Michael Collins
'74
1999
Colin Duffy
'87
2013
John Fitzpatrick
'63
1998
Conor Mallaghan
'88
2012
Paul MacQuillan
'76
1997
David O'Donnell
'84
2011
Maurice Davitt
'52
1995
David A. Bell
'83
2010
Stewart Harrington
'61
1992
Fergus O'Rafferty
'69
2009
David Bell
'38
1990
Kevin McGowan
'63
2007
Patrick O'Callaghan
'50
1987
Philip Halpenny
'71
2006
Thomas J. O'Reilly
'60
1986
Peter Quirke
'68
2005
Joseph H. Downes
'44
1982
PAST JUNIOR PRESIDENTS
class of - term
 
class of - term
Ian Garrigan
'09
2016-17
Warren Barry
'03
2006-09
Stephen Connolly
'04
2014-15
Brian Dunleavy
'99
2004-05
Stephen Boyle
'01
2012-13
Patrick Farrell
'93
2001-03
Ciaran Brady
'01
2011
Peter J. Harrison
'92
2000
Keith O'Neill
      '01
    2010