Union Mentoring Programme
Oct 4, 2018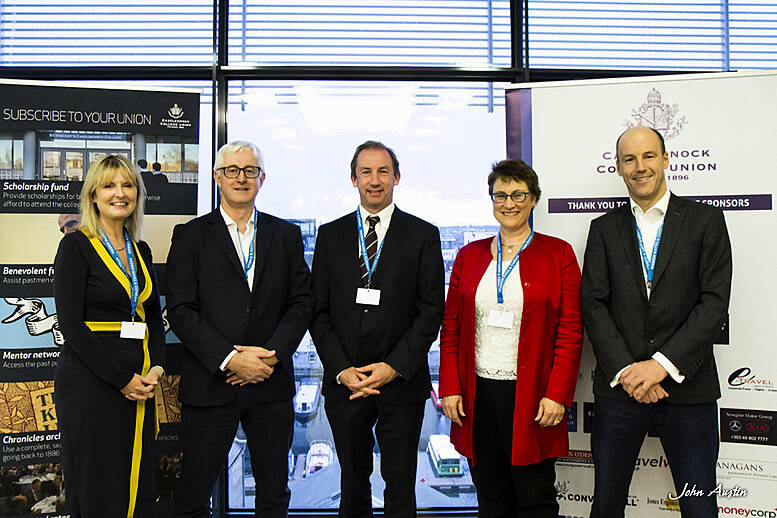 On Thursday 27 September, 2018 over 50 pastmen attended at Mason Hayes & Curran for the launch of the new Union Mentoring programme.
Union President, Oisín Quinn outlined the Union's ambitions to develop a mentoring programme where experienced pastmen can help and guide pastmen as they embark on or during their careers. Prior to the event, 25 pastmen had signed up to join the panel of mentors.
Hannah Carney of Hannah Carney & Associates addressed the gathering and delivered an excellent presentation on the benefits of mentoring, what it is and how the Union might develop its programme.  Mary McGuire of Intrinsic Management (and mum to a current Castleknock student!) then facilitated a panel discussion and a Q&A session.  Our own pastman, James Fitzsimons (Class of 81) of Elevate Executive Selection joined the panel and provided excellent insights based on his extensive experience.  The lively discussion continued for an hour as the benefits and challenges of mentoring were teased out.
Following the launch the Union Committee met and decided to proceed to the next stage of the programme by adopting a Mentoring Charter for mentors and mentees alike.  The programme will be commenced as 'career mentoring' and will be confidential and voluntary.  The Union will be organising a dedicated training session for those joining the mentoring panel.  The list of Mentors will remain confidential to the Union committee and applicant mentees will be matched by the committee.
If you are interested in joining the panel of mentors or would like a copy of Hannah's presentation please contact the Union by emailing us at 
[email protected]
The Union would like to express their sincere thanks to Hannah, Mary & James for the advice and wisdom and contributions to the launch event and would also like to thank David O'Donnell (Class of 81) for the sponsorship by Mason Hayes & Curran of the launch.