Union President's Trip to VLM project in Ethiopia
Sep 9, 2019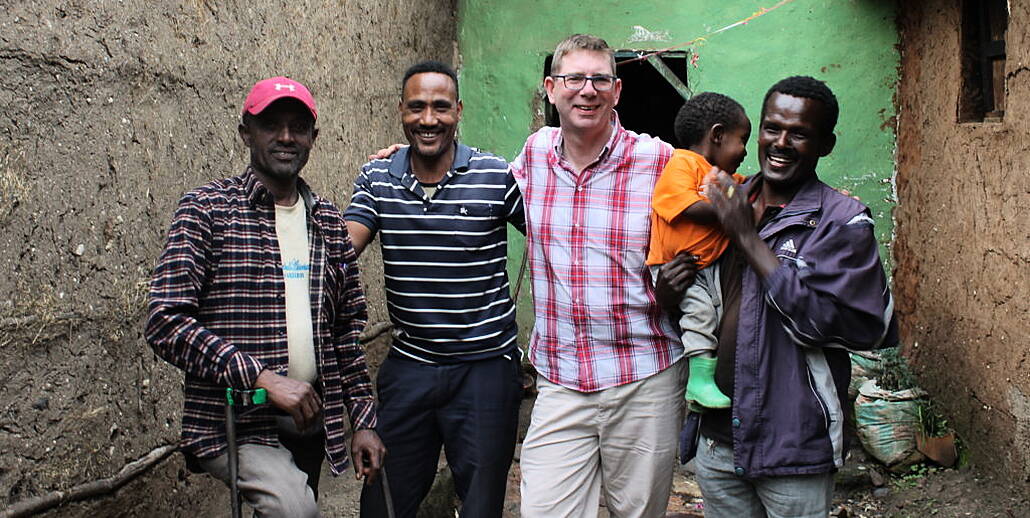 In August 2019, on the invitation of the Vincentian Lay Missionaries (VLM) I visited the Vincentian Mission in Ambo, Ethiopia accompanied by my 15-year-old daughter Louise.
Every year groups of fifth-year students from St Vincent's Castleknock College and St Paul's, Raheny volunteer for three weeks to run a s Summer camp project for children in Ambo. Louise and I had originally been scheduled to overlap with the Castleknock boys in July, but unfortunately, their trip was cancelled due to civil unrest in Ethiopia at that time. Thankfully our trip was rescheduled and we landed in Addis Ababa (the capital city of Ethiopia) on Saturday 2nd of August, 2019.
We were met by Fr Asfaw Feleke, Vincentian Parish Priest of Ambo, who drove us the 110 km journey to Ambo. Fr Asfaw and Fr Stephen Monaghan (Vincentian from Dublin) run a small catholic parish in the town of Ambo, which has an estimated population of 200,000. The dominant religions in Ethiopia are Coptic (Orthodox), Christian, Protestant and Muslim with Catholics only accounting for about 1%, so the congregation in Ambo is small. However, the work of the Vincentian Mission in Ambo is extensive and provides for children from all faiths.
The parish runs a large and expanding Kindergarten school - providing an essential pre-school education in the Montessori method to over 120 children. There is also a school for deaf children attended by 60 students with plans for many more. In addition, the parish provides pastoral services to its parishioners and funding for social housing, water schemes and medical support for the local community. There is no social welfare in Ethiopia!
The needs in Ambo are great and Fr Asfaw and Fr Stephen and doing a wonderful job in very difficult circumstances.
We were invited to the home of one parishioner Martha – a single mother living with her three children - sons Binyan (12) and Ingidawerg (10), who is deaf and daughter Nardos (9). They live in a house built for them by the parish. A with most of the houses in Ambo, it is constructed from mud and straw with a corrugated iron roof. There is one room (about 4 meters squared), one door and one window. There is no electricity, no running water and no toilet facilities. The family of four cooks, washes, eats and sleeps in this room, which is about the same size as Louise's bedroom in Ireland.
Each morning Louise and I ran a Summer School for about 30 of the local children at which we taught them English and played games. They were so excited to see us every day and so keen to learn and play. Some of the girls (as young as 8) attended the school with a baby (which they were minding for the day) on their back for the entire time. These children have nothing but the clothes on their backs (many of which are donated from Ireland – I saw plenty of Galway, Mayo and Armagh jerseys!). Toys are home-made and a single jelly or lollypop is a major treat. Despite all of this they are happy and good-natured.
One day Fr Asfaw, Fr Stephen, Abyiot (principal of the deaf school) and I made a two-hour journey, on very poor roads, to the rural town of Babiche. The purpose was to meet families with deaf children who may be interested in attending the Lazarist Deaf School in Ambo. About twenty families showed up and Asfaw, Stephen and Abyiot told a packed room that deaf children had rights like everyone else and that opportunities exist for them if they can learn to sign and receive a formal education. Most of these children have never been to school and don't even know their own names. In rural areas, there can be a stigma associated with a disability of any kind, with some believing it is a curse.
Unless they have a family with whom they can stay the deaf children of Babiche, and many other villages like it, cannot attend the deaf school until a boarding facility is available.
Back in Ambo Fr Stephen showed me a site acquired to build a boarding facility which will accommodate 120 boarders. The deaf school will also have to be extended to accommodate greater numbers. The estimated cost to complete all of this is €500,000.
The Union has already committed €30,000 over the next five years for this project, but I'd like us to do more. I'm appealing to all pastmen to support this very worthwhile project as generously as you can. There are two main ways in which you can do so:
1. Make a financial donation to the costs of construction of the boarding facility and extension of the deaf school
Donations to the Boarding School Project to be lodged to the VLM account using the reference "Ambo Boarding School Project".
Bank: AIB 140 Lr Drumcondra Rd, Dublin 9
Name on account: Vincentian Lay Missionaries
IBAN: IE27AIBK 93 22 0560 5785 46
BIC AIBK IE 2D
2. Sponsor a child to attend the deaf school each year https://www.edp-ambo.com
I have posted some photos of my trip below and I also encourage you to watch some of the wonderful videos produced by Fr Stephen here https://www.youtube.com/user/monobob118/videos?view_as=subscriber&pbjreload=10
If you are interested in volunteering with VLM in one of its partner projects with the  Vincentians or Daughters of Charity in Ethiopia, Kenya or Ghana, please contact the Project Coordinator VLM at [email protected] . website www.vlm.ie