Barry Hutch, class '66
In Memoriam
May 29, 2015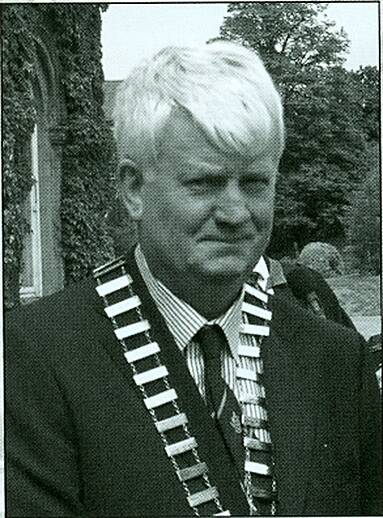 The Union is sadden to report the passing of Barry Hutch, class '66 and 2008 past President of the Union. He was one of three brothers at Knock, alongside John '69 and Bill '74.
The death has occurred of Barry HUTCH
Clonskeagh, Dublin / Rathkeale, Limerick
HUTCH, Barry, (Clonskeagh, Dublin and formerly Rathkeale, Co. Limerick and the ESB), May 29, 2015, in the loving care of all the staff at the Cowper Care Centre; deeply loved husband of Mary and adored father of Stephanie, Eleanore, Arianne and Seán, brother of the late Paula. Very deeply regretted and will be sadly missed by his brothers and sisters; Pat, Hilary, John and Bill, sisters-in-law Liz, Noreen and Annette, brothers-in-law Michael, David and Terry, Jim and Joe, nieces, nephews, his loyal companion Tabby, relatives and many friends.

Reposing at his home on Monday from 3.00pm until 7.00pm. Removal on Tuesday morning to the Church of the Sacred Heart, Donnybrook arriving for Funeral Mass at 11.30 o'c and then to Kilmashogue Cemetery, Edmondstown Road, Rathfarnham.
Date Published: Saturday 30th May 2015
Date of Death: Friday 29th May 2015
---
Barry Hutch died in the summer 2015 aged 67 years.
There is no doubt that the Good Lord will have no difficulty showing mercy to his kind soul. As Barry himself (with the exception of competing at golf) always showed mercy and patience during his lifetime.
Barry's parents were from County Limerick, Sean (veterinary Surgeon), and his mother Mary, and were avid golfers. Barry was always the apple of his mother's eye in all respects and her general theme was "Barry says". He arrived in Castleknock in 1960. A tall redhead guy with a noticeable Limerick accent. Straight away it was obvious that Barry was a natural athlete and a dab hand at mathematics, something that would never leave him. Rugby came naturally to him. He captained the under 13 teams successfully in his first Rugby season. In his third year under his adoring trainer, Father Brendan Steen, Barry led Castleknock in their cup campaign, beating Blackrock in the first round which was no mean feat at the time. The junior team got to the final that year, unfortunately without Barry who was for the first time showing signs of an arthritis disease which would periodically hound him over his life. Barry made the Senior Team in his fourth year. By the time Barry's team came to their fifth year they succeeded in winning the Leinster Senior Cup, beating Blackrock in the final, albeit without Barry due to his illness. What a pity to miss out on such a sporting occasion but Barry was always part of the team and continued to be Father Brendan's favourite.
Barry took exams in their stride, and it was no great surprise to hear that after Castleknock he was going to study Chemical Engineering in UCD. His Student life was one of complete success for exams but tempered with attacks of arthritis. What was memorable at that time was his patience in dealing with that set back. He never once complained about it. The one benefit in all of this was it gave him time to improve his golf, something he had learned from his Adare Club parents and became a brilliant, low handicap single figure golfer. He captained the UCD team on the many trips up and down the Country and on trips to America including Augusta. He was a brilliant organiser of golf trips, the comraderie, the travel and the stories. All his life Golf was a great treasure to Barry and he played his part as a player. He thoroughly enjoyed this wonderful gift of that part of his life.
Barry qualified in Engineering and began working with the ESB in Tarbert Co Limerick, (which of course was convenient to Ballybunion Golf Club). Later on he was transferred as an Engineer to Poolbeg in Dublin and so began his second stage of socialising and living in the big smoke. And there he was to meet his future wife Mary. Barry's health at that stage was good with no real complaints and he set about enjoying his family and friends and lots of golf. What was extraordinary about Barry was his ease of charm in dealing with people, his patience and friendship in organising his golfing trips and family life and to this day there isn't a person who would question that. Mary was a marvellous wife and friend to Barry and later on in Barry's life that would become extraordinarily evident.
Barry became President of Castleknock College Union and played his role brilliantly in his year. He was the very embodiment of the typical Castleknock gentleman. He even did very well in competing in his own Presidents Prize that year. Everyone had a good word to say about Barry. Castleknock was always close by. His sister Paula (who pre-deceased him) married Terry Grant his fellow 'Knock classmate and friend. His other sister Pat married 'Knock man Michael O'Reilly.
His story gets a little sadder later on in his life. The arthritis disease set in again about 10 years ago and then about 6 years ago the early signs of dementia started to show in Barry's life. What a tragedy for a young man. Those six years or so saw a gradual decline in Barry's health and was very difficult for his friends and family to see him on a sliding slope. How unfair it seemed to such a generous guy.
But this is where Mary takes the gold medal. It is quite extraordinary how she adapted to Barry's new position in life and how brilliantly as wife and mother of their children how she coped with the difficulties. Small wonder she was nominated to be the "Best Mother in Dublin" prize. Smaller wonder again was that she won it. Credit and honour where it was due.
Mary spent the last couple of years of Barry's life totally looking after him, firstly at home and later at his nursing home. Life seemed so cruel to see him in his new position. Yet he never complained. Always a smile. Always the big laugh. The easy manner. Mary the star. His children adored him. And so it finally ended this year, peacefully and with great grace. We have lost a great guy, gone to his reward fully earned. And fully respected. The funeral service was brilliantly presided over by Father Seamus O'Flynn. Barry is survived by his wife Mary, his children Stephanie, Elinore, Arianne and Sean. As we said, the Good Lord will have no trouble showing mercy on Barry, and that in itself is our reward.
'If you can talk with crowds and keep your virtue or walk with Kings - nor lose the common touch'
Nos autem in Nomine Domini.
TVG