Brendan Steen, class '40
In Memoriam
Nov 30, 2015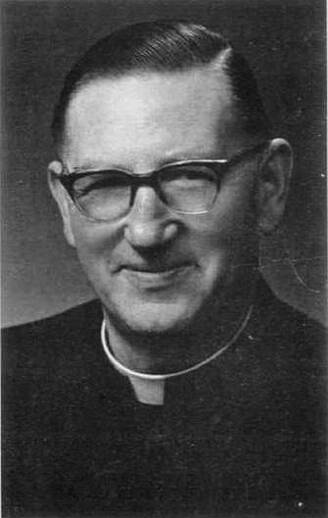 The Union is saddened to hear of the passing of Brendan Steen, CM, class '40.
The death has occurred of Fr. Brendan STEEN C.M.
Dublin
Steen (Dublin) Fr. Brendan C.M. (Vincentian) November 30th 2015 in the gentle care of St. Francis Hospice, Raheny; brother of the late Carmel, Larry, Fr. Kevin and Maureen (Sr. Louise D.C.) Sadly missed and lovingly remembered by his niece, nephews, grandnieces, grandnephews, great-grandnieces, great-grandnephews, cousins, his Vincentian Confreres, and friends. 
Removal on Tuesday, Dec. 1st, to St. Peter's Church, Phibsboro arriving at 5.30pm. Funeral Mass on Wednesday, Dec. 2nd, at 10.30am followed by burial in the Vincentian plot, Glasnevin Cemetery.
Date Published: Monday 30th November 2015
Date of Death: Monday 30th November 2015
---
Brendan arrived at the College in 1934 alongside his elder brother Laurence (class '37) and younger brother Kevin (class '43), but none arrived as strangers, for they were the third generation of the Steen family at Knock, and uniquely all three brothers went on to be Head Prefects of their year. All were following in the footsteps of their father Patrick J. (1896-1901) and uncles Laurence Jnr. (1898-1902), Vincent (1905-1910) and Herbert (1906-1908), and grandfather Laurence Snr. (1862-1865).
Laurence Jnr. then went on to send us his son Francis (class '54), who in turn sent his sons Laurence (class '90) and Richard (class '97). Brendan's brother Laurence also sent his four sons: Vincent (class '63), Anthony (class '65), Brendan (class '68) and Lawrence (class '75), and Anthony in turn sent us his two sons: Ross (class '05) and Jonathan (class '07). That's five generations stretching from 1862 through to 2007. The Steen's have paid their Knock dues.
Fr. Brendan as a schoolboy was a first-class student and excelled in most games that he took part in, particularly tennis and rugby. He was, in fact, a member of a front row in the 1940 Senior Schools' Final that has often been held to be the best that represented any school. After leaving Castleknock Fr. Brendan joined the Community and entered St. Joseph's, Blackrock, from where he first obtained his honours degree of B.Sc. from University College, Dublin and then completed his theological studies. He was ordained on the 22 May 1948 alongside Liam O'Rafferty, Kevin O'Hanrahan and Myles Dowley, and appointed to Castleknock. For the next seventeen years he was in succession on the teaching staff, Dean, and Prefect of Studies. As one can readily understand, many boys passed through his hands in these years and all of them, I think, would readily admit that no one spent himself more fully or gave himself more entirely for their better interests than Fr. Steen. As Prefect of Studies he had remarkable success and the fine academic record of the College during his years of office is ample proof of his work. As a teacher of maths I think it would not be unduly flattering to say he had few equals and many of our students who have in recent years graduated from the Science and Engineering faculties of the Universities bear ample testimony of this.
In extra curricular activities that must form part of any educational establishment Fr. Steen was literally on tap for any hour of the day or night, coaching tennis, refereeing basketball or taking rugby teams. In these different sporting activities he had much success but perhaps none was more satisfying for him than the team he coached to win the 1965 Senior Schools' Rugby Cup.
Thus when the Vins appointments came out late 1965, the College suffered a big loss when Fr. Brendan was appointed President of St. Paul's College, Raheny. Though it must be said at once that no appointment was more deserving or more fitting, and he excelled in the role for the next six years. St Patrick's College Department of Mathematics then welcomed its first student teachers in Sep 1974, and Brendan was first staff member, and then Head of Department. It was a role he enjoyed immensely, it being in his own words "a welcome break to teach adults maths". He only reluctantly stepped down when Department of Education mandatory retirement rules kicked in.
His brothers Laurence and Kevin, and sisters Carmel (Mc Ardle) and Maureen (Sr. Louise) predeceased him, so to his niece, nephews and the wider Steen family, we extend our heartfelt sympathies. Another pillar of the Vincentian Community has gone to his eternal reward.