Brian Mullan, class '46
In Memoriam
May 6, 2011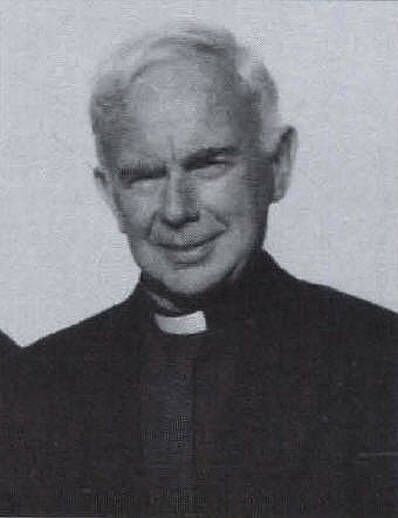 -
The Union was saddened to hear of the passing of Brian Mullan, class '46
The death has occurred of Fr. Brian MULLAN
Dublin
Mullan (Dublin) Fr. Brian C.M. (Vincentian) Newpark Care Centre, The Ward, Co. Dublin. Peacefully, at Connolly Hospital, Dublin; sadly missed and lovingly remembered by his sisters Philo (O'Byrne), Joan, Sheila (Dominican), brother Noel, brother-in-law Eoin, sister-in-law May, nieces, nephews, grandnieces, grandnephews, his Vincentian Confreres, relatives and friends.

Reposing from 3pm to 5pm on Sunday, May 8, in the Priests' Oratory at St. Vincent's Castleknock College, Dublin. Funeral Mass on Monday, May 9, in the College Chapel at 11am and burial afterwards in the College Cemetery. Family flowers only.

Ar dheis Dé go raibh a anam uasal.
Date of Death: Friday 6th May 2011
---
Brian came to the College from Glenamaddy ahead of his brother Noel, class '49. During his time here he excelled in debating where he won the coveted Gold Medal and his successful tenure was crowned by his appointment as head prefect in his final year. On leaving the college in 1946, a year that, according to one of its number Fr Tom O'Donoghue, O. Cist., "had no parallel in the number of the final year who went on for the priesthood", Brian joined the Vincentian Community, five of them reaching ordination in 1954.
It was however in St Patrick's College, Armagh, also entrusted to the Vincentians, that Brian spent the first twenty-five years of his priestly ministry. As well as teaching Latin and History Brian was in succession Prefect of Studies and Vice-President. It is, however, for his love of local history, things Gaelic and the great outdoors that he is most fondly remembered. He entered fully into the life of the primatial city. Contacts with Archbishop Simms and Cardinal O'Fiaich deepened his interest in their areas of specialisation, the Book of Kells and Irish shrine abroad. In an era fraught with anxiety about safety and rendered unduly cautious by a litigious society, it is pleasant and still thrilling to recall Brian's epic expeditions, his solitary leadership of forty boys on a 100 mile trek around the West of Ireland or his assaults on the slopes of Slieve Gullion at the head of a bus load of boys.
Brian's enthusiasm for history and his love of Latin and Irish have been contagious in a quiet way so much so that the boundaries between formal clas and free time were always fudged and his peculiar ability to juxtapose events shrouded in the mists of time with contemporary events really did bring the past to life.
In 1978 Brian was appointed to parish work in St Mary's, Dunstable and three years later he returned to Castleknock where he had first encountered the Vincentians. Here a spin off from his interests in Armagh was the Celtic Carpet Club as a hobbie club for the boys; and those tours. Nothing rivalled his attachment to the Gaeltacht area of Faulmore Blacksod at the southern tip of the Mullet peninsula in West Mayo. His 19 recorded summer visits to the Cawley-Gaughan-O'Cathain households there was a latter day continuation of what was started in the 1930s by Fr Austin Murphy and Fr Alex McCarthy; and continued as a link man by Fr Andrew Spelman. His Celtic carpet Club from its base in the college had some success in starting a cottage industry among the Gaeltach fisher folk. Incidentally Brian discovered that one of those houses was known to have had a medal from the SVC Rugby cup winning team of 1937, "Torchy Gallagher".
Having retired from teaching during the course of his stay in the College Brian continued to find other outlets for his robust energy: spiritual direction of the SVP Conference of St Pius X working originally among the elderly on Strawberry Beds and then in the Cheshire Home, Phoenix Park; and gardening in the extensive College gardens. In Armagh, plantations of tree and shrubs stand as a testimony to Brian's work there, here in Castleknock too the monument of friendships long forged and undiminished by time are a testimony to his quiet manner. .. exegi monumentum aere perennius...
His acceptance in 1996 of a provincial appointment to St Mary's, Lanark was a courageous step which gave lie to the notion of retirement as a time for settling down. He then returned to St Paul's in Raheny and died there 6 May 2011 and lies buried in our cemetery on the hill where his spirit no doubt will stand guard over the many generations of SVC pupils to come.
Requiescat in Pace.