Charles F. Casey, class '13
In Memoriam
Nov 6, 1952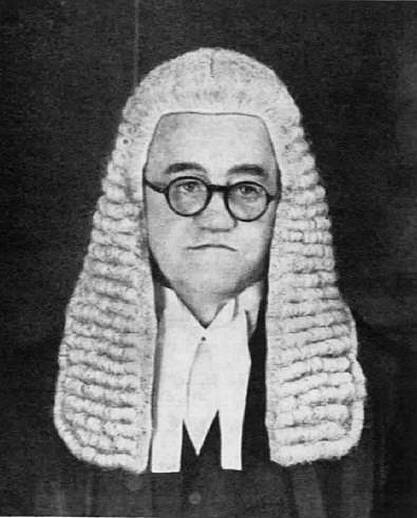 -
In the pages of last year's Chronicle we had occasion to congratulate Mr. Justice Casey on his elevation to the bench of the High Court. His tenure of this exalted position was alas a brief one and it is with sincere sorrow that we record his untimely passing.
Charlie was born 2 January 1895, second son among six children of Dr Charles Casey (d. 1911) of Clonmel, Co. Tipperary, and his wife Mary Genevieve (d. 1949), daughter of Matthew Conran of Ballitore, Co. Kildare. He was educated at the O'Connell Schools and Castleknock College. When little more than twenty years old, he joined the British Army in 1915, and went to France with the 16th Irish Division and served as a Private with 7th Bn. Leinster Regt. then was attached to the.2nd Bn. and later 6th Bn. Royal Irish Regiment, and later again with the 2nd Bn. Wiltshire Regiment. During that service he received a battlefield commission for guiding 50 lost soldiers back from behind German lines.
At the end of the war he returned to Dublin and studied law at the King's Inns. He was admitted to practice at the Bar in Michaelmas term of 1923. Twelve months previously he had joined the Free State Army, and until 1924 he was a member of its legal staff. Later he built up a substantial practice in civil and criminal business, and was State prosecutor for several years in many well-known actions. His Court record before his elevation to the Bench was of proven merit, and he displayed great skill in cross-examination.
He was called to the Inner Bar on 28 October 1941, and had been a Bencher of Kings' Inns since the Michaelmas term of 1950.
He was appointed Attorney-General on 21 April 1950 in succession to fellow past man Mr. Cecil Lavery, S.C., who had been appointed a judge of the Supreme Court. In June of the following year he was appointed a judge of the High Court, a vacancy having arisen on the death of Mr. Justice Gavan Duffy.
On the morning of his death, the President of the High Court, Mr. Justice Cahir Davitt, paid the following tribute to his memory:
The shock of hearing the sad news of Mr. Justice Casey's death is so vivid and so recent that I do not feel able to pay any adequate tribute to his memory in the few short words I propose to say now.

I was closely associated with him for the past forty years and am proud to have been numbered among his friends. I knew him as a school friend, a comrade when we were both members of the Defence Forces, as a fellow-member of the Bar and as a colleague on the Bench. He had personal attributes of the highest order which were clearly manifest to everyone who knew him in any capacity. A staunch friend, a loyal comrade, a fearless advocate, a just and upright Judge, and, above all a good man in every sense of that simple word, his loss will be keenly felt by all who knew him and by many who had not that privilege.

My colleagues join with me in this tribute, and I would like to convey to his wife and family on my own behalf, and on their behalf, and on behalf of all the members of the High Court our sincere sympathy with them in their affliction.
Castleknock offers its sincere sympathy to his wife Helen Clarissa, sons Billy and Frank so lately with us, younger sons James and Joseph and his younger brother the Rev. Henry Casey, CM, whom many will remember as a gifted Mathematics teacher at Knock and also a pastman, class '15, as was their elder brother Willie, class '11 who was killed in action during the war.
Requiescat in pace.