Desmond O'Connell, class '42
1924 - 2005
Feb 27, 2005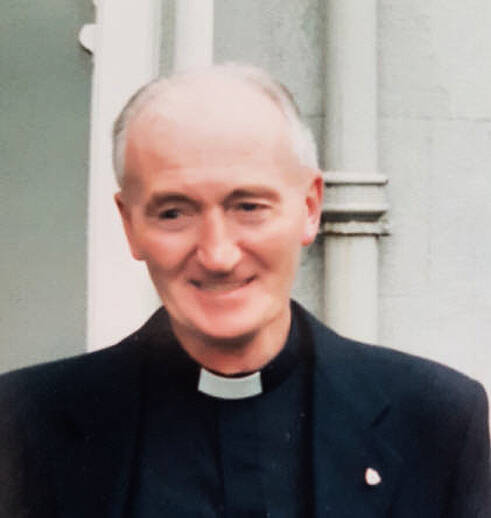 -
Pray for me, Uncle D.
I grew up with these words. Uncle Desmond wrote them on prayer cards that he gave to his nieces and nephews at the end of his annual visit to Dundalk. It was his way of saying goodbye, before he got into his Volkswagen Beetle and headed back for Twickenham. Each year a similar card and the same wish. Prayer was clearly important to him. I remember Desmond praying the divine office in our garden. Every evening I would see him walk up and down our lawn, the divine office in hand, head bowed in prayer. He looked statesmanlike and dignified – quite inspiring to a young boy.
At his funeral mass, Fr McCullen gave the homily. In it, he used the analogy of a piece of string pulled tightly across a musical instrument to described Uncle Desmond. I think this image is very apt. Uncle Desmond was someone who was indeed pulled tight. He was taut, perhaps a little too taut. And as with a string pulled across a musical instrument, if in tune and played well, it will sound a most glorious and magnificent note. However, if the string is out of tune, or played badly, it can sound off key and quite jarring. The same was true for Desmond. I remember conversations with him where he offered great insight, was compassionate and wise, well informed and clear in his thinking. These were delightful and very special moments. I thoroughly enjoyed them, for I was in the company of someone very pastoral, reflective and interested in matters of church, politics and sport, with special emphasis on the progress of Arsenal. He could also be quite humorous. While sitting on a park bench in Essex with my sister Ruth, a man went past and shouted over to her, "Allo, you sexy beast." To which, Uncle Desmond shouted back, "Yes… she gets it from me". However, there were other times when we met and it was difficult to have a conversation. He would be distracted and find it hard to pay attention or listen. Something was not just quite right and it would annoy him to such an extent that he was unable to concentrate well on the relationship at hand. There were times when he could be short with people. However, when he realised what he had done, he would often go and apologise. This might be in the form of a packet of cigarettes left outside a bedroom door, a note, a few words or some sort of gift. There was something very decent about Uncle Desmond, there was an honesty and a deep down sense of goodness and fair play about him.
Years ago, I remember talking to a Vincentian colleague who had worked with Desmond among the Deaf community in Scotland and England. At some stage in our conversation, I expected him to tell me stories of Desmond's prickliness among the Deaf community. However, it was not so. He told me of the huge regard and high esteem that the Deaf had for him. He was their priest and he loved them and they loved him. Quite simply, he was theirs. He gave himself to them in a generous and big-hearted way. He was very happy in this work and he was good at it. I saw this for myself when I went out to Brewery Road and celebrated mass with him there. He brought me around to meet the residents and workers. He knew them all, their stories and had a word for each. I saw him kind and caring, interested and alive with the folks there. I met his friends, people he cared for and people who knew and cared for him. He was very protective of this world and slow to have others say mass there. But little by little, as his health deteriorated, he had to withdraw and let it go. I have no doubt that this was very difficult for him. His world was becoming smaller.
He appeared to accept the bother of going to  hospital twice a week for dialysis quite well. However, it was slowly taking its toll. When I would meet him in the last year, he was not able to talk for long and would tire easily. He spoke more and more about his own family of origin, telling me stories that he wanted to live after him. When I would prepare to leave, he would ask for a blessing, we blessed each other.
Near the end of his life, I told him of my decision to leave the Community and priesthood. He was heartbroken and, at the same time, he was decent and gracious to me despite his sadness. He loved the Community very much and was very faithful to his vocation in following Christ. He lived simply and privately, seeking to do God's will in and through the Community. It was strange but it was his death that provided me an opportunity to return to Ireland from Boston for the funeral, and there to connect with the Community again. His death provided an opportunity for new beginnings and new relationships in the Community. Even in death, I have been blessed by him.
I sometimes think that Desmond was one of the most sensitive people I've known. He 'felt' everything. Lots of seemingly small things upset him. It might be that he felt a draft (apparently he felt one while sitting by the window of a plane once!), or his tea might have too much milk in it, the food was not prepared right, the meeting was going on too long, or someone was talking too much regarding something they knew too little about! It must have been a torturous way to live, becoming distracted or disturbed by much of what others pay little attention to. And in the middle of this, there was a man who was generous, honest, full of integrity, faithful and prayerful; maybe we did not see enough of this man. At times, it seemed as if there was a struggle going on; a struggle for this gentleman to emerge. Now in death, I believe that this gentleman will emerge in the love of God. But in the meantime, I will continue to pray for you, Uncle D.
Dan O'Connell
---
DESMOND M O'CONNELL CM
Born: Dundalk, 23 November 1924
Entered the CM: 7 September 1942
Vows: 8 September 1944
Ordained Priest: 28 May 1950 at Holy Cross College, Clonliffe, by Dr John Charles McQuaid, Archbishop of Dublin
APPOINTMENTS:
1950-'51: St Joseph's, Blackrock
1951-'62: St Peter's, Phibsboro' (Chaplain to Deaf)
1962-'65: St Mary's, Lanark, Scotland
1965-'87: St Mary's, Strawberry Hill (Chaplain to Deaf in Westminster Diocese)
1987-2005: St Paul's, Raheny, (Chaplain to Deaf in Brewery Road)
Died; 27 February 2005
Buried; Glasnevin