Hugh Murnaghan, class 1936
In Memoriam
Dec 5, 2009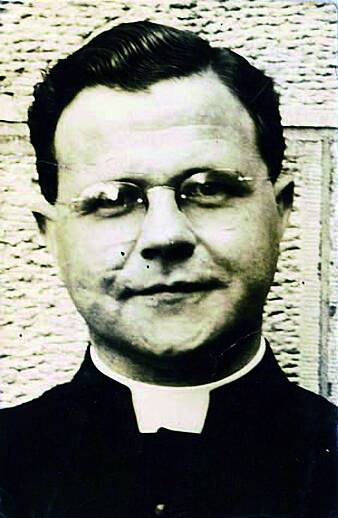 -
The Union was saddened to hear of the passing of Hugh Murnaghan, class 1936.
He was a brother of Gerald, class 1929 and an uncle to the Murnaghan Dublin quartet in the 50's and the Omagh quartet in the 80's.
The death has occurred of Fr Hugh MURNAGHAN C.M.
Sacred Heart Residence, Sybil Hill, Raheny, Dublin 5, Dublin
| | |
| --- | --- |
| | Peacefully, at Beaumont Hospital, Dublin. Brother of the late George, John, Gerald, Walter, Donal, Rosa Bogues and Kevin; sadly missed and deeply regretted by his loving sisters Mor and Joan (Cunningham), extended family, Vincentian Confreres and friends. Requiem Mass on Monday, December 7th, 2009 at 11am at The Sacred Heart Residence, Sybil Hill, Raheny Dublin 5. Burial afterwards in Glasnevin Cemetery. |
Date of Death: Saturday 5th December 2009
---
It was the month of July of 1963. I was a first year seminarian in St Joseph's, Blackrock. We were on our holidays and playing football in Castleknock College. The students of St Kevins, Glenart were pitted against their younger fellow Vincentians from Blackrock. These soccer matches were supposed to be all good fun, but not for nothing were they known as "blood" games!
As this particular match progressed, I could hardly not be aware of a middle-aged priest striding up and down the touchline shouting and waving his walking stick. He was not known to me and I found it difficult to work out why he was shouting support for both teams. I asked one of the other players who he was and was told: "That's Hugh Murnaghan over on holidays from Ullathorne School in Coventry!" I think that shouting "Come on Glenart - get the ball!" and "There's a man free, Blackrock - give him some support!" - summed up the man. He was an enthusiast whether in football, teaching or prayer.
Many years later when I lived with Fr Hugh, he often spoke of his family in Omagh, Co Tyrone. His mother died when he was quite young - his father married again and there were many brothers and sisters. Fr Hugh was educated by the Christian Brothers in Omagh and later when he felt a calling to the Vincentians, he finished his secondary education in St Patrick's in Armagh. He spoke with great affection of his teachers in both places. He was later - after ordination and further studies in Cork - to teach in Armagh.
The Mumaghan's of Omagh were a highly principled, loyal and dedicated family. Fr. Hugh spoke of his father's concern for poor people and it was well known that, as a solicitor, Mr Murnaghan represented many people pro bono. It was obvious to me that Fr Hugh's real concern for our brothers and sisters who had been dealt a duff hand in life - that concern came from his parents.
As a science teacher both in Armagh and Coventry, Hugh influenced many generations, both boys and girls. He loved recounting stories of students he had - the boy who was cured of a stammer - the girl who was known in her family as "professor" because she took books home from school - the teams which won the Ulster colleges MacRory Cup.
It was not an easy task to build from scratch, a grammar school within the already existing Ullathorne Secondary Modern School. He spoke with great affection of Fr Tom Cashin, the leader of that little group of Vincentians. Fr Torn, he said, had to be extremely diplomatic in a difficult situation in Coventry. In his latter years in Ullathorne, Fr Hugh exchanged the Bunsen Burner for the Bible and was a talented catechetical teacher.
His time as superior and parish priest in Sundays Well, Cork, was not happiest, but he did his best. One hoped that in the large scheme of things the people of Sundays Well could see that he did do his best. He preached and celebrated the sacraments - he emptied bins and telephone boxes - he kept immaculate records - he played golf and after a game meticulously washed the rubber grips of the golf clubs - enthusiast!
For many years, he lived on the Ridgeway in Mill Hill. He was chaplain to the SVP in Westminster diocese. He loved helping with retreats and conferences - hearing confessions in a compassionate way was his delight. He spoke with enthusiasm of the Beginning Experience Movement - a weekend for divorced, separated and bereaved men and women - talking to them, listening to their stories in a gentle and loving way.
Fr Hugh loved people who were in need. He was an assiduous visitor of, and unofficial chaplain to, The Priory - the retirement home for the Daughters of Charity on the Ridgeway in Mill Hill. The first Friday of every month was his day for visiting all the Sisters in The Priory and spending time with those confined to their rooms. If they wished to receive the Sacrament of Reconciliation that was fine - not that was OK too. In his book, everyone was valuable.
It was the evening of Christmas Day 1990. Fr Tom Lane CM had had a stroke some days previously and was in hospital in Cambridge. Hugh Murnaghan made sure that a rota was drawn up so that Tom had visitors each day. God help you if you failed to fulfil your place on the visiting list! There was no messing with him!
I think it was this attention to detail which was one of Hugh's strongest characteristics. Fr Hugh and myself drove to Cambridge to the hospital. There was no question of going empty handed and we sat around Fr Tom's bed and laughed and had Oxford baps and Stilton cheese and wished one and all "A very Happy Christmas."
His latter years were spent in the Sacred Heart Home in Raheny. I don't think he saw himself as "retired". I believe he still felt that he had a ministry to the other residents -lay and clerical. He was visited regularly and supported by his Vincentian community across the road in St Paul's. He occasionally joined them for feast day gatherings. He loved to receive visitors and talk of the days of yore.
What is my abiding single memory of Fr Hugh Murnahan? There are so many - but if I were to pick one - it is listening to him in the oratory There was no question of his muttering or whispering or mumbling his prayers - you prayed with your full heart, mind and body. He was an enthusiast!
"Eternal rest grant unto him 0 Lord ... "
Fergus Kelly CM
---
Hugh Murnaghan CM
Born:
Omagh, Co Tyrone, 18 March 1918
Entered the CM:
13 October 1936
Vows:
18 October 1936
Ordained Priest:
30 May 1943 at Holy Cross College, Clonliffe, by
Dr John Charles McQuaid, Archbishop of Dublin
APPOINTMENTS:
1943 - '46:
St Vincent's, Sunday's Well, Cork
1946 - '56:
St Patrick's College, Armagh
1956 - '78:
St Vincent's, Coventry
1978 - '79:
St Mary's, Dunstable
1979 - '85:
St Vincent's, Sunday's Well, Cork
1985 - '98:
Damascus House, London
1998 - '04:
St Vincent's, Mill Hill
2004 - '09:
Sacred Heart Residence, Sybil Hill
(attached to St Paul's, Raheny)
Died:
5 December 2009
Buried:
Glasnevin Cemetery