Joseph O'Farrell, class '17
In Memoriam
May 9, 1965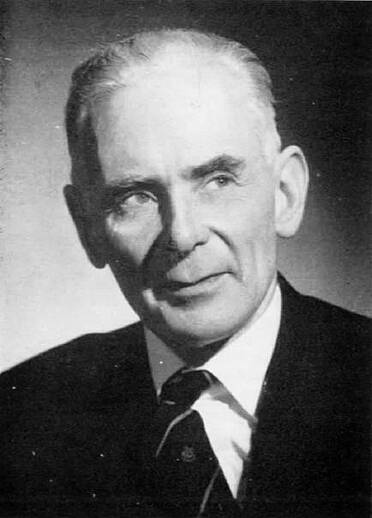 Joe arrived at Knock as the eldest of three brothers from Portarlington - ahead of Harry, class '20 and Alphie, class '23 - albeit he then went by the Farrell surname and the O' was added post his involvement in the War of Independence.
His death has removed one of the most active and selfless Pastmen of our time.
The engineering profession was chosen by Joe and was followed in the Royal College of Science where he distinguished himself by winning a valuable scholarship. After a progressive early career he became Chief Engineer in the Consumers' Department of the Electricity Supply Board in 1926.
In his earlier days he threw himself into the fight for freedom and was seriously wounded and imprisoned in 1921. It was characteristic of Joe that he was hesitant to speak of the hazards he endured in those dark days before the truce, but his stories when obtained from him were always related without a trace of bitterness and reflected his innate kindliness.
He had an absorbing interest in matters affecting youth and was the dynamic force behind the Boys' Club. Indeed his valuable contribution to this problem was recognised by his service on the Youth Unemployment Commission which was presided over by His Grace the Archbishop of Dublin. Those boys who passed through the Castleknock Boys' Club during the years when Joe gave unstinted personal attention to the Club's activities would be the first to acknowledge his kindness and understanding in helping them.
In 1952 he was elected President of the College Union and he brought to the affairs of the Union the same devoted attention during his year of office as signalised his lifelong association with the College.
His was a simple and deep faith which enabled him to bear a long illness with calm resignation. To his sons, Fearghal, class '51 and Fr. Dermot, class '48 and a member of the Community, and his daughters, Pastmen of many generations will offer sympathy on his passing to his reward.