Karl Toland, class '81
In Memoriam
Dec 30, 1992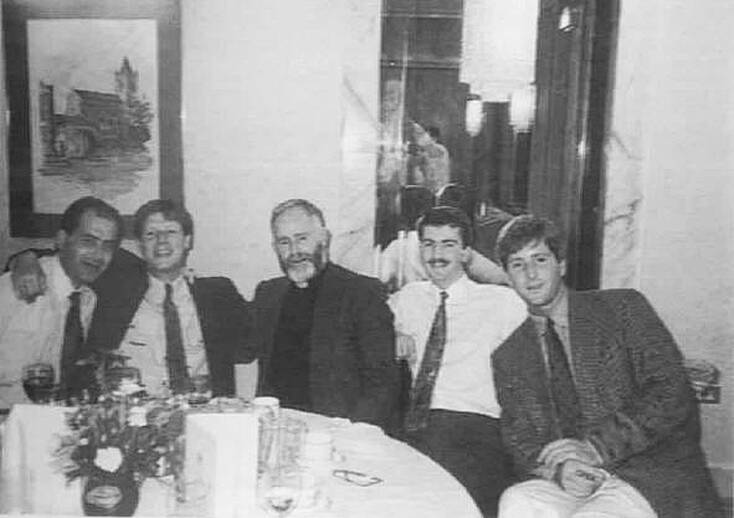 Karl pictured second from right at class '81 Ten Year Reunion
Karl was just twenty nine years of age at the time of his death. His short life however, was full and in it he touched and inspired a huge circle of friends as the attendance at his funeral here in the college Chapel testified. At school he was known as a good worker, took pan in the sporting and other activities of the College and with his easy and open personality was popular with everyone. Many would have envied him.
Then, just after the Intermediate Certificate the illness that was eventually to take him from us first declared itself. He lost a leg. One would have understood if he were to lapse into self pity and we would have gladly made allowances. But that was not Karl's way. He returned to school in September and after a little period as a day-boy while he learned to manage the prosthesis he insisted on boarding again. His courage became an inspiration to us all. He attended class and study like anybody else. He played tennis and took his place in goals on the Soccer XL Later he was to become a very useful player at squash.
On leaving school he qualified as an accountant. Having established himself in his career he became engaged to Leonie Murphy. During their engagement his illness recurred. He asked if he could be married in the College Chapel and the Diocese kindly allowed for an exception to its rules. He and Leonie were married in July 1990. Their marriage was blessed with the arrival of their son Sam. Karl seemed to have overcome his illness once again. He was elected to the Union Committee and accepted to become its Treasurer, a task which he undertook enthusiastically with his usual generosity of spirit. Early last year he became ill again and he submitted to weeks and months of painful treatment without complaint. He and Leonie faced the future with great courage. He returned to work, organised the finances of the Union and enjoyed evenings with his friends. We met him at Union Day, Union Dinner and at the committee meetings. He was able to leave hospital to spend Christmas with his family and with his parents-in-law. He even managed to get to Lansdowne Road with his dad. He fought to the end. It was just before he lapsed into coma that he turned to his mum and dad to thank them and then to Leonie to tell her he loved her.
We miss him but we feel the better for having known him. We offer our deepest sympathy to Leonie and to Sam, to his mum and dad, Dr. and Mrs. Toland, to his brothers and sister and to his parents-in-law. May God bring us all one day together again.