Mannix MacKenna, class '71
In Memoriam
Jan 10, 2018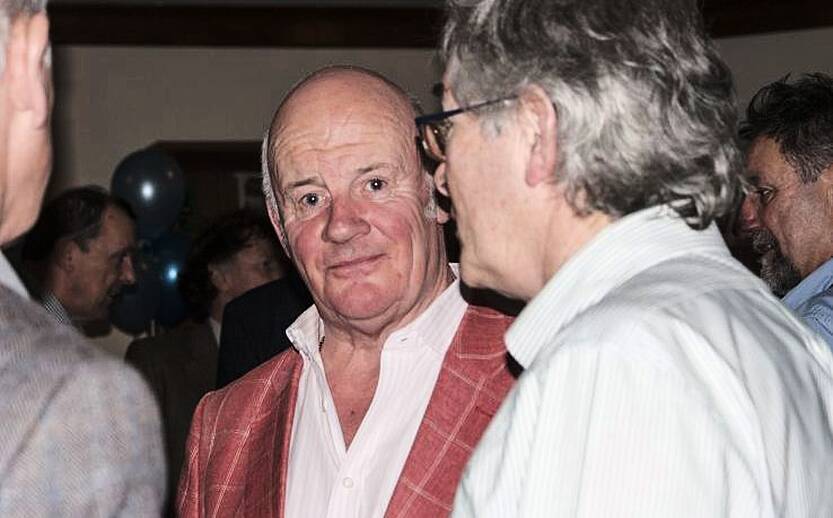 -
The Union was deeply saddened to learn of the passing of Mannix MacKenna, class '71.
The death has occurred of Mannix MAC KENNA
Farnham Street, Cavan Town, Cavan / Milltown, Dublin
Mannix MacKenna, Farnham Street, Cavan, and Miltown, Dublin died suddenly on Wednesday, 10th January 2018 at the Beacon Hospital, Dublin, to the inexpressible grief of his beloved partner, Julie Tuck, his sisters Lily and Marie, brother Tomás and his aunt Sr. M. Proinnsias S.S.L, relatives and a wide circle of friends. Predeceased by his devoted parents, Thomas and Kathieen.

Reposing at the McMahon Funeral Home , Farnham Road, Cavan from 11.00 a.m. on Sunday, 14th January, 2018 until removal at 12.30 p.m. to the Cathedral of Ss. Patrick and Felim, Cavan for Requiem at 1.00 p.m. followed by cremation at Lakelands Crematorium, Dublin Road Cavan.
Date Published: Friday 12th January 2018             Date of Death: Wednesday 10th January 2018
---
Mannix and his brother Tomás, class '83 came to Knock following in the footsteps of their father Thomas, class '39, who was a great and well loved character. Like father, like son for Mannix was cut from the same cloth,
Some who pass through the gates of SVC leave their mark on College prize lists and for others it's the playing field where they excel. That wasn't Mannix - he left his mark in the hearts of his fellow pupils. He was immensely popular and the life and soul of all company he kept. That continued right up to the present day for '71 are a tight knit year group. They meet every five years and Mannix was at centre of all such reunions. In between a very social card school met way more frequently as can be testified to by Paul Maher, John Gleeson, Emmet O'Rafferty, Hugh Farrell, Michael Connolly and Andrew Kennedy amongst others.
One remembers the late Fr Frank Maher, CM, reminiscing after being regaled by Mannix at yet another Union function -
Mannix when with us viewed Castleknock as a five-star hotel and the only confusion in his mind then was whether he was a guest in or manager of said establishment.
He then opined it was probably manager if Mannix's subsequent stewardship of the Union was anything to go by. There he was Honorary Treasurer 1983-85 and Union President in 2001 but that doesn't tell the full story, as for the twenty years up to that point Mannix was the chief social secretary of the Union. He reinvigorated the annual dinner as acknowledged in the 1989 Chronicle -
the annual Union dinner has had a major upturn which can only be attributed to the hard sell, "you are in, or out" attitude of Mannix MacKenna
The same Fr Frank Maher when reporting on 1983 fundraising for IKOT Ekepene in Nigeria
IR£5,000 was the price tag of this involvement and the Committee are delighted to reveal that this target has now been reached after much work by Wee Mannix MacKenna.
No doubt both now reunited they are revisiting that reference to 'Wee'.
After giving so much back, one would imagine Mannix had time for little else, but no, not a bit of it.
Following his Leaving Cert in 1971 he attended UCD and graduated with a Bachelor of Commerce degree in 1974, after which he did accountancy with Oliver Freaney & Co. in Dublin. He was however a merchant prince at heart and aviation was his chosen sector. There he started out with the McEvaddy brothers at Omega Air before branching out to set up his own operation, Ameravia, a supplier of parts and services to the global aerospace industry.
That choice of career was very conducive to one of Mannix's great loves - travel. His father was renowned for taking exotic road trips throughout Europe well before that became anything like the norm and Mannix inherited the bug. He continued the family tradition by taking his siblings on exotic foreign expeditions which more often than not, coincided with a Grand Prix event in that locality - motor sports was one of his great passions.
As was the Cinema and in his company it was always a magnificent affair.
Magnificent. That was one of his words.
He inherited his fathers turn of phrase which is hard to describe but was something akin to a unique blending of Knock, Joyce and Patrick Kavanagh with a penchant for resurrecting the old meanings of words. It was a  joy to hear and it's scarcely believable our raconteur par excellence will no longer grace our table.
Our loss is immense but pales beside that of his partner Julie and siblings Lily, Marie and Tomás, and so to them we tender our heartfelt sympathies.
Requiescat in Pace