Martin Angus Whitty, class '13
In Memoriam
Dec 18, 1969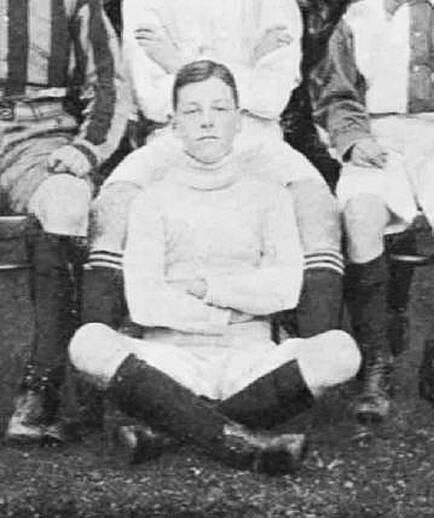 Angus as 1908-09 Sports Prize Winner
Martin Angus Whitty, who died at his home in Jamaica in December 1969, was the youngest of four brothers who attended the College in the early 1900's. A cousin of Father Tommy Hickey and a nephew of Fr. Martin Whitty (after whom he was named) and Lt. Col. Michael Joseph Whitty.
Angus will best be remembered for his activities in the Dramatic Society, the reports of which invariably ran something like this from the 1911 Chronicle:
The honours of the evening were unanimously accorded to Angus Whitty for his clever impersonation of Daniel Jourdain, the retired merchant who aspired to nobility ('He Would Be A Lord', Le Bourgeois Gentilhomme of Moliere). It was hard to believe that we had only a young boy before us. The facial expression, the voice, the poise of body characteristic of a retired old merchant, were sustained remarkably well all through. At no time was the character dropped. We congratulate our young Roscius on his achievement.
He was no slouch at sport either and was one of three Whitty brothers to make the 1910-11 SCT and also features prominently for the Cricket first XI.
After the first World War, during which he spent four years in the Dublin Fusiliers, Angus settled in Jamaica. Until his retirement he worked as the accountant at Long Pond, one of the oldest sugar estates in the island.
A popular figure in the town of Falmouth, where he served for many years as a Justice of the Peace, he won a special place in the hearts of the Catholic community. They knew him as a devout Christian with a great love of the Mass and immense pride in the work of the Church and joy at the spread of the faith in the island.
He is survived by his devoted wife Nesta, to whom we extend our sincere sympathy
Requiescat in Pace.