Michael McGettigan, class '47
In Memoriam
Sep 15, 2017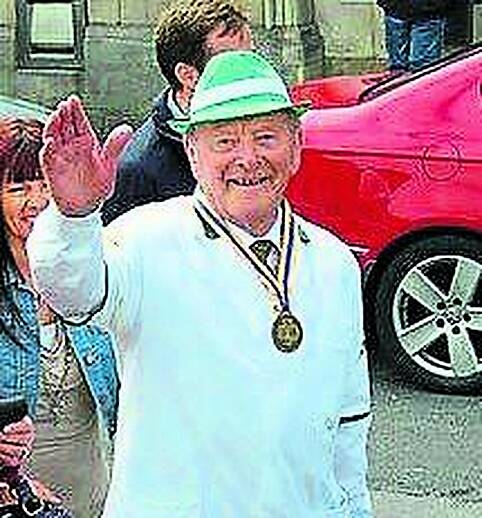 -
The Union was saddened to hear of the passing of Michael McGettigan, class '47. He was the eldest of three brothers from Dunkineely in Donegal ahead of John, '49 and the late Peter, '59, whose son Malcolm also attended, class '93.
Requiescat in Pace.
The death has occurred of Michael MC GETTIGAN
Ard Cuílin, The Glebe, Donegal Town, Donegal
The death has occurred of Michael Mc Gettigan, Ard Cuílin, The Glebe, Donegal town, peacefully in The Donegal Hospice Letterkenny. Remains reposing at his late residence from 2pm today (Saturday). Remains will leave his late residence on Sunday at 6:30pm to arrive at St Patrick's Church Donegal Town for 7pm. Funeral Mass on Monday morning at 11am in St Patrick's Church Donegal Town with burial immediately afterwards in Clar cemetery.

House Private please. Family flowers only please donations if so desired to the Donegal Hospital, Letterkenny care of any family member.
Date Published: Saturday 16th September 2017                 Date of Death: Friday 15th September 2017
---
Michael McGettigan, 'another great industry leader' in Donegal town, is laid to rest

He was 'simply just part of the social fabric of this town'
The respect that the late Michael McGettigan was held in was reflected in the huge numbers from every corner of the country who turned out to say their final farewells over the weekend.
Michael passed away peacefully early on Saturday morning in the Donegal Hospice, surrounded by his family.
Originally from Dunkineely, Michael, Ard Cuílin, The Glebe, Donegal town, studied in Belvedere College in Dublin but because they could not understand his Donegal Irish or accent he "emigrated" northside to Castleknock College, where he excelled.
After serving his time in Lucan he returned to the north west where he managed a large concern in Sligo. The ambitious Donegal man opened his original butcher shop in 1952, where Begley's Chemist is now, and later moved up the street and purchased the existing premises in 1954 from butcher Frank McNeilly, who was a brother of the then Bishop of Raphoe. Busy as he was, he still found time to meet the lovely Patricia McMullen from through the "Gap" and the couple married in 1955 and reared a family of seven children.
Michael was a very astute businessman and well able to recognise changing trends. As a result he built a large "Chicken Farm" at the foot of Miller's Hill supplying a very large market. At the time the young Sean Dunnion was working in the construction of the farm and Michael was so impressed he immediately offered him the job where he remained for 47 years.
Ernan, eldest son of seven, and Diarmuid, the second eldest, showed an interest in butchery at an early age and when both sons entered the business, the name over the shop became Michael McGettigan and Sons. Even though he retired, in later years he still had a keen interest in the operation and was 100 per cent behind Ernan and Diarmuid in their innovative ventures. Indeed he was very proud of his family, having seen them winning numerous accolades, including the European Champion Sausage and indeed the recognition shown to his sons by Prince Charles and Camilla for their innovation with the "simple sausage".
Michael was an avid golfer, and with Louie O'Donnell and the late Kevin Britton was a founding member of Donegal Golf Club. He was also a past president and captain. In fact both Michael and Kevin were also well noted for their great ability to entertain and famous for the renderings of "Sonny Boy" and the "Hills of Donegal" on the 19th hole.
At his funeral Mass, which was celebrated by Fr. Raymond Murrin, Fr. Seamus Dagens, Fr. Pearse Mullen and Fr. Tony Griffith, Fr. Murrin recalled how as cousins they had grown up beside each other.
"Michael was from Dunkineely and myself just down the road in Bruckless. We all had a wonderful life together and of course Michael was always the ringleader. He was one of a kind with that affectionate 'McGettigan smile'."
In a joint tribute to their father, Michelle and Ernan told the congregation, "Dad firstly was a husband, a grandfather, a great grandfather and a great father to us all. In his younger days one of his greatest joys was rambling around St. John's Point and he had well discovered the Wild Atlantic Way long before it was branded, having travelled every backroad in the county. He was a truly great ambassador for Donegal - he just loved his native county.
"One of the great memories we all share was Christmas - that was turkey time. We were all pluckers - he had half the young fellas and ourselves plucking non stop for around a half crown each before they were all dispatched to Dublin.
"It was in one of his rambles through the 'Gap' that he met our mother Patricia McMullen and after marrying in 1955 they built up our large family of seven in ten years. Our mother Patricia passed away and a number of years later he married Maureen in 2005, with the couple enjoying great happiness in the latter years. To Da, we will miss you dearly."
Michael McGettigan is predeceased by his first wife, Patricia, and his brother Peter. He is survived by his wife, Maureen, his brothers John and Dermot, sons Ernan, Diarmuid, Brendan, Declan, daughters, Michelle, Noreen and Fiona and a large extended family and many friends.