Neill Holloway, class '45
In Memoriam
Jul 20, 2016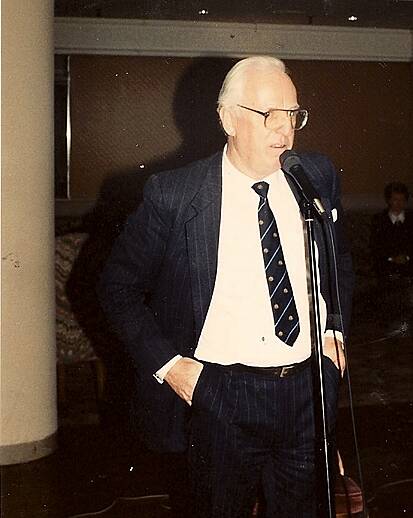 Neill Holloway, class '45
Neil was the youngest of four brothers who attended the College from Raheny following in the footsteps of Redmond '41, Patrick '43 and Michael '44. He left us for UCD and didn't take long to make his mark for the 1947 Chronicle reported:
Sean Moran, Dublin, 1935-38 and Neil Holloway, Killester, 1942-45, were members of the Students' Representative Council U.C.D., for the session, 1946-47.
The 1959 Chronicle then finds Paddy as a medic in London. Redmond a civil engineer in Ireland with CIE and Michael and Neil also both civil engineers but in Canada. There Neil remained and successfully so for the Globe & Mail reports:
On July 20, 2016, in his 89th year, Neill passed away in his sleep, surrounded by his family at the West Park Health Centre in Toronto.

Neill, son of Joseph and Marion Holloway, was born in Dublin, Ireland. One of seven sons, he is survived by his brother, Patrick Holloway. Educated at Castleknock College and University College Dublin, where he earned a .degree in Civil Engineering, Neill immigrated to Canada in 1955, where he met his loving wife of 59 years, Rita Charlotte Morrow. Deeply loved father of Maureen (John), Louise (Boris), Andrew, and Kathryn. Beloved grandfather of Sam, Aidan, Ronan, Milo and Oona.

A brilliant man of dry wit and charm, Neill played an important part in' the development of downtown Toronto as the Project Director of the Royal Bank Plaza. He will be remembered for his love of books, music and baseball, his penchant for puns and "Ie mot juste", and the many chess games he played with his grandsons. He will also be fondly remembered by the community at the Toronto Island Marina, where he served as Commodore of the Harbour City Yacht Club, and spent 30 seasons on board his beloved sailboat, the Cappamara.

Special thanks to the staff at West Park, St. Hilda's Towers and St. Joseph's Hospital for their loving care over the past year. A celebration of Neill's life will take place at a later date.
It was a life well lived, yet a loss has been suffered, so we tender our condolences to his surviving brother Patrick and to all his family in Canada.
Requiescat in Pace