Paddy O'Byrne, class '48
In Memoriam
Dec 4, 2013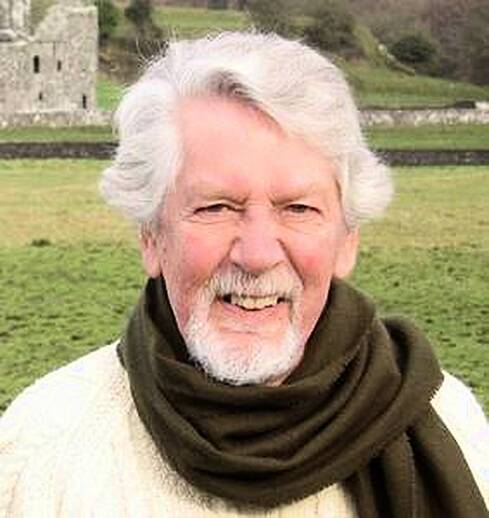 -
The Union is sad to report the passing of Paddy O'Byrne, class '48.
The death has occurred of Paddy O'BYRNE
Mullingar, Westmeath
O'Byrne, Paddy. Born Killiney, Co. Dublin - 8 December 1929, died 4 December 2013, at home in Mullingar, formerly of Johannesburg, South Africa. Eldest son of the late Mr Justice John & Marjorie O'Byrne, Paddy is reunited with his beloved Old Vic and son, John. He is survived by his devoted children, Jane and Dominic; heartbroken grandchildren, Laura, Mark, Justin, Charlotte and Thomas; brothers, John (London) and Michael (Canada), nieces, nephews, cousins and a legion of friends and admirers. A man of principle and integrity, he lived his long and colourful life to the full, using all the gifts God so freely gave him. We shall not look upon his like again.

Prayers at Newbrook Nursing Home Chapel, Mullingar on Friday 6 December from 5pm-7pm, funeral at St Michael's Church, Castletown-Geoghegan, Saturday 7, December, at 11am.

And you, my father, there on the sad height,

Curse, bless, me now with your fierce tears, I pray

As you go gentle into that good night.
Date Published: Thursday 5th December 2013
Date of Death: Wednesday 4th December 2013
---
Paddy was the eldest of three brothers who attended the College during the war years, ahead of John, class '49 and Michael, class '51. All three set sail to conqueror the world and the 1961 Chronicle tracked Paddy down - 
Paddy O'Byrne has been hitting the headlines in Johannesburg. In a recent country-wide contest for the Voice of South Africa Paddy gained the prize—a contract with the SABC. and a valuable cash prize. In his home parish of Maryville, Paddy is known as an entertainer and singer and also as compère at parochial functions. His keen interest in music and dramatic art have gained for him an entrée into the Johannesburg world of entertainment and also many good friends who encouraged him to enter the competition for the Voice of South Africa. Congratulations, Paddy, on your success—perhaps we may hear you over the " air " sometime.
Well over the air, we certainly did hear from him, for some 35 years later in the Southern African-Irish Studies Journal edited by Professor DP McCracken we find -
The much-loved Irish-South African radio broadcaster, Paddy O'Byrne, with his ready wit, erudition and charm has been a feature of the airwaves for a number of years. He is probably the best-known Irishman in South Africa today.
These achievements were further acknowledged when Paddy was an inaugural inductee into the Radio Hall of Fame, at the MTN Radio Awards Gala, held in Johannesburg, South Africa, in May, 2010.
Born in Killiney, Co Dublin, on 8 December 1929, as the eldest surviving son of Supreme Court Judge, the late Mr Justice John O'Byrne (Attorney-General of Ireland from 1924-1926) and his wife, the late Marjorie, née McGuire, Paddy was educated at St Mary's College, Rathmines; Castleknock College, and University College, Dublin (BA Legal & Political, 1951). In 1952 was called to the Irish Bar and he practised for two years before the lure of the entertainment world took him to London and the variety stage, no doubt continuing on from the many operas he starred in whilst at Knock. After his marriage to Vicky Fitzpatrick in 1956, he sought a more dependable career and he joined an insurance company in London. Two years later, after the birth of his daughter Jane, they sent him to South Africa. Sons John (1959 – 1980) and Dominic (born 1963) completed the family.
It was there that winning The Voice of South Africa competition brought about a radical career change: part of the first prize was to read a serial for the English Service of the SABC and he remained a broadcaster for the rest of his working life. Even Hollywood was graced with Paddy's professional contributions, when he was engaged to narrate the hugely successful film, Beautiful People, and the subsequent international hits, The Gods Must Be Crazy I and II.
Paddy had several passions in life - the correct and proper usage of the English language (which does not surprise us - a look back at the 1948 College Prize list sees Paddy sweeping the boards with the Gold Medal in English, Bodkin Memorial Prize for English Essay and the Brady Centenary Prize for English Debate); literature; music and the performing arts of all kinds; Rugby, especially of the Springbok and Leinster variety; Gentleman's Relish; his faith and above all else, his family. In July 2001, the O'Byrnes - Paddy, Vicky, daughter Jane, and grandchildren, Laura and Justin - retired to Ireland. Retirement is not strictly-speaking correct, because since then Paddy continued to present occasional programmes on Lyric FM; adhoc programmes and series for Radio Today and Radio Veritas, in Johannesburg and Fine Music Radio, in Cape Town.
A legend of the airwaves will broadcast no more, and he will be sorely missed by listeners and friends around the world.
Requiescat in Pace.