Richard Bennett, class '67
1949 - 2013
Jan 10, 2013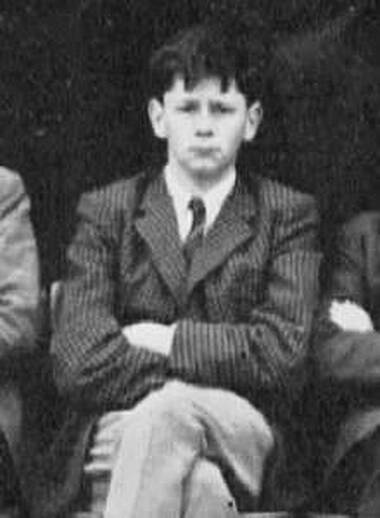 Richard in 3rd Year in 1964
The union is sad to report the recent passing of Richard Bennett, class of '67. He returned recently from 30 years in the US to Thomastown, Co Kilkenny and died there on 10th Jan 2013 at the age of 63.  His funeral was held the following day at Newlands Cross Crematorium.
Richard was one of three brothers to attend the College. His older brother George, RIP, was class '64 and his younger brother, Paul was class '73. The Union would like to extend its deepest sympathies to Paul and the wider Bennett family on their loss.
Requiescat in Pace.
---
Richard Bennett, 21st March 1949 to 10th January 2013 
It is the privilege of the educator to open a window in a young person's mind that will enable that individual to flourish and thrive. In that regard Richard Bennett (1962 to 1967) has much for which to be grateful to the college, for it was there that he first became acquainted with that magnificent animal that was to mark his passage in life - the horse.
For way back in the sixties there were riding stables at Knock, run by a man called Stan Lynch. Richard Bennett – the second of three brothers to attend the college – arrived at Knock in 1962. He loved riding horses, and encouraged by Stan Lynch, he was to take the first tentative steps whilst at school into an activity that would provide his career and his life's work.
The other area of interest that was ignited as a spark at Knock but not fully harvested until his adult years was a love of English Literature. He was to become supremely well read not only in the great works of Irish, English and American literature but also in the Classics of the ancient world.
The death of his father whilst in second year led to a crisis of confidence in a young boy and that may well explain his indifferent academic success in national examinations. He elected not to pursue higher education, opting instead in 1967 to work at a stud farm in County Meath on leaving school, where he learned his skills by starting at the bottom.
In the early seventies he travelled extensively around the world working for a bloodstock agency based in Kentucky, and that was where he first made the acquaintance of the USA. After spells back in Ireland and the UK in the mid seventies he married in 1977 and returned to the US – initially to Kentucky and later to Maryland where he was to remain for over 30 years. He ran Woodstock Farm (no connection with rock festivals!) in Chesapeake City where a string of successful racehorses were bred and raced under the nom-de-course Bohemia Stables, owned by the late Mrs Richard C DuPont. The stables produced a number of top horses including winners of several Grade 1 races and numbering multiple winners of the Ballerina Stakes at Saratoga racecourse in New York State.
He had an extraordinary natural affinity with animals of all sizes from horses and farm animals to dogs and cats. He seemed able to get on their wavelength by a sixth sense and he could calm and reassure a distressed, aggressive or sick animal with natural ease.
He had three children, all of them born in the US and Richard was proud to become a naturalised American Citizen. His only son served with distinction in the US Marine Corps during the Iraq war. His two daughters took science degrees. Yet Richard eschewed much of the American way of life – having no interest in fast food, consumer durables, or television. He lived simply on the farm, never having to commute anywhere, devoting his spare time to self-improvement and learning. His animals did not work "9 to 5" and nor did he.
He could quote passages from Ulysses – not to show off, but because he genuinely loved the language of Joyce's most challenging work. He was an outrageous raconteur and mimic who could render his audiences helpless with laughter. He always retained an affection for Castleknock although he rarely visited after he emigrated, and he never attended any reunions. His older brother George (RIP) left in 1964 and I, his younger brother Paul, was a member of class of '73. Our family came from Dalkey, Co Dublin
Richard married in 1977, but the marriage was dissolved in the early 1990s. He never remarried. In Dec 2010 he was diagnosed with cancer, which he fought with great courage and with the support of his friends and his employers. He continued working until October 2012 when he made the decision to return to Ireland to end his days. It was a great wrench for him leaving Woodstock, but he showed no self-pity, opting only to look ahead. Significantly he was cared for in the last ten weeks of his life by his former wife and his children travelled from the USA to be with him at the end. Even after 35 years as an emigrant we reclaimed him as an Irishman at the end.
Paul Bennett