Robert Tyndall, S.J., class '15
In Memoriam
Dec 10, 1988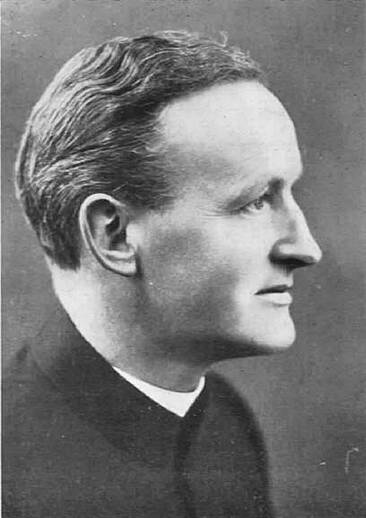 Fr Robert Tyndall died in Our Lady's Hospice on 10 December 1988. He had been there but a few weeks; but for four years previously he had been an invalid, suffering great pain from arthritis. He was born in September 1897 and entered the Jesuit noviceship in 1914 after his years of schooling in Castleknock. He must have been very happy at school and fortunate in his teachers, for all his life he retained a very deep affection for Castleknock and the Vincentians.
He followed the normal course of Jesuit studies and was noted for being eminently practical rather than academic. But 1921 brought a great change and a wonderful opportunity for his talents to develop. He, as a scholastic, found himself in Australia, second in command of Studley Hall, the preparatory school for Xavier College, Melbourne. Here he was an immense success, ran the school almost on his own and made friends with every one, from Archbishop Mannix down to the smallest boy.
In fact, many of those he met were to remain lifelong friends. His assiduous correspondence with Australia, and later Hong Kong and Zambia, was to be to the end of his life a supplementary apostolate to whatever his work called him. He felt very much for foreign missionaries, often lonely and so hungry for news from home.
After his ordination in 1928 his active life fell roughly into two parts. For many years he was in positions of authority; First Prefect in Mungret, Assistant Master of Novices, Principal of University Hall, Superior of Gardiner Street Church, Rector of the Crescent College, Minister in various houses where all material things devolved on him.
In Gardiner Street a great interest of his was the Novena of Grace in honour of St Francis Xavier. In those days it was only in that church that it was held and the crowds who attended were so enormous that the queue reached all round the block and people often had to wait for hours before the Novena began-if they had succeeded in getting a place. During the period of waiting they, or some of them, were entertained by Fr Tyndall who carried on a kind of pious variety act from the pulpit
In the years when Fr Bertie did not occupy positions of authority he had much success as a retreat giver and conducted many parish missions. When this became onerous he went as Minister to Lesson St, but gradually his disabilities increased and his activity slowed. Soon it became clear that he needed constant care and in his last years in the Jesuit nursing unit at Cherryfield his pain was extreme, but he bore his suffering with courage until be became a patient in the Hospice. Here he very soon slipped into a coma, a peaceful prelude to a death that closed a life full of goodness, friendship, efficient work and a great love of the Master he served so diligently and for so long. He was 91 when God took him to Himself.
Requiescat in Pace.