Thomas Fagan, class '30
1912 - 2001
Oct 2, 2001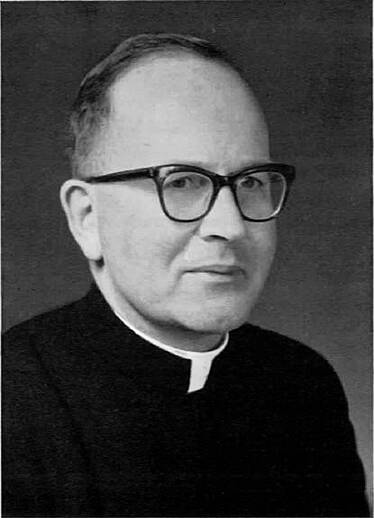 -
His first arrival in Paris was the occasion of his first appointment, September 1936. There he was to remain as Dean while, at the same time, attending lectures in Philosophy at the Institut Catholique. The start of hostilities in September 1939 put an end to his (and the Community's) contact with student formation at the Irish College, Paris, after a period lasting since 1858.
Tom loved France and was always in praise of such places as Rocamadour, Carcassonne and, above all, Notre Dame in Paris. The cathedral itself was the source of his favourite exhortation to repentance; around Passion Tide, he would use the reflection by Cardinal Verdier on his own conversion – as a young tearaway, larking with an equally unlikely pal in the Cathedral on Good Friday, he was literally brought to his knees before the Calvaire in the great Church.
Since the assumption by the Hierarchy was that the Irish College would not reopen during hostilities, Tom was 'directed' to All Hallows, with what marvellous results only Providence can know. From that date in September 1939 until 1970, he was to labour, as Dean, Vice-President and, ultimately, as President, with incalculable benefit to the Irish Church of the Diaspora. On the way to or from one or other of the houses in All Hallows, he would have been confronted often with the motto of the College, which encapsulated his own priestly endeavour; "Euntes docete omnes gentes"; 'Go teach all nations'.
He would be the first to pay tribute to the influence on him of such stalwart members of the Congregation as Frs O'Donnell, Purcell and John Shanahan and also that of Pat O'Gorman. Wherever you meet an alumnus of All Hallows, Tom Fagan's name will be held aloft among those mighty examples of the priestly model.
His arrival in St Peter's would, no doubt, have been as much a surprise to himself as to the majority (and was the cause of a legendary wager on account of its unliklihood!) for no other reason than that he had not been directly engaged in parish work. His involvement in priestly formation, however, and his direct contact with so many alumni and priests, especially of Dublin Diocese, had laid a good foundation for his new sphere of activity, all the more so when he was to establish another first; Phibsboro' was to become, after so many years as a Mission House, a fully-fledged parish in the diocese in 1972. What a wonderful impetus this was for all of us who have been privileged to serve there under this added incentive!
Tommy was to remain part of the Phibsboro' community until his death; even during the two years when he was officially attached to the Provincial House next door! His last months were passed in the loving care of Sr Carmel and the wonderful staff in Rickard House.
Providence was to add one other string to his bow. He succeeded Fr McGlynn who had been given the office of Liaison Representative for contact between the Irish Hierarchy and the Department of the French Government which dealt with the Irish College in Paris (which had, by then, become a college for Polish clerics in formation outside their own land). His office involved occasional visits to Paris and consultation as to the future of the College. I used to tease him later about this period, which coincided briefly with the regime of General DeGaulle as President of the French Republic; I suggested that, as Leo XIII had requested of his confessor (one of our confreres), so DeGaulle had insisted that Tommy, as the French say, 'tutoyer' him (use the familiar second person singular in address). Even in jest, Tom wouldn't hear of such a possibility.
To what attribute his great and varied success? He was, by his own admission, a scholar of the fourth form (but then, of course, so was St Vincent – with what eminent results!). Both he and the founder, though, met the scholar returning from school – as the old man in Corundulla used to say – and gleaned a great deal from the exchange. Essentially, he was a man of God, seeking Him out in all things. He knew and followed the best of mentors, he was indefatigable in his zeal for the soul in need; if any one aspect of his priestly life shines forth it would be his love for the confessional. In community, he always put others first, always ready to help out, to substitute for a Mass, for confessions, for days on duty, always willing to perform any act of help or to run any errand or message, always willing to put you on to a worthwhile book (he was extremely well-read in  ecclesiastical lore but never stuffy). He enjoyed a game of cards but, most of all, he enjoyed clerical, not to say episcopal, chat.
The memory I will always cherish is his fond remembrance of his place on the Castleknock Rugby XV; right up to the end, his photographs in two teams were placed high with his photographs of the five Fagan priests (himself and his four brothers). If he had one regret it was the frustration at being narrowly (probably unfairly) beaten by Blackrock in a semi-final. That event – and the sad sequel! – were to remain vividly in his mind as though only yesterday.
How very fitting it is that his mortal remains lie in close proximity to his fellow-parishoner and Meath-man, Fr John Hand, founder of All Hallows, who himself, had commenced his pastoral activity in St Peter's, Phibsboro'.
Ar dheis Dé go raibh sé!
Andy Spelman CM
---
THOMAS FAGAN CM
Born; Oldcastle, Co Meath,16 December 1912
Entered the CM; 7 September 1932
Final Vows; 8 September 1934
Ordained priest; 22 May 1937 in Pro-Cathedral, Dublin, by Bishop Wall, Auxillary in Dublin.
APPOINTMENTS
1937-'39; Irish College, Paris
1939-'70; All Hallows, Drumcondra
1970-'89; St. Peter's, Phibsboro'
1989-'91; 4, Cabra Road
1991-2001; St. Peter's, Phibsboro'
Died; 2 October 2001
Buried; All Hallows, Drumcondra