Walter B. O'Donoghue, class '50
In Memoriam
Aug 13, 2016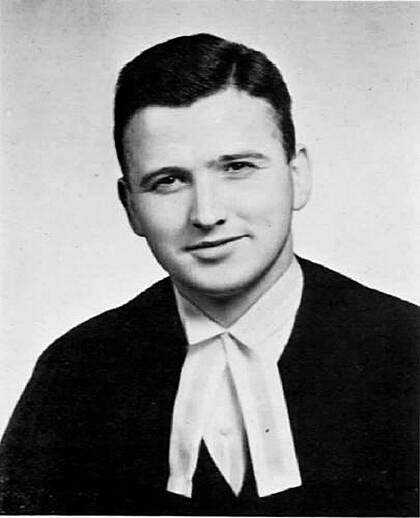 Walter pictured in the 1961 Chronicle
The Union is saddened to learn of the passing of Walter O'Donoghue, class '50
The death has occurred of Walter Brian O'Donoghue, QC
Calgary, Alberta, Canada
Walter is survived by his loving wife of almost 60 years, Shirley; four children, Paul (Tammi), Leslie (Hugh), Mark (Krista) and Denise (Bruno); and nine grandchildren, Connor, Brendan, Kyleigh, Erin, Dylan, Cole, Alexis, Amelié and Jack. Walter is also survived by his siblings Brenda, Peggy and Jerry and dozens of nieces and nephews. He was predeceased by his siblings Sean, Padraig, Donal, Hugh and Philomena.

A Prayer Service will be held at St. Anthony's Catholic Parish (5340 4th Street SW Calgary, AB) on Thursday, August 18, 2016 at 8:00 p.m. Funeral Mass will be held at St. Anthony's on Friday, August 19, 2016 at 11:00 a.m. In lieu of flowers, please donate to the Alzheimer Society of Calgary. alzaheimercalcary.ca

Memories and condolences may be shared with the family by visiting leydens.com
Date of Death: Friday 12th August 2016
---
Walter was the youngest of six brothers at Knock following in the footsteps of Jerry, '48; Hugh, '44; Donal, '41; Paud, '40 and Sean, '38. His brothers all excelled academically and on the sporting field and Walter if anything upped the ante.
The chronicles for his six years at Knock see him featured for all sports from Tennis of the table and court variety, Handball, Boxing through to Cricket and thus was no surprise when in 1949 he won the Murphy Cup for Senior Tennis and the Kevin Smyth Cup for Best All-Round Athlete. He captained the 1950 SCT that lost to Rock in the final, in no small measure due to Walter having to retire shortly after half-time. That injury subsequently led to an artificial right knee but it didn't stem the flow of sporting accolades, for during his time in UCD he obtained his colours for Rugby and Tennis and captained the winning UCD Tennis Team in the Inter-Varsity competition of 1953; and followed that up many years later as the Alberta provincial doubles tennis champion. His last athletic pursuit was golf, which he took up at 55 years of age and pursued it with great passion.
Walter was also to be found strutting his stuff on stage including outings in the Gilbert & Sullivan productions that Knock then excelled in: Patience (1945); The Gondoliers (1946); Iolanthe (1947); HMS Pinafore (1948) and The Yeoman of the Guard (1949). It was also at Knock where first sighting was had of the emerging attorney of note; witness the measured prose as he authored the junior section for the 1947 Chronicle and the dominant role he played in the Debating Society culminating in the 1950 Silver Medal for Senior Debate.
The legal career was impressive. In 1958 he was admitted to the Alberta Bar as a barrister and solicitor—he was the first non-British subject ever to be admitted. His breaking of this 'barrier' paved the way for other Irish persons including fellow past man Frank Casey. Walter specialized in corporate law, including securities, public and private companies and banking and was the head of his firm's corporate department for 12 years. He was the lead lawyer in a number of significant transactions including the privatization of Alberta Government Telephones and Canadian Airlines, both of which were among the largest transactions in Canada at that time. In addition, Walter was a director of a number of public companies listed on the Toronto Stock Exchange and/or the New York Stock Exchange. He was a past president of the Calgary Bar Association and a former school trustee for the City of Calgary and served a six year term as commissioner of the Alberta Securities Commission.
But at Knock it's his hospitality, friendliness and popularity that comes to the fore when we think of Walter, from his 1950 election as Captain of the House through to this from Fr Sam Clyne in the 2003 Chronicle:
a mini-'Knock re-union took place in August '03 in Calgary, Alberta, when I was the recuperative guest' of Dermot (Danno) O'Neill ('45 - 51) and his wife Sheila (nee McMullan) We were joined by Walter O'Donoghue ('44 - 50), Frank Casey ('45 - 50) and Michael O'Byme ('44 - 50). Gracious hospitality, friendship and well-stocked memories and wine cellar prompted most interesting and enjoyable reminisces of what were, undoubtedly, some of the 'golden times' in Knock. A Sunday lunch with Walter and Shirley O'Donoghue in their home in Canmore was a delightful highlight of my visit and helped to reconnect so many memory circuits across a wide range of topics.
This from his children confirms that never waned:
To his family and close friends he was also known affectionately as "Wally" or "Wally baby" and to his children the "reasonable man". Wally was fun, quick witted, always the last to leave the party and an easy going person whose special gift was his way with people. The reasonable man was the supportive and encouraging father who approached his children's challenges with common sense and always allowed us to debate any point of view – often evidenced by the lively and spirited O'Donoghue family dinners which included many friends over the years. Along with Shirley, Walter guided and inspired his children through his integrity, generosity, discipline, humility and dedication to his family, friends and community. He was loved, adored and deeply respected by his wife, children, grandchildren and dear friends.
It was a life well lived. To his wife Shirley, children, family and friends, and most particularly to his surviving brother Jerry, we extend our heartfelt condolences.
Requiescat in Pace