William A. O'Neill, class '47
In Memoriam
Jan 12, 1985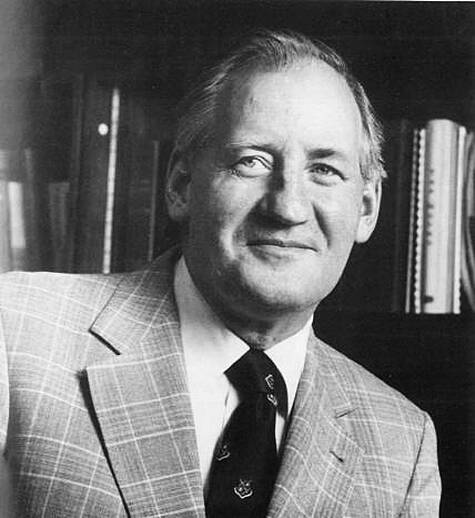 -
THE death in January of Willie O'Neill, one of the College's most distinguished pastmen. and current President of the Castleknock College Union, brought a deep sense of loss to many people - his family, the College and his many friends. As one who knew him for over forty years, from the time of his arrival in Castleknock as a boy, until the day of his death, the present writer can truly say that "knowing" was both a privilege and a joy.
Many influences shape all our lives and play a part in the kind of people we become. Amongst those influences the chief must be our own families - the place where we were born, where we received the love that enabled us to grow and develop as human beings. Willie came from a family where there was much love, and where all found friends. The O'Neill family house in Mount Merrion was open house for all comers, where all who crossed the threshold could find friendship and enjoyment In the O'Neill family home there was always something happening, with most of the activity geared to the "great outdoors', whether it be sport or just walking in the Dublin or Wicklow mountains. In his young days Willie was often gillie for his father's fishing expeditions on Lough Dan. It was a big family, eight boys and three girls. All eight boys came to Castleknock over a period spanning more than twenty years!
Willie had a distinguished career as a boy in Castleknock. both in class and on the playing field. During those years some of the qualities which were to mature in later years could be seen in embryo - a dedicated loyalty to family, college and friends, and a personal integrity which shone out to all around him. In his final year he was a head prefect and a member of the senior rugby team which brought the cup once more back to Knock.
On leaving the college Willie decided to follow a career in accountancy - articled clerk in Craig Gardners, qualifying as a chartered accountant helping other accountancy students in part-time lecturing in University College Dublin. He then moved out into industry gaining experience in management in Player Wills, Gilbeys and in CIE, where he became area manager successively in Waterford. Cork and Dublin. It was while serving as manager in Dublin that he was invited to join Irish Shipping which was at the time losing money. He made a major contribution to the transformation of Irish Shipping, by planning courses of action which eliminated losses and brought the company into profit.
During this period Willie was pursuing a distinguished sporting career. In rugby he was capped for Ireland in the early 1950 s He played for Lansdowne where he won a cup winners medal, and later for U.C.D. and Wanderers He captained the latter club and under his leadership another cup medal came his way in 1959. Willie also captained Leinster and toured with the Irish team in the Argentine and with the Barbarians. He was also an international water polo player and in quieter moments enjoyed the pursuits of fly fishing and golf. Willie on his retirement from rugby kept up an active interest in Wanderers, and nothing gave him greater satisfaction than when Wanderers once again won the cup in his year of presidency of the club. During this time Willie also found time to help the teams in the college and for almost thirty years the college teams enjoyed the benefits of his coaching expertise.
While engaged in all this activity, Willie was giving his full attention to an area where he gave strength but also received it - namely his family. Together with his wife Mary, he worked hard to inculcate the true family values which they both knew from their own homes As a result Willie's home was but a continuation of the earlier home he had known as a boy, a home of many children, in Willie's case seven, four girls and three boys To these could be added the many relatives and friends who frequented his home where there was always joy and friendship and indeed consolation!
The winter of his life set in early for Willie, on an Irish Shipping business trip to Japan, when he was struck down with a heart attack. A setback in health could not have come a a worse time, when all his energies were needed to deal with the problems arising in Irish Shipping following the recession, which brought about an unprecedented collapse in world freight rates. Broken in health and in spirit by the decision to liquidate Irish Shipping his response was one of courage and Christian resignation. He did not complain, and maintained an outward calm which did not reflect his mental anguish and interior suffering.
To Mary his wife and all his family, we in the college extend our deepest sympathy. To all of us who knew him. may his shining example help us to widen our vision and seek better things.
Requiescat in Pace.