Prefect of Studies - Deputy Principal
SVC 1869 to-date
Sep 2, 2009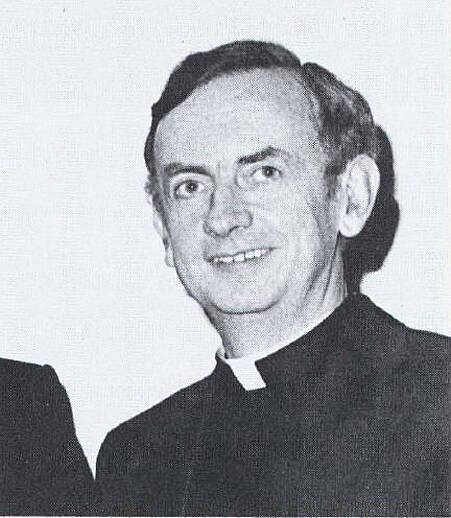 Prefect of Studies 1976-80, 1980-82
-
SVC opened for business in 1835 with a management troika of President, Vice-President and Dean. That became a quartet in 1869 when all matters academia related were spun out to the newly created Prefect of Studies position.
The twenty-six Prefect of Studies who served over the next 124 years were all Vincentians and all were pastmen, bar the last, Fr. Peter Slevin, who as current President of the College has long since met the criteria as an honorary Knock man.
In 1972 a Vice Principal was introduced to support the Prefect of Studies. Owen P. Ward who had joined the College staff in 1937 was the first so appointed and he held the role until his retirement in 1977. Michael McManus was the second and last so appointed, as this support role was then discontinued in 2000.
The Junior School for its short 1968-1993 shelf life also had its own Prefect of Studies. Here again the Vins looked after the first 12 years but in a harbinger of things to come, Ray Walsh filled that role for the final 13 years of the Junior School. Ray then stepped up to cover the same role in the senior house, and continued to do so when the office of Prefect of Studies was renamed Deputy Principal in 2000.
Ray was thus our bellwether, being the first lay person to serve as Prefect of Studies (1980-00) and the first deputy Deputy Principal (2000-04). The first of two so far, as on Ray's retirement in 2004, the current incumbent, Christopher Kinder was appointed Deputy Principal.
The Prefect of Studies line thus continues at SVC to this day but now as Deputy Principal.
---
TERM
DEPUTY PRINCIPAL
past pupil
note
 
 
2004-**
Christopher Kinder, MA, HDE
 
 
2000-04
Raymond Walsh, MA, HDE
 
 
 
 
PREFECT OF STUDIES
 
 
1993-00
Raymond Walsh, MA, HDE
 
 
1987-93
Peter J. Slevin, CM
 
4
1982-87
Philip Walshe, CM
class '46
 
1980-82
Martin P. Rafferty, CM
class '55
 
1972-80
Seamus O'Flynn, CM
class '51
1
1968-72
Matthew Barry, CM
class '55
4
1964-68
Seamus O'Flynn, CM
class '51
 
1963-64
Desmond McGinley, CM
class '47
 
1955-63
Brendan Steen, CM
class '40
1
1950-55
Michael J. Walsh, CM
class '30
4
1944-50
Donal F. Cregan, CM
class '30
7
1941-44
William Sullivan, CM
class '23
2
1938-41
Killian Kehoe, CM
class '25
1
1932-38
William Meagher. CM
class '17
2
1926-32
Thomas K. Donovan, CM
class '13
2
1924-26
Alexander McCarthy, CM
class '03
6
1919-24
Henry O'Connor, CM
class '05
2
1916-19
Vincent McCarthy, CM
class '03
7
1914-16
John Ryan, CM
class '00
 
1911-14
John P. Campbell, CM
class '93
6
1909-11
Edward Sheehy, CM
class '96
 
1906-09
James Doyle, CM
class '96
 
1904-06
Richard Creagh Bodkin, CM
class '63
6
1892-04
Paul Cullen, CM
class '84
2
1890-92
Michael P. Brosnahan, CM
class '79
5
1882-90
Richard Creagh Bodkin, CM
class '63
6
1869-82
Peter Byrne, CM
class '58
3
 
 
 
 
 
JUNIOR HOUSE
 
 
 
 
 
 
1980-93
Raymond Walsh, MA, HDE
 
 
 
 
1976-80
Martin P. Rafferty, CM
class '55
 
1975-76
Matthew Barry, CM
class '55
4
1972-75
Martin P. Rafferty, CM
class '55
 
1968-72
Seamus O'F!ynn, CM
class '51
1
 
 
VICE PRINCIPAL
 
 
 
 
 
1977-00
Michael McManus, ANCA
 
 
1972-77
Owen P. Ward, MA, HDE
 
 
 
 

---

NOTE
ALSO SERVED AS:
 
 
1
Dean
2
Dean and President
3
Dean and Vice-President
4
Dean, Vice President and President
5
President
6
Vice President
7
Vice President and President