SVC President
1835 to-date
Apr 30, 2017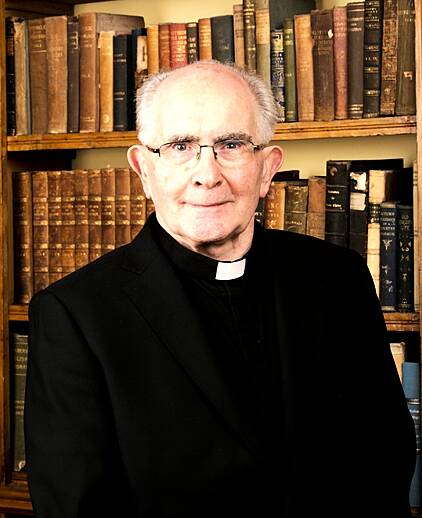 Very Rev. Peter J. Slevin, CM
SVC President since 2005
SVC opened for business in 1835 with a management troika of President, Vice-President and Dean, and that became a quartet in 1869 with the Prefect of Studies post. Twenty-five Vincentians have since held office as President, and the majority of them as noted below were also pastmen of the College.
The first President was Philip Dowley, CM who served for 29 years until his death 31st January 1864. All pastmen will be familiar with his portrait that towers over all others in the College refectory. In 1848 Philip was also appointed first Irish Provincial as the emerging Irish community until then was under the auspices of the Ile-de-France province. His successors Thomas McNamara, CM and Peter Duff, CM also served concurrently as SVC President and CM Provincial but that link was broken in 1873 when the Provincial House moved to St. Joseph's in Blackrock.
Two further SVC Presidents subsequently served as Provincial - Henry O'Connor, CM, 1932-42 and Kevin O'Shea, CM, 2001-07. Neither Kevin nor current SVC President Peter Slevin, CM, are pastmen but both are Vincentian alumni, and the College we have today is primarily down to this duo.
Fr. Kevin, a past pupil of St. Paul's College, Dublin, joined SVC staff after ordination in 1965, was Dean 1968-77 and then returned as College President 1985-99 bringing up 26 years of SVC service. He was a very popular Dean and at 14 years is the second longest serving SVC President, and one of the most highly regarded. His legacy lives long for it was he who introduced the modernisation program and the Board of Management structure that serves the College well to this day. Then as Provincial his support was instrumental in financing campus redevelopment that amongst other things saw McNamara and Dowley houses linked.
Our loss was London's gain for these days Kevin is Parish Priest in Mill Hill.
Fr. Peter, a past pupil of St. Patrick's College, Armagh, joined SVC staff in 1963 and in the little spare time then afforded him, he completed his M.Sc. and Ph.D in UCD. Peter served as Dean 1977-81, Prefect of Studies 1987-93, Vice-President 1989-93 and was appointed President in 2005. Those 22 years of service though only tell half the story, for Peter has taught at SVC every year since 1963 bar a six year 1981-87 posting back to Armagh. That's a remarkable 48 years service and counting - he still holds down the applied maths brief. Whole generations of physicists and maths boffins the world over were first inspired in Peter's classroom.
Peter is by a long shot now our longest serving College resident 'Vin', and is the key link between the many generations that have passed though Knock.
---
TERM
PRESIDENT SVC
past pupil
note
 
 
2005-**
Peter J. Slevin, CM
 
4
1999-05
Simon Clyne, CM
class '52
 
1985-99
Kevin O'Shea, CM
 
1
1980-85
Harry Slowey, CM
class '53
 
1972-80
Matthew Barry, CM
class '55
4
1963-72
Patrick O'Donoghue, CM
class '44
3
1957-63
Michael J. Walsh, CM
class '30
4
1950-57
Donal F. Cregan, CM
class '30
6
1944-50
William Sullivan, CM
class '23
2
1938-44
William Meagher, CM
class '17
2
1932-38
Thomas K. Donovan, CM
class '13
2
1926-32
Henry O'Connor, CM
class '05
2
1919-26
Vincent McCarthy, CM
class '03
6
1916-19
Edward P. Meehan, CM
class '98
1
1915-16
John Shanahan,CM
 
 
1915-15
Maurice O'Reilly, CM
 
 
1907-15
Paul Cullen, CM
class '84
2
1902-07
Michael P. Brosnahan, CM
class '79
5
1895-02
Joseph Geoghegan, CM
 
 
1891-95
Thomas Hardy,CM
class '64
8
1885-91
James Moore, CM
 
7
1873-85
Malachy O'Callaghan, CM
class '46
3
1867-73
Peter Duff, CM
 
7
1864-67
Thomas McNamara, CM
 
 
1835-64
Philip Dowley, CM
 
 
 
 

---

NOTE
ALSO SERVED AS:
 
 
1
Dean
 
2
Dean and Prefect of Studies
 
3
Dean and Vice President
 
4
Dean, Prefect of Studies and VP
 
5
Prefect of Studies
 
6
Prefect of Studies and VP
 
7
Vice President
 
8
Vice President and Bursar