Union Golf Society
97 years of Golfing
Jul 17, 2017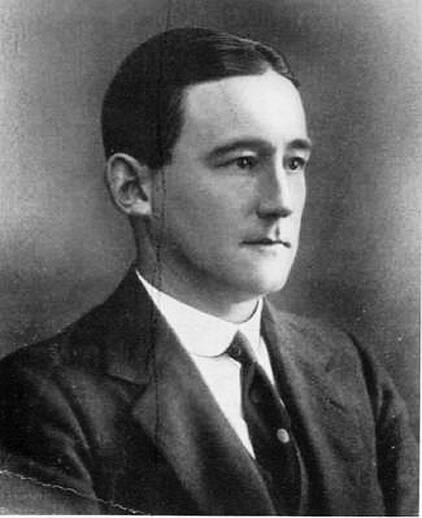 Dr. Peter J. Keogh, class 1903
The emergence of golf is well documented in the early chronicles and in 1920 that led to the formation of the Union Golf Society. The 1921 Chronicle reports:
Just on our way to press we hear that our Old Boys are contributing fresh laurels to our sporting successes. At the Competition held in Delgany, on 1 June 1920, between the Old Boys of Blackrock, Belvedere, C.U.S., Clongowes and Castleknock, we read that Castleknock. with an aggregate of 307, finished second to C.U.S.(298).

Pastmen desirous of taking part should communicate with ..... We hope that this contest will become an annual event.
That it did for the 1924 Chronicle reports:
At a meeting of the committee, Dr. P. J. Keogh graciously presented a solid silver cup as a perpetual challenge cup to be played for by the golfing members of the Union. The committee bound itself to present each year to the winning member a replica. The first name to be inscribed on the Cup was that of J . D. Egan. A word of sympathy must be added on behalf of J . M. Hickey who, tying with J . D. Egan in the competition, only lost on a toss!
The Keogh Cup has been played for every year since, and was joined in 1930 by the President's Cup, which initially was awarded to the member who returned the best card in the Schools Union Golf Cup, but it then evolved that the Keogh Cup was played for at the autumn outing and the Presidents Cup during the summer outing. The autumn outing then fell out of favour so the plan going forward the plan is to host two summer outings, one primarily senior based and the other junior focused, but neither exclusively so.
Subject to gaps when not played for in recent years, winners engraved thereon are as follows:
-
| | | |
| --- | --- | --- |
| |   | |
| | | |
| --- | --- | --- |
| KEOGH CUP | | PRESIDENTS CUP |
|   | YEAR |   |
| Morrison, Paul '96 | 2017 | Lavery, Conall '72 |
| Connolly, Stephen '04 | 2016 | <not played> |
| <not played> | 2015 | <not played> |
| <not played> | 2014 | <not played> |
| Byrne, Simon '83 | 2013 | <not played> |
| TBC | 2012 | Fourball Scramble |
| TBC | 2011 | Fourball Scramble |
| Duffy, Colin '87 | 2010 | <not played> |
| Morrison, Paul '96 | 2009 | <not played> |
| Reynolds, Dermot '61 | 2008 | <not played> |
| Hill, Niall '86 | 2007 | Walsh, Barry '83 |
| O'Rourke, Fergus '01 | 2006 | Donegan, John '80 |
| Peters, John '80 | 2005 | Mallaghan, Conor '88 |
| Nagle, Cormac '68 | 2004 | Byrne, Edward '84 |
| MacDonagh, John '71 | 2003 | Costello, Paul '72 |
| Kearney, Paul '81 | 2002 | McAlister, Conor '74 |
| <not played> | 2001 | Mongey, David '77 |
| O'Reilly, Jack '61 | 2000 | Kearney, John '77 |
| Osborne, David '89 | 1999 | Winston, John M. '70 |
| Brereton, Diarmuid '63 | 1998 | Lynch, Leo '48 |
| Grant, Terry V. '66 | 1997 | Carroll, Ray '82 |
| Grant, Sean '74 | 1996 | Lynch, Leo '48 |
| Morgan, Ricky '86 | 1995 | Morgan, Ricky '86 |
| Killen, Gerard '71 | 1994 | Cleary, Gerard A. '77 |
| Cleere, John '61 | 1993 | Lynch, Leo '48 |
| Davitt, Maurice '52 | 1992 | Hannan, Karl '80 |
| Egan, Oliver '62 | 1991 | Maher, P. '73 |
| Hamilton, Jim '90 | 1990 | Delaney, Nial P. '48 |
| Maher, P. '73 | 1989 | Lyons, Peter J. '63 |
| Lyons, Peter J. '63 | 1988 | Nestor, Martin P. '58 |
| McGovern, J. Niall '39 | 1987 | Palmer, Robin H. '59 |
| Devlin, Dermot F. '44 | 1986 | Winston, John M. '70 |
| Fanagan, Jody '83 | 1985 | Gaynor, Joseph N. '75 |
| Bell, David '38 | 1984 | McElhatton, Noel '47 |
| McElhatton, Noel '47 | 1983 | Lynch, Leo '48 |
| McGeough, Thomas '55 | 1982 | Coleman, Roger J. '69 |
| Britton, Derry '81 | 1981 | Bell, David '38 |
| Sullivan, Donal '56 | 1980 | Coleman, Roger J. '69 |
| Lyons, Anthony K '60 | 1979 | O'Hanrahan, Sean '40 |
| Lyons, Peter J. '63 | 1978 | Cunningham, Peter J. '73 |
| Fitzpatrick, John P. '63 | 1977 | Smyth, Brian F. '40 |
| Cleary, John '50 | 1976 | Stuart, Donal D. '53 |
| Grant, Terry V. '66 | 1975 | Hutch, Barry '66 |
| Lyons, Peter J. '63 | 1974 | Delaney, Nial P. '48 |
| Cooney, Fintan '56 | 1973 | Harrington, Stewart '61 |
| Lyons, Peter Robert '57 | 1972 | Carbery, Maurice '25 |
| Winston, Declan F. '53 | 1971 | Fearon, Declan '69 |
| Cleary, John '50 | 1970 | Downes, Joseph H. '44 |
| Murray, John '60 | 1969 | Delahunt, Tom A. '45 |
| Loftus, Leo '50 | 1968 | Downes, Joseph H. '44 |
| Nestor, John '48 | 1967 | O'Shea Colm D. '54 |
| Moran, Jim '25 | 1966 | O'Hegarty, Brian K. '50 |
| MacQuillan, Noel A. '44 | 1965 | Duggan, Donal P. '56 |
| Rowe, John '57 | 1964 | Hickey, Donald V. '42 |
| Brereton, Brian '59 | 1963 | Sheedy, Donal J. '46 |
| Lyons, Peter Robert '57 | 1962 | McIlvenna, John '58 |
| Murphy, Paddy J. '56 | 1961 | Crowley, Roderic '47 |
| Lyons, Robert V. '56 | 1960 | O'Reilly, Tommy '56 |
| Devlin, Dermot F. '44 | 1959 | Nestor, John '48 |
| Cuddy, Bobby '52 | 1958 | Smyth, Brian F. '40 |
| Lyons, Peter V. '28 | 1957 | Carroll, Ray '44 |
| Moran, Jim '25 | 1956 | Doyle, Noel '53 |
| O'Flynn, Stephen '46 | 1955 | Carroll, Ray '44 |
| Brereton, Lorcan '26 | 1954 | MacQuillan, Noel A. '44 |
| Cussen, John '36 | 1953 | MacQuillan, Noel A. '44 |
| MacMorrow, Desmond '36 | 1952 | Cleere, Desmond '38 |
| MacMorrow, Desmond '36 | 1951 | McDonnell, Kevin '20 |
| Johnston, Frank '42 | 1950 | MacMorrow, Desmond '36 |
| Hickey, Donald V. '42 | 1949 | Downes, Desmond V. '46 |
| Grant, Jimmy '39 | 1948 | Treanor, Walter '40 |
| Collins, Maurice '23 | 1947 | Roe, Patrick J. '43 |
| Murphy, Joseph J. '38 | 1946 | Byrne, Andrew '45 |
| Cremin, Con '42 | 1945 | Cremin, Con '42 |
| Doyle, Michael C. '21 | 1944 | Tierney, Michael H. '41 |
| O'Gorman, Michael '29 | 1943 | Smyth, Brian F. '40 |
| Ryan, Charles M. '29 | 1942 | Cremin, Con '42 |
| Ryan, Willie J. '21 | 1941 | Ryan, Charles M. '29 |
| O'Reilly, Thomas A. '25 | 1940 | Healy, Ray '38 & Keogh, Peter '03 |
| Doyle, Michael C. '21 | 1939 | Ryan, Charles M. '29 |
| Long, Francis.J. '13 | 1938 | Brophy, Charles '34 |
| Toner, Jack '24 | 1937 | Ryan, Willie J. '21 |
| Early, Thomas P. '34 | 1936 | Donovan, Thomas K. '10 |
| Carbery, Maurice '25 | 1935 | O'Farrell, Joseph '17 |
| Lavery, Cecil '11 | 1934 | Downes, Vincent J. '09 |
| Brereton, Lorcan '26 | 1933 | Waller, Thomas P. (PTA) |
| Donovan, Thomas K. '10 | 1932 | Ryan, Richard H. '27 |
| Keogh, Peter J. '03 | 1931 | Ryan, Richard H. '27 |
| Donovan, Thomas K. '10 | 1930 | Brereton, Lorcan '26 |
| Cooney, James '31 | 1929 | |
| Cooney, James '31 | 1928 | |
| Hickey, John J. '00 | 1927 | |
| O'Meara, Thomas J. '10 | 1926 | |
| O'Meara, Michael J. '16 | 1925 | |
| O'Meara, Michael J. '16 | 1924 | |
| Egan, John D. '15 | 1923 | |
| | | |